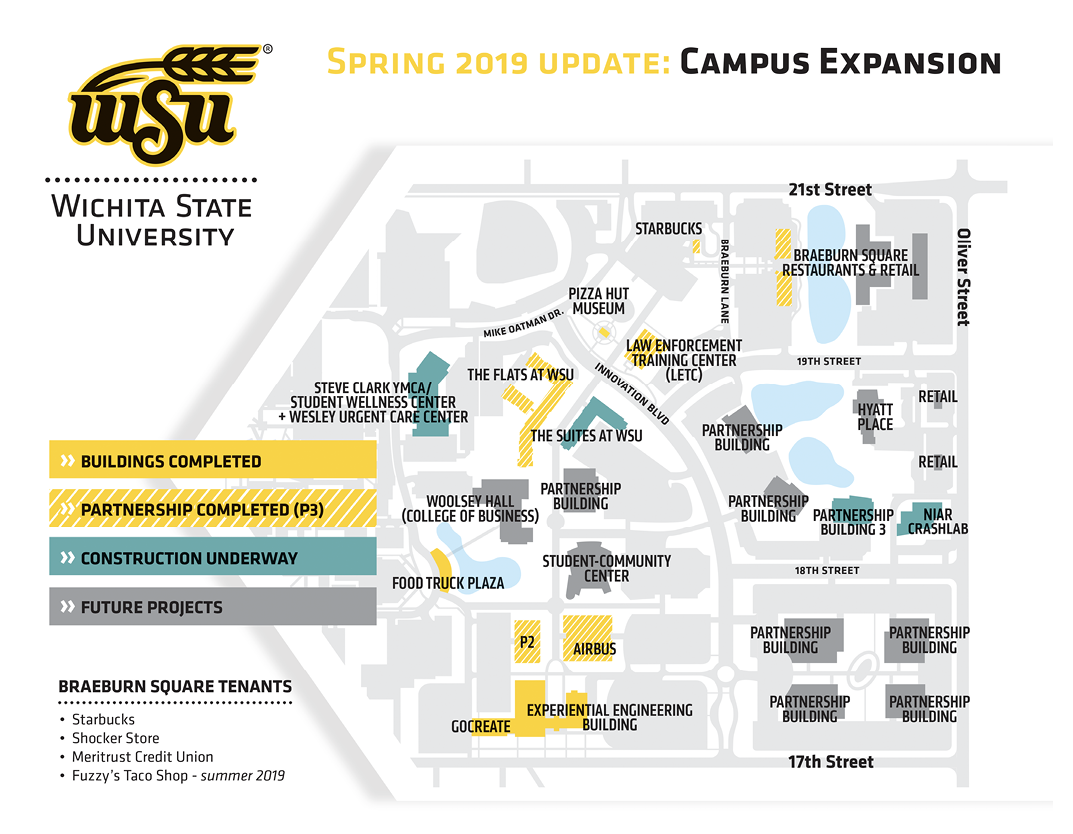 If you haven't visited Wichita State's eastern sector of campus for a semester or two, things have changed. The map above is the lastest update.
Let's start with a recap of buildings completed. Opened in 2017: the Experiential Engineering Building, home to WSU College of Engineering student labs, National Institute for Aviation Research industry labs and the GoCreate community makerspace, and the first partnership building Airbus Americas Engineering, which features aerostructures design and analysis of aircraft primary structures for major Airbus products.
Opened in 2018: the Law Enforcement Training Center, which features training space and classrooms for area law enforcement and WSU's criminal justice school. Also completed: Food Truck Plaza, The Flats at WSU, Pizza Hut Museum, Partnership 2 Building, which houses Spirit AeroSystems, FirePoint Innovations, WSU engineering college administration, Engineering Student Success, NIAR Advanced Research Lab and Marchine Learning/Digital Twin labs; and Braeburn Square tenants Starbucks, Shocker Store and Meritrust Credit Union.
Set to open in 2019-2020: Steve Clark YMCA/WSU Student Wellness Center, Hyatt Place hotel, The Suites at WSU, NIAR Crash Lab, Partnership Building 3 and, in Braeburn Square, Fuzzy's Taco Shop.