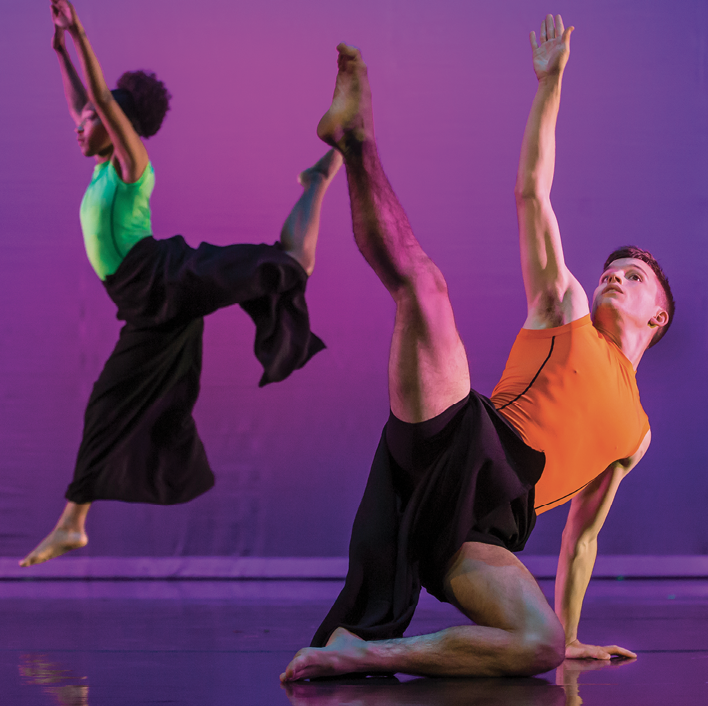 Back in 1999, in the premiere issue of The Shocker, the magazine carried a photoessay about dance at Wichita State – in particular, about the WSU dance ensemble comprised of David Kellam, Elizabeth Seals and Sarah Wiechaman. The ensemble was preparing for a performance at the Kansas Dance Festival, which took place Nov. 19-20.
Two decades later in a bit of serendipitous magazine symmetry, our farewell issue carries a photoessay from the dress rehearsal for this year's Kansas Dance Festival. (Jump over to this issue's Wanderings photo gallery.) Our first set of dance photos was by Dan Moore; this set, including the photo at right, is by Fernando Salazar.
Dance has flourished at Wichita State since the 1920s, and for many years, each fall, the Kansas Dance Festival has celebrated its artistry of motion. This year, under the overall direction of Nicholas Johnson, professor and director of dance at Wichita State, the festival featured eight routines during its two days of performances on Nov. 16-17:
"Loosed Marbles" (2013) from WSU with choreography by Rachel Boyajian, a director, producer and choreographer based in Los Angeles, and Sabrina Vasquez, a dancer and choreographer who came to WSU in 1997 and is now a senior educator with the dance program teaching modern, ballet and jazz technique classes.
"Brink" from the University of Missouri Kansas City with choreography by David Justin, a professor at the Conservatory of Music and Dance at UMKC and formerly principal dancer with the Birmingham Royal Ballet and soloist with the San Francisco Ballet.
"Did you just hear what I just heard?" from Kansas State University with choreography by Kate Digby, KSU assistant professor of dance.
"The Keepers" from Friends University with choreography by Kathryn Alter, associate program director for the José Limón Professional Studies Program, New York City.
"Seven Sonnets" (premiere) from WSU with choreography by Denise A. Celestin, the WSU professor of ballet whose dance credits include performing with the New Orleans Ballet, the Fort Worth Ballet and BalletMet Columbus.
"Freudian Slip" from WSU with choreography by Nicholas Johnson, who not only serves as artistic director for the Alithea Mime Theatre, the Wichita-based professional company that fuses the disciplines of mime and dance, but also the Wichita Contemporary Dance Theatre, which is WSU's student touring company. He also is a founding member of the School for Mime Theatre, a summer residency program based at Kenyon College, Gambier, Ohio.
"One Two Many" (2012) from the Regina Klenjoski Dance Company with choreography by Regina Klenjoski, who is a lecturer in dance at WSU and the director of dance at RKDC, a critically acclaimed modern dance company founded in 1999 in Los Angeles and expanded to Wichita in 2015.
"Soft Collisions" from Barton County Community College with choreography by Danika Bielek, who works at the college as the performing arts dance instructor/coordinator.
"Unspoken Reverie" from WSU with choreography by WSU's guest artist and choreographer Jammie Walker, who is a member of Jessica Lang Dance.