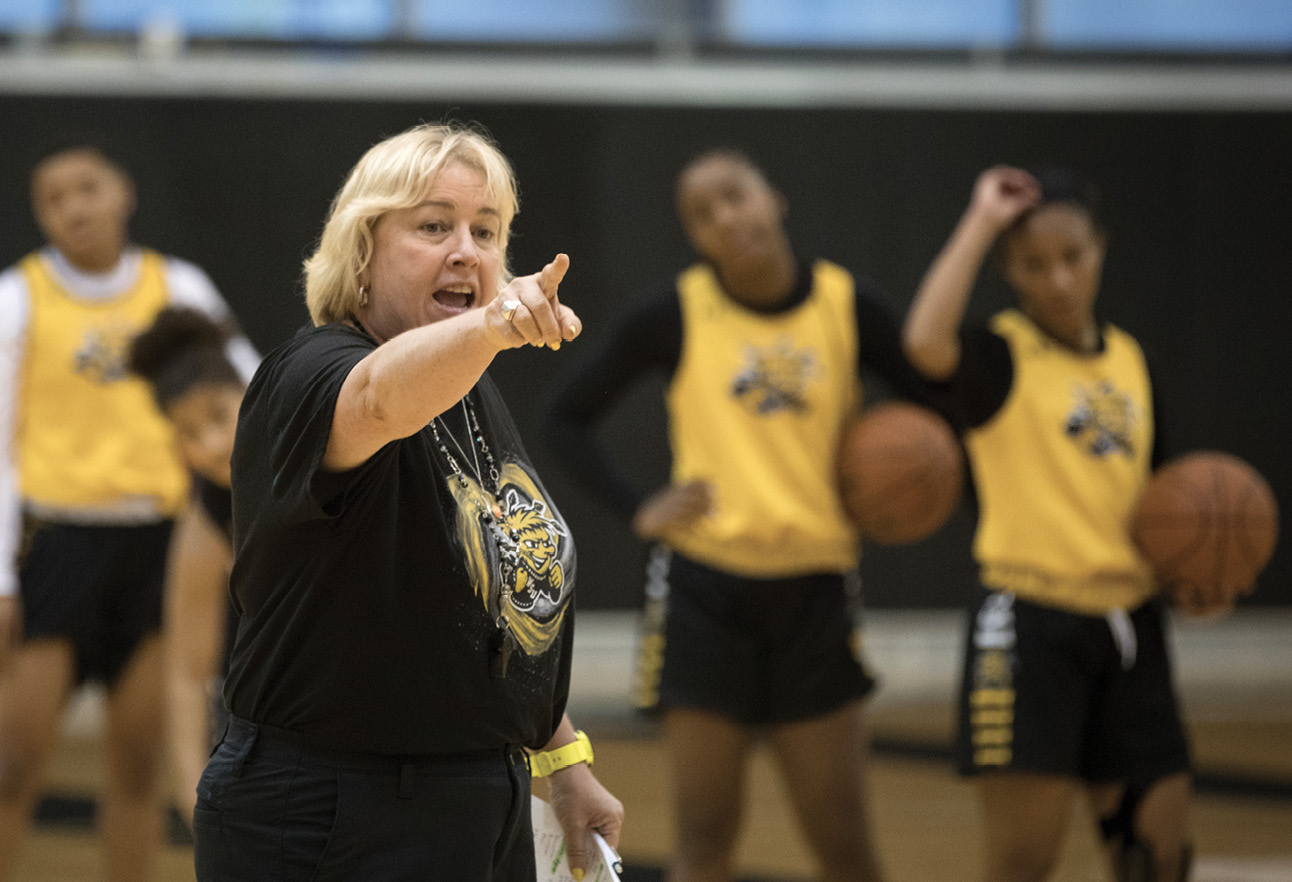 A week ahead of her young basketball team's lone exhibition game to start the 2018-19 season, as a dreary October sky dumps a cool rain outside, Wichita State women's coach Keitha Adams fills the practice gymnasium adjacent to Koch Arena with energetic encouragement.
"We need to make them in a game! Make them in practice," Adams implores her guards as they shoot left-handed layups while assistant coach Jeff Osterman stands under a basket, bumping each player with a padded shield. "Let's go! Shockers finish plays," she later hollers to guard Carla Bremaud after the newcomer from France retrieves a missed shot and scores on her second attempt.
The 52-year-old Adams' words pierce through the echoes of bouncing balls with a leader's confidence. Adams is in her second season as WSU's coach, but she has been on this career path since 1987, when nearby Belle Plaine High School made her an assistant during her undergraduate days at Southwestern (Kan.) College. After finishing her first season at WSU with a 14-17 record and reconstructing her roster with 10 newcomers, most of her players today are barely younger than she was when she got her first coaching opportunity. "There're so many things we need to work on, but we're just taking this in steps," Adams says in her office shortly after the start of preseason practice. "Everything is new to them. I could work on 30 different things, but if we don't introduce something and do it again the next day and get those reps, they're not going to remember it."
That isn't a complaint, but instead the parameters of a challenge Adams eagerly welcomed when she was named
WSU's coach on March 29, 2017. After winning 284 games during a successful 16-year run as women's coach at Texas-
El Paso, Adams, who grew up about 40 miles southeast of Wichita in tiny Oxford, Kan., accepted Shocker athletic director Darron Boatright's offer to return to her roots. "When she first got here, one of the first things she said was she's here and she's home," says senior forward Sabrina Lozada-Cabbage, a team leader after eight seniors on Adams' first WSU squad completed their careers. "She doesn't plan on going anywhere else.
She wants to be here until she retires."
That desire lends stability to Adams' current team, which is a diverse blend. The Shockers are the third youngest team by average age among all NCAA Division I women's programs. The roster features players from four European countries, and domestically ranges from California to North Carolina. For Adams, whose journey to the NCAA level included Kansas coaching stops at Winfield High School and Independence Community College, molding individuals from various backgrounds into a team is a labor of love.
"Growing up in my small town, there wasn't much diversity at all," says Adams, whose parents, Lowell and Sue, drove school buses. Her father was an elementary teacher. "My dad being a teacher had a big impact on me. And then having a wonderful experience playing sports, I just knew I always wanted to be a coach and a teacher."
Those who grew up with Adams saw those characteristics, as well. Jami White, Adams' high school teammate on two state tournament teams and a friend since kindergarten, says, "She was definitely the leader. She was in charge. When I look back on our younger years, she'd spend any extra time she had shooting hoops or in the gym."
Adams' horizons broadened during two seasons as an assistant and five as head coach at Independence. While rosters in the Kansas Jayhawk Conference had restrictions on the number of out-of-state players, the Pirates were successful with several international players. One of them, Ewa Laskowska, from Stalowa Wola, Poland, has been on Adams' coaching staff since her playing days. "I absolutely loved putting together a roster where you had all different cultures – people from overseas playing with Kansas kids. It was one big melting pot," says Adams, who won 77 percent of her games as Independence's coach. "But a pick-and-roll was a pick-and-roll amongst all of us. It was great to have all those cultures and different languages, but a common thread of the game."
Adams' proficiency caught the attention of now-retired UTEP athletic director Bob Stull. Stull hired Adams to make the rare move from junior college to Division I head coach in 2001. After finishing 3-25 her first season, Adams steadily gained momentum and led the Miners to their first two NCAA Tournament appearances and two Women's NIT bids. UTEP also won three Conference USA regular-season championships under Adams.
In Stull and UTEP president Diana Natalicio, Adams enjoyed continuity in the administration throughout her tenure. But with both nearing retirement and WSU looking for a new leader for its program, she sensed the time was right for change. She remembered the MTXE era of WSU men's basketball, attended Shocker women's games in the early-1980s when Kathryn Bunnell coached and was part of former coach Linda Hargrove's summer camps.
Those experiences resonated with Adams, and her coaching style appealed to WSU players. "She didn't recruit a lot of us, but didn't treat us like she didn't recruit us," Lozada-Cabbage says of the 2017-18 Shockers. "We were her kids. She made sure she got to know us and how we played, and then fit what she coached with whatever worked for us."
The Shockers experienced the valleys and peaks of a 31-game season. They lost their first six games before defeating UC-Irvine and Missouri State. They exceeded preseason predictions by posting a 9-7 record in American Athletic Conference play, including a 64-56 victory over nationally ranked South Florida.
There was also a humbling 124-43 loss to perennial powerhouse Connecticut on a day that ended with a truck driver sliding on an icy road and striking the WSU team bus in a non-injury accident as the Shockers headed home from Eisenhower National Airport. "February 10 was a long day," Adams recalls. "We went up there and got smacked. Then we got home and it was icy. We were on the side of the road for an hour waiting for another bus to come pick us up. It was like you can't make this up. If there was one thing I did do in that game, I never sat down. I stayed standing on the sideline. The most important thing I could show to them was that I'm hanging right in there with you."
Adams' devotion is evident in her friendships. She, White and a few Oxford classmates took a girls trip to North Carolina over the summer – the 20th year they've gathered at different locations. Some of the friends made an annual trek to El Paso when Adams was the coach to watch games and spend time at her home. "Keitha is the type of person that when she tells you she's going to do something, she will," White says. "She's very loyal – you can always count on her."
The highs and lows have followed a different pattern for Adams' young bunch of 2018-19 Shockers. They won five of their first six games, but entered March with an 11-16 record after struggling for consistency against AAC foes. Road victories at Tulane and Memphis were bright spots, and a top-10, all-time WSU women's crowd of 6,156 watched the Shockers' 84-47 loss to second-ranked UConn at Koch Arena.
Adams knew long before UConn made its first visit to Wichita on Feb. 26 that many would be lured by Coach Geno Auriemma's program, which has won 11 national championships, five this decade. She welcomed that showcase opportunity, but with the caveat that her goals include making her team the primary attraction for local women's basketball fans. "We've had some great, loyal supporters that have been great all year, but I just want people to come back," she said after the game.
"I came back home to build this thing, and I want people to definitely feel a connection to me and our program."