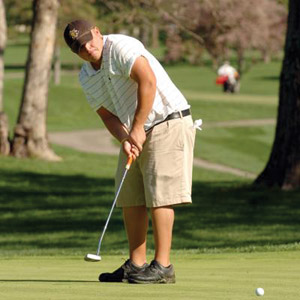 The men's golf team has earned votes in the Golfworld NCAA Division
1 poll.
The Shockers got 16 votes in the poll, which uses a combination of information from Golfweek magazine, Nike Golf and the Golf Coach's Association of America.
The ranking is one more forward step for the flourishing program, which gained its first championship of the spring season March 11 by finishing eight strokes ahead of the University of San Diego at the Callaway Collegiate Classic at The Farms Golf Course in San Diego. Dustin Garza's three-round score of 210 led the 15-team event.
The team is looking for more, too, says head coach Grier Jones.
"The men's golf program at WSU is trying to move up the competitive ladder of collegiate golf," he said as he announced the annual Grier Jones Fun(d) Raiser Golf Tournament set for April 14 at Willowbend Golf Club.
— WSU Sports Information