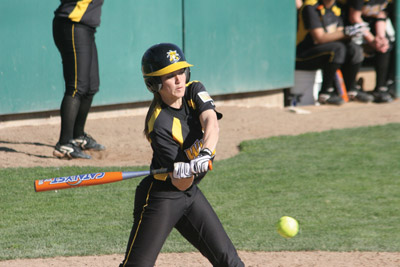 Britnee Barnett, pictured at left, arrived at Wichita State in 2004 as a highly regarded recruit from Arizona, and she certainly didn't disappoint, proving herself a force at the plate from Day 1 and starting at the glamour position of shortstop as a freshman.
She has always been a star.
For pitcher Ashly Bright, the story is a bit more complicated.
She toiled at the small-college level for two years and, after joining the Shockers, worked patiently as the team's No. 2 pitcher before earning a chance to be the team's ace this season.
Like Barnett, she hasn't disappointed either, dispatching hitters with an assortment of pitches, including an overpowering fastball. Bright waited her turn. Now she's a star, too. Wichita State's top players took decidedly different paths, but both Barnett and Bright are difference makers for a Shocker team that appears headed for a memorable year.
Through the first month of the season, the Shockers had won two tournament championships (Lobo Invitational and Texas Classic), knocked off a pair of ranked opponents (Washington and Texas), and earned votes in the national Top 25 for the first time since 2005.
Not surprisingly, Barnett and Bright were early catalysts as Wichita State got off to a 15-7 start. Barnett was leading the Shockers in several offensive categories, while Bright had been dominating on the mound.
A closer look at each player follows.
An Unlikely Shocker
When Barnett finishes her Shocker career, she will be remembered as one of the best players in school history, a remarkable fact given that she initially had no interest in playing in Wichita — or anywhere else for that matter.
Barnett says that, when she was a high school senior in Peoria, Ariz., "family issues" and "little personal problems" had her on the verge of giving up softball. But former Shocker coach Tim Walton convinced her to visit the WSU campus, and she immediately felt at home. That's why she says God brought her to WSU.
"Being here has changed my life tremendously," she says. "God blessed me with a completely new life — not just softballwise, but everything in general. Everything has worked out perfectly."
Perfectly — it's no exaggeration.
Although only 5 feet 6 inches tall, Barnett has provided the Shockers with a big bat in the No. 3 spot in the batting order, and solid defense, as well. The combination has made her a three-time first-team All-Missouri Valley Conference selection — a feat only one other Shocker softball player, catcher Lorie Broehl '04, can equal.
Barnett has shown steady improvement, hitting .284 as a freshman, .320 as a sophomore and .348 last season. Similarly, her rbi totals have gone from 20 to 30 to 35. "You watch her hit, and it's just a very natural, easy motion," third-year coach Mike Perniciaro says. "She's got a really smooth swing. It's fun to watch her at the plate because it looks like she's not trying hard, but then you see the ball flying all over the place."
Able to hit for average and power, Barnett appears headed for her best offensive season. Through Wichita State's first 22 games, she was leading the team in batting average (.390), RBI (24) and slugging percentage (.584). She was tied with Cynthia Verhulst for the team lead in homers with three.
Barnett's inspiration comes from somewhat unusual sources. "Some people don't like putting pressure on themselves, but I like looking at my stats every day," she says. "If I'm one for two in a game, I'm like, 'Come on, make it two for three. This pitcher's not better than me.' I have little side bets with my mom, where she'll say, 'If you do well, I'll give you a gift card' or something stupid like that. Anything to keep the pressure on."
At shortstop, Barnett displays "great range and a great arm," according to Perniciaro. She had an unusually high number of errors early this season — six in the first 22 games after committing just seven all of last year — which she blamed on her mental game. "It got in my head, but I'm over it now," she reports.
Perniciaro remains confident in her defense: "She's a Derek Jeter type of shortstop; she makes things look very easy."
Barnett is on track to become the first softball player in school history to be a four-time first-team All-Valley pick. The team is playing at a high level. And Barnett's personal life is going well, too – she's engaged to marry WSU catcher Tyler Weber on Nov. 1.
"The last four years have been amazing," she says. "I'm so happy I ended up here."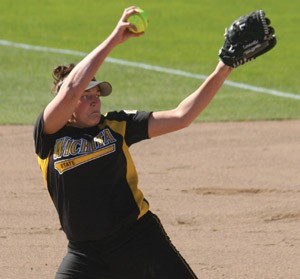 An Easy-Going Intimidator
Bright, who is often overpowering on the mound, has an unexpected reaction when asked about her reputation as an intimidating pitcher. She giggles.
"I guess I don't see myself that way," she says. "I smile a lot when I'm on the mound, even if things are going wrong. It sounds kinda weird, but that's how I was taught."
Still, the statistics offer proof that batters feel uncomfortable facing her. Last season, her first at WSU after an All-American career at Cowley County College, she struck out 201 batters in 158 innings, setting a school record for strikeouts per nine innings at 8.71. This season, she had 142 strikeouts in her first 90 innings pitched.
Clearly, her mound presence, 5-10 frame and often untouchable fastball combine to make Bright an intimidator — even if she delivers all the Ks with a smile. "She's a power pitcher, a big, strong kid," Perniciaro says. "She comes in and throws hard. We rely on her to throw a lot of our innings. Her attitude is, 'Give me the ball, I know I'm good, I know I can compete and beat the hitters on the other team.'"
Bright's fastball reaches 68 miles per hour — the equivalent of 95 mph in baseball, reports Perniciaro — and she also throws a riseball, a screwball and a curve. The large repertoire helped her to go 7-5 with a 1.94 ERA to start the season. "It's gone really well," she says. "I'm kinda excited about how well I've started because sometimes I tend to not start so well and then pick it up as I go. Starting out good early makes me feel like I can keep getting better as the season goes on."
Bright is the unquestioned ace of the Shocker staff — a role she prepared for last season while serving as understudy to No. 1 starter Margo Pruis. There was a learning curve for Bright, who needed time to adjust to Division I hitters after going 72-12 at Cowley County.
"The last month of last year, she was really very, very good," Perniciaro says. "At junior college, she could just throw hard and beat everybody. At our level, you have to learn to hit corners and move the ball around rather than just blow everybody away.
"This year, I told her from the beginning, 'You're the one, you're our leader. You're getting the ball for all the big games.'"
Bright has accepted the responsibility. She struck out eight hitters in a two-hit shutout of rival Oklahoma State on March 5. Barnett had an rbi double in the 7-0 victory. Three days later, in the Shocker Invitational, Bright broke her own school record by striking out 15 hitters in a 7-4 win over another Big 12 foe, Iowa State. Not surprisingly, the star at the plate was Barnett, who had three hits and three RBI.
"Ashly and Britnee, they really spoil you as a coach," Perniciaro says. "They're such special players."