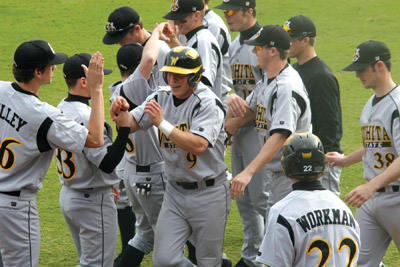 Tyler Hill, a senior utility player who wears No. 38, is writing weekly articles about Shocker baseball. Every Monday there's a new one posted on GoShockers.com.
Hill's first entry is dated Feb. 11, almost two weeks before the season opener against Fordham at Eck Stadium.
It offers this glimpse into the workings of WSU's storied program and one of its main characters, pitching coach Brent Kemnitz:
"Sunday, more comedy came from the mind of Kemnitz. During the pitcher's meeting held before practice, Brent decided to keep things fresh by having a farm animal impersonation contest. Logan Hoch was the winner with his imitation of a donkey. Fleming came in a close second with a good rooster call. What can I say? This team has talent."
The Shockers won their opener, 4-3, and then defeated Northwestern (Iowa) College, 10-1, and Emporia State, 6-3, before heading to California to take on Long Beach State. The then-No. 7 ranked Shockers were swept in the three-game series: 2-3, 5-8 and 3-8.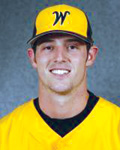 Hill made no excuses in his March 3 article. "Losing three games straight is tough to deal with, but we turned this weekend into a learning experience. We would rather play every game against opponents like Long Beach than breeze through bad competition. This is how a team gets better. That's how we get to where we want to be."
At home again, the No. 16 Shockers next took on Le Moyne, Harvard, Washington State and Texas Christian University, defeating them all. Here's part of Hill's latest entry, posted on St. Patrick's Day: "Eight straight, the phrase rolls right off the tongue."
Hill continues, "This weekend we travel to Illinois State. As a Shocker baseball tradition, in honor of the first conference away series, we will be growing our boldest mustaches. The top candidates for best mustache are Clint McKeever and Khol Nanney. The sad part is most of us can't even grow one thick enough to be noticed.
"So, while the rest of WSU's student body enjoys Spring Break, we will be hard at work continuing our winning streak. Wish us luck."
— Connie White and WSU Sports Information