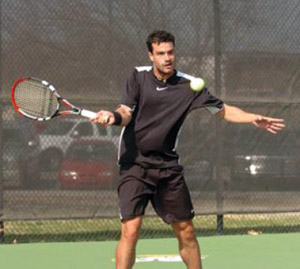 A FIRST: Men's, Women's Tennis Rank Nationally Together

For the first time in school history, both men's and women's tennis teams have been ranked at the same time. The women were ranked No. 54 in the Intercollegiate Tennis Association poll released March 4, while the men made their poll debut at No. 75.
WSU's Tiago Espirito Santo earned his first career national ranking, placing No. 107 in singles play. He is one of only two Missouri Valley Conference players to be named in the poll. "Tiago has improved so much in his time here," says Chris Young, WSU's director of tennis. "He has been such a leader for us this year."
The men's tennis team concluded its sweep of the Shocker Classic with a 4-1 win over the University of North Florida on March 16. The win boosted the men's record to 9-1. The then-No. 69 women's tennis team dropped its first home match of the season March 14 when No. 43 Boise State downed wsu 5-2 in the first day of the Shocker Classic. The MVC Tournament is slated for April 25-27 in Omaha, Neb.
— WSU Sports Information
---
Albright Released
Jane Albright will not continue as head coach of women's basketball, athletic director Jim Schaus announced March 11. "I commend Jane for providing exemplary care for the student-athlete, quality academics and extensive community service with her team," he said.
The Graham, N.C., native completed her fifth season at Wichita State with a loss to the University of Northern Iowa in the MVC Tournament.
Jody Adams from Murray State was named Albright's replacement on March 26.
— WSU Sports Information
---
Building Excellence
For more than 30 years, Shocker baseball has enjoyed a winning tradition. The Building Excellence for the Student-Athlete Campaign is an opportunity to enhance athletic facilities and further foster institutional distinction. The project will build practice and team facilities to assist student-athletes, plus improve competitive success.
Please consider how you might help in making a difference in the lives of student-athletes and in the positive future of WSU athletic programs.
---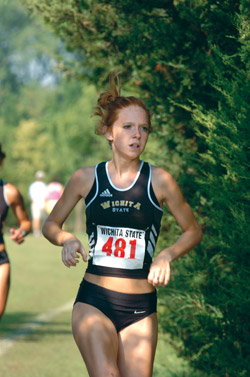 All-Academic Team
The women's cross country team was named on March 18 to the 2007 NCAA Division I U.S. Track and Field and Cross Country Association All-Academic Team.

The Shockers, including senior Chelsie Baldwin who's shown at left, joined a list of 158 Division I women's programs to receive the distinction.
There are 325 teams in Division I that sponsor women's cross country.
— WSU Sports Information