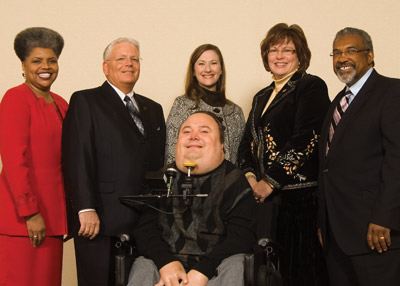 Snow and cold didn't prevent some 260 intrepid Shockers from turning out for the 52nd annual Wichita State University alumni awards celebration.
Held at the Wichita Marriott Hotel on Jan. 31, the event recognized the achievements and service of six WSU alumni: Ronald Holt '77, Sedgwick County, Achievement Award; Deltha Colvin '72, WSU, University Recognition Award; Sheryl Wohlford '82, Automation-Plus Inc., Alumni Recognition Award; Karen Countryman-Roswurm '05/06, the Wichita Child Guidance Center/Wichita Children's Home, Young Alumna Award; Phillip Bowers '86/91, WSU, Laura Cross Distinguished Service Award; and David Nygaard '73/74, retired bank executive and community volunteer, Award of Distinction.
After greetings and comments by Debbie Kennedy '94, WSU Alumni Association executive director; Ross Hollander '73, association president; and WSU President Don Beggs, Bonnie Bing Honeyman '70/76 took the stage as emcee, introducing original video biographies of the award recipients and welcoming the honorees onstage for their acceptance remarks.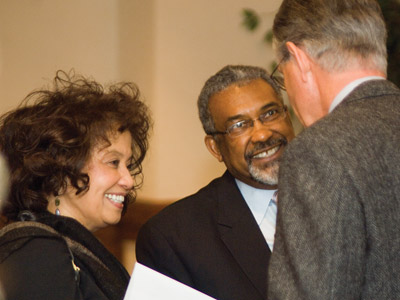 Music was provided by Bill Thomson '63/65 and Tom Fowler '68/79.
Among those who braved the elements and attended the celebration were these past award recipients: Gladys and Buck Alley, 1995 Alumni Recognition Award; Don and Shirley Beggs, Honorary Alumni; Ginger Cox, 2006 Distinguished Service Award; Dharma deSilva, 2002 University Recognition Award; Mary Herrin, 2004 University Recognition Award; Ann Konecny, 2004 Young Alumna Award; Ron Kopita, 2006 University Recognition Award; Phillip May, 1999 University Recognition Award; Dot McNicol, 2000 Distinguished Service Award; Greg Meissen, 2003 University Recognition Award; Jim Rhatigan, 1988 University Recognition Award; John Rolfe, 1998 Young Alumnus Award; Chris Shank, 2002 Alumni Recognition Award; Velma Wallace, 2003 Alumni Recognition Award; and Bill Wilhelm, 1993 University Recognition Award.
Other guests included Cheryl Adams, Anna Anderson '74/76, Ted Ayres, Bill Buchanan, Suzanne Coin, Justus Fugate '60/62, Bill Hanna, Judy Hollander, Paul Konecny, Pearl Kopita, Jim Moore '66/69, Bev Morlan, De and David Nelson, Lisa Clancy and Carlos Nolla '89, Susan '79 and Michael Pompeo, Beverly Rhatigan, Tim Richards, Cindy Schwan '77/85, Lynn Stephen '64/92 and Alissa and Dan '86 Unruh.