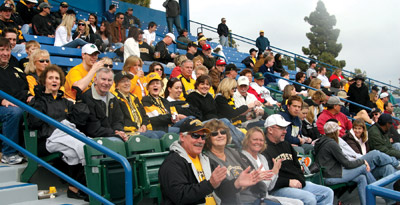 Some 80 Shocker baseball fans from Wichita and the Long Beach area grabbed sweatshirts, jackets, even a blanket or two to help them stay warm on a chilly Saturday afternoon in California when Wichita State took to Blair Field to battle Long Beach State.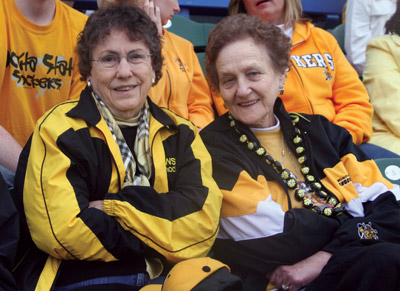 Neither the chill in the air nor the Shockers' defeat (5-8) dampened the spirits of the WSU alumni and friends who gathered prior to the game for food, drinks and fun.
Among attendees were Brian and Angela Bascue, Charlie '71/91 and Cindy '79/91 Claycomb, Ellen Cover, Gary Fleming, Herb Finley '63, Kathy Graves '69, Gus Grebe, Colleen Jackson, Terry Johnson '78, Tom Johnson '72, Mary Kircher '86, Arnold Klisanin '58/68, Terry Kovac '68, Ben '69 and Cheryl '66 Lucas, Mary Claire Mahoney, Mark Monroe '80, Lloyd Phelps '75, Paul '05 and Dianne Sunny, Dan Waller, Tony Weatherbee and Sheryl Zogelmann.
Among the notes that event coordinator Holly Thompson received shortly after the alumni event was one from Anne Bay, who took her 91-year-old father, The Rev. Guy Howard '47, out to enjoy the game — and some Shocker camaraderie.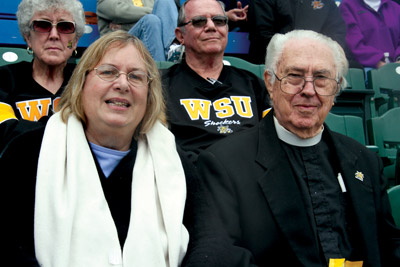 "Just a short note to say thank you so very much for the wonderful day at Blair Field," she wrote. "It was so well done and so beautifully put together.
"My dad used to go to Dodger games quite often, and I could tell he really enjoyed being at a game of baseball again. Dad likes basketball, baseball and football, in that order. I am planning to take him to more games (at Blair Field) during baseball season.
"Thank you again, Holly, and to everyone who had anything to do with the event. What a wonderful group of people! Very welcoming."