For the 12th season, the WSU Distinguished Alumni Speaker Series offers eye-opening lectures and mouth-watering breakfast buffets at the Marcus Welcome Center on Wichita State's beautiful campus. Rise & Shine 12 breakfasts begin at 7:30 a.m. with presentations starting at 8. The informal lectures are followed by a question-and-answer period, before wrapping up around 8:30.
The 2008-09 series spotlights these stellar Shocker personalities: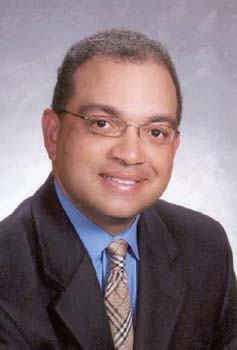 ERIC SEXTON
Thu., September 18
Before being named WSU's athletic director, Eric Sexton served as executive director for government relations and the board of trustees, a position in which he built relationships with elected and appointed officials at the local, state and federal levels. Sexton advanced financing for academic pursuits and furthered funding for research needs. And worked closely behind the scenes with many of the Wichita State's major donors. The heart of his job was – and remains – articulating the value and uniqueness of WSU.

"For 18 years, Sexton has worked to develop positive relationships with people external to the university," WSU President Don Beggs says. "He is the right person to lead the athletic department." Sexton brings many talents and credentials to the AD position. Among the most important is the fact he is a Shocker. As WSU alumnus Steve Boleski puts it: "He went to college here, he played golf here, he works here." Sexton himself defines "being a Shocker" as acting from a foundation of "respect for our institution – respect for our history."

Sexton's understanding of Wichita State and its history is deep, as well as broad. Citing up-to-the-semester statistics and anecdotes of success from university colleges and departments ranging from engineering to fine arts, he proves he's knowledgeable about the current lay of the campus.

And he knows its history. Through the years, many WSU administrators, faculty members and fellow alumni have guided his thoughts and actions. Sexton's dad Linwood shared with his son stories of his own experiences at the University of Wichita, where he was a star football player in the 1940s.

Linwood always stressed the importance of higher education. That message came through loud and clear to Sexton, who earned a bachelor's degree in business administration in 1987 and a master's degree in public administration in 1992, both from WSU. From 1984 to 1987, he was a student-athlete and two-time All-Missouri Valley Conference honoree on the Shocker golf team. In 2002, he received a doctorate in political science from the University of Kansas.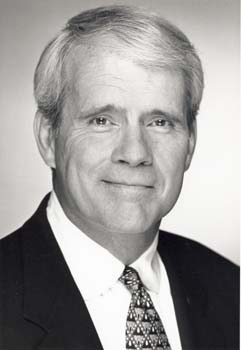 GARY BENDER
Tue., October 7
Veteran broadcaster Gary Bender has had a long and storied career behind the microphone. During the past 40 years, he's covered 29 different sports and won three Emmy Awards for his work.
A 1962 WSU graduate, Bender went on to the University of Kansas, where he received a master's degree in television and film. It also was at KU where he launched his career calling games for the Jayhawks' basketball and football programs. He went on to excel at the network level, serving as broadcaster on TNT's Sunday Night Football and ABC's Monday Night Baseball. Among the many pro teams he has handled play-by-play duties for are the St. Louis Rams, Chicago Bears, Green Bay Packers and the Milwaukee Brewers.
Bender also has worked the 1988 Calgary Olympics and NCAA Men's Basketball Final Four championships. But his longest run has been with the NBA's Phoenix Suns. He is the Suns' announcer for the Fox Sports Network and works with Dan Majerle, a former Suns star. A native of Ulysses, Kan., Bender is now in his 16th season of broadcasting the Suns' home games.
Bender is author of Call of the Game, a behind-the-scenes-look at the sports broadcasting business. Not all of his professional work, however, has been sports-related. In 2001, he worked as host of Focus on the Family, a nationally syndicated radio show.
Bender will be recognized this fall for his many accomplishments by being inducted in the Kansas Sports Hall of Fame as a member of its Class of 2008.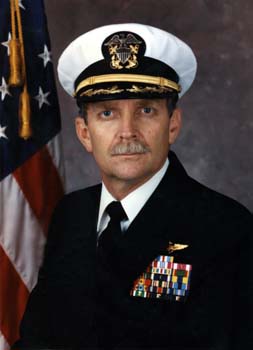 MARC OSTERTAG
Thu., November 6
The love of the sea and aviation propelled Marc C. Ostertag II from Wichita to a full and distinguished career with the U.S. Navy, including more than 4,000 hours of flight time and 1,000 carrier landings.
After graduating from WSU in 1966, Ostertag completed Aviation Officer Candidate training and earned his commission as an ensign. He completed flight training and was named a Naval Aviator, with duties as a flight instructor in Mississippi. Ostertag undertook numerous tours of duties with a variety of flight squadrons and flew the F-8, F-4, F-14 and F-18 aircraft. He served in conflicts ranging from Vietnam to Desert Storm.
Continuing his education during his career, Ostertag graduated from the Industrial College of the Armed Forces at Fort McNair in Washington D.C., and served aboard the USS John F. Kennedy and the USS Mars. He also served the Joint Task Force Five as deputy commander and chief of staff. Ostertag capped his naval career as commander of the 88,000-ton aircraft carrier USS Constellation. That command received a bit of the Hollywood spotlight in January 1996 when famed actor and comedian Tim Allen of the hit TV series "Home Improvement" toured the ship as a possible setting for a future show.
Ostertag's post-naval career included working with the Raytheon Co. as its director of the Integrated Defense Systems and program manager of the U.S. Navy Aircraft Carrier Program. Ostertag also was liaison to the Defense Ministry Naval Aircraft Carrier Division in Bristol, England. Currently, he works part time for the Tailhook Association and its nonprofit entity, the Tailhook Educational Foundation, based in San Diego, Calif.
Don't miss Ostertag's presentation, which will be Nov. 6.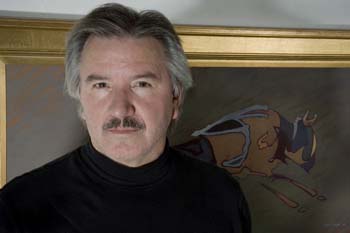 STAN HERD
Thu., February 5, 2009
Art is often viewed in a climate-controlled gallery, absent the presence of nature. But much of Stan Herd's art can best be experienced among the elements.
Herd has years of experience in crop art, mixing nature's ingredients to fashion an artistic expression. The Kansas native has achieved worldwide fame for his creations, and his works have been featured in numerous publications, including National Geographic, Smithsonian, the Wall Street Journal and People magazine. His work also has been the subject of numerous TV shows both in the United States and overseas.
A former student at WSU, Herd began his career using watercolors and oil, but changed to crop art in 1976. His permanent works include Prairiehenge, a half-acre homage to the Osage Nation and tallgrass prairie created on broadcaster Bill Kurtis' Red Buffalo Ranch, a portrait of world-famous aviatrix Amelia Earhart in Atchison, Kan., and the Medicine Wheel, on the grounds of Haskell Indian Nations University in Topeka, Kan.
Commercial earthwork ventures include making the Absolut Landmark, a Northwest Airlines logo, a piece to promote Garth Brooks' Fresh Horses album, a 2001 logo for Monster.com, and a covert piece to promote the 2002 Mel Gibson film "Signs." Herd, who lives in Lawrence, Kan., also was commissioned by Neiman Marcus to create an original work for its 2003 Christmas catalogue.
In addition, the artist has created murals throughout the United States and is the author of Crop Art and Other Earthworks, a book that details his artistic journey.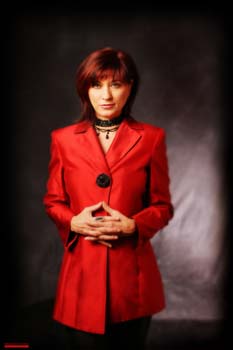 SONIA GRETEMAN
Thu., March 26, 2009
As president and creative director of her Wichita-based branding agency, Sonia Greteman has become a respected, definitive voice on a local and national level. Her agency serves such leading brands as Bombardier Aerospace, FlightSafety International, Spirit AeroSystems, Royal Caribbean Cruises and Dean & DeLuca.

Whether the challenge is increasing a client's marketshare, reframing an issue or connecting with new audiences, Greteman helps her team achieve maximum altitude. Challenging writers and designers. Spurring them to dig deeper, think smarter. She sets the agency's direction, while empowering team members to spread their creative wings. Since its founding in 1989, Greteman Group has become a design powerhouse, producing some of the region's most original, results-garnering work. Greteman is in demand outside of the office, too.
She serves on multidisciplinary teams nationwide consisting of elected officials, architects, urban planners, engineers, graphic designers and marketing professionals. She works tirelessly to promote culturally rich and visually satisfying environments.

Her recent accomplishments include being named Marketer of the Year by the Wichita chapter of the American Marketing Association and serving as one of nine national judges for Communication Arts' 49th annual design competition, held in California.
Whether she's on a photo safari in Africa or on a behind-the-scenes immersion tour of Japanese art and architecture, world travel is one way this award-winning designer fuels her own creative fires. Her reverence for other cultures enriches the agency's creative product. The firm, about to celebrate its 20th anniversary, just launched its new Altitude Attitude brand. Don't miss Greteman's inspiring attitude!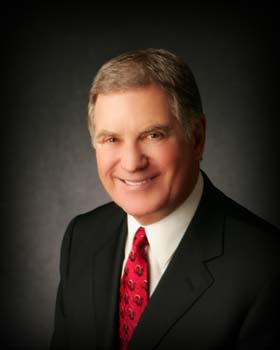 STEVE CLARK
Fri., April 24, 2009
Steve Clark is a 45-year industry veteran who began his involvement with real estate at age 18 when he became the youngest licensed real estate agent in Kansas. Clark, CEO and president of Clark Investment Group, has developed, managed and owned property in more than 25 states and has shared his industry knowledge with others by conducting real estate seminars in more than 20 states and Canada.
In Wichita, virtually everyone knows him –– or have likely seen or visited one of his many successful developments, including the Waterfront in east Wichita.
Clark's professional achievements include being designated as a Counselor of Real Estate and a Certified Commercial Investment Member. He also has served as president of the Wichita Metropolitan Area Association of Realtors and was named Kansas Realtor of the Year in 1976 and again in 1985.
When not working, Clark, an airline-rated pilot and U.S. Air Force veteran with more than 4,000 hours on the fight deck, is often flying. Active in many charitable and civic organizations, he currently serves on the executive committee of the Greater Wichita YMCA and on the board of directors for Wichita-based Intrust Bank. Clark also has been on the Kansas Board of Regents, where he served a three-year term.
A 1965 WSU graduate with a degree in business administration, Clark is a longtime Shocker supporter. His WSU-related awards include being the recipient of the Board of Trustees Award and the WSU Alumni Achievement Award.