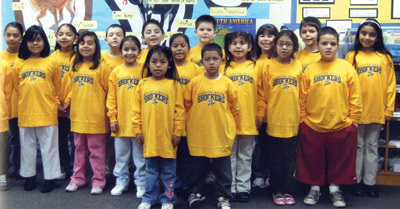 A bit of WSU is taking hold in Southern California at Harvest Valley School.
As planned by educators at the elementary school, those seeds of knowledge — planted through the assistance of the alumni association — will help students forge promising futures by obtaining a higher education.
It's all part of a program known as No Excuses University, a concept dedicated to the belief that all children have the potential to attend and graduate from a four-year university. Ordinarily, students at Harvest Valley — many of them underprivileged — might not be thought of as college-bound. The school is in Romoland, a town of about 10,000 in mostly rural Riverside County, California. It's not a wealthy area, as 26 percent of the area's population is below the poverty line and 83 percent of the elementary school's students qualify for a free or reduced-price lunch.
As part of the No Excuses program, each class at the school "adopts" a university. The idea is to symbolize the commitment to the idea of goal setting and achieving the standards needed to attend college.
To that end, each class seeks to build a relationship with a university. For elementary education graduate Cheryl (Rossow) Lucas '66, it was natural to seek out WSU. The second-grade teacher at Harvest Valley thought it would be fun — and motivating — for her students to learn about the Shockers and their lore.
Association staff sent a "goodie box" filled with cardboard Shockers, now proudly displayed by the students. They also sent rally towels and Shocker stickers, which are passed out to students as a reward for turning in their homework promptly. Yellow-and-black pompons were employed by students at a monthly rally when one of the class' own was selected as the school's "Student of the Month."
"Everyone at the school site was quite envious of our flashing 'Shockers' and wanted to know how we were so lucky as to receive them," Lucas says. For a finishing touch, the WSU flag is displayed outside the classroom door. Principal Michelle Rodriguez says school officials believe that the daily visual reminders will motivate students.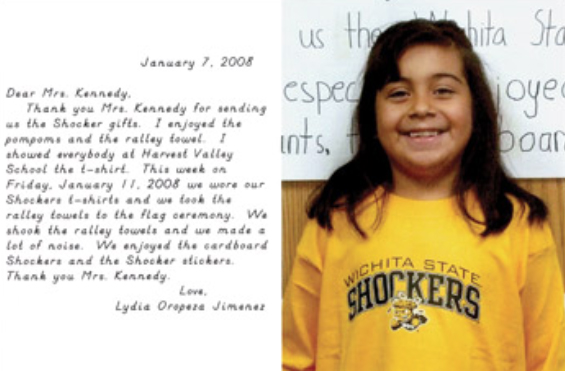 For instance, students wear No Excuses University T-shirts with the year they will graduate from college, and on Fridays, they can wear "their school" colors. But visual aids are just one component of the No Excuses program. "It's not just window dressing," Rodriguez stresses and explains that students must show positive academic growth since there are standards the school must meet to stay in the program.
The key aspect, she says, is that the idea of going to college becomes real to her Harvest Valley students. "Now," she says,
"they are talking about going to college from a young age.