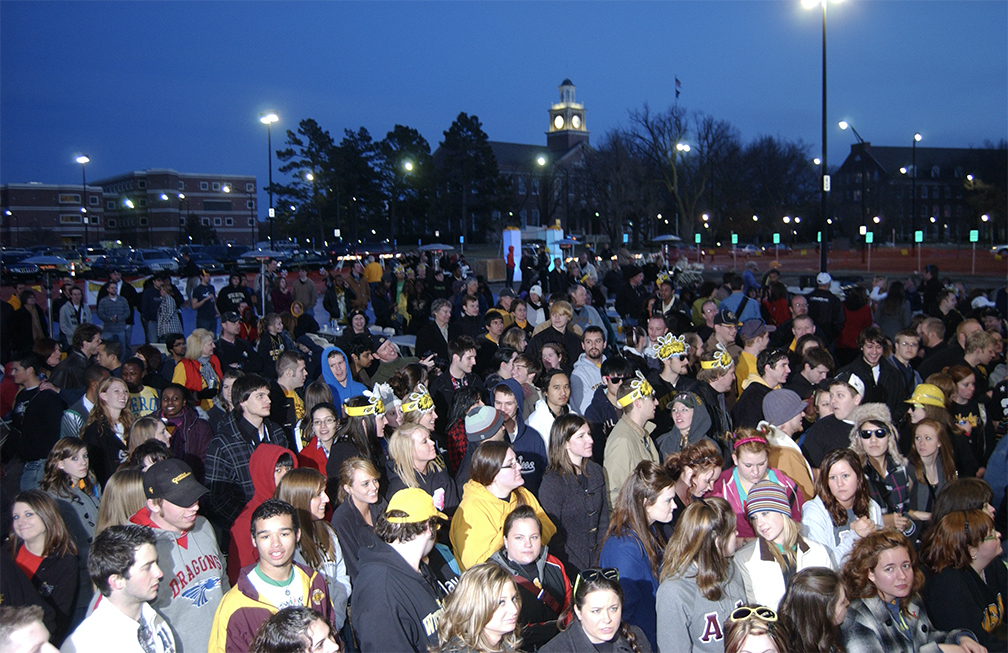 For the first time in 20 years, Wichita State celebrated a traditional homecoming week, Feb. 8-14, complete with parade, bonfire and pep rally, a big game and the crowning of a king and queen. And for the first time ever, MC Hammer was on campus adding to the fun.
Why MC Hammer? Here's the connection: Hammer came out with the hit song, "2 Legit 2 Quit," back in 1991. By happenstance, that was the first year Wichita State did not celebrate a traditional homecoming event — no bonfire, no parade, no royalty, you get the idea.
Shockers celebrate their first homecoming in decades with bears, bonfires, buttons and banners, tiaras, pancakes, parade floats — and MC Hammer.
When members, volunteers and staff of the WSU Alumni Association started kicking around ideas for Homecoming 2010, a 1990s theme developed and the tagline for the festivities became, that's right, "2 Legit 2 Quit." So who better to be the headlining personality?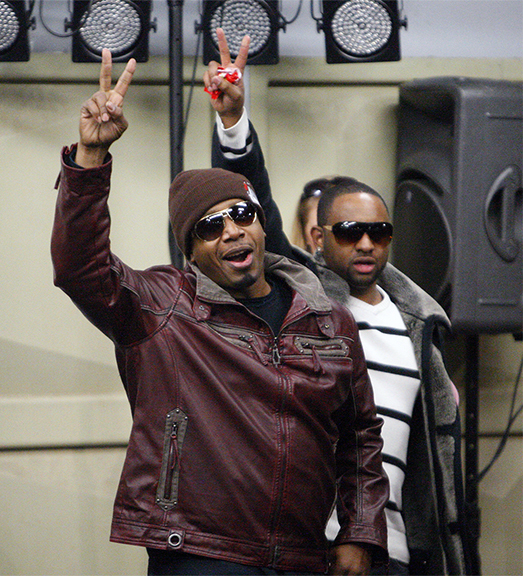 When the performer took the stage Feb. 13 at the bonfire and pep rally event, he wasn't wearing his famed parachute pants, but he did flash the hand gestures to "2 Legit 2 Quit" before addressing the crowd.
"It's an honor and a privilege to be here for the rebirth of homecoming at Wichita State," he said. "I'm excited with what's going on here." He also was clearly amused as he later judged a couple of informal dance contests comprised of homecoming king and queen candidates and an impromptu dance-off among alumni contestants.
Homecoming 2010's weeklong series of events was topped off with the announcement of the winning king and queen on Feb. 14: Immanuel "Manny" Scott and Kelsey Klaver, who grace the cover of this issue of The Shocker. Scott, a talented trombone player and music performance major, and Klaver were crowned from a royalty court of 12 seniors during the WSU men's basketball home game against the Bears of Missouri State, a game the Shockers, in true homecoming spirit, fought to win, 66-64.
"When I heard my name being announced that I was homecoming queen, I was both shocked and amazed," says Klaver, who is a communications major and a member of the sorority Alpha Phi. "I knew I had just as good a chance as the other five candidates, but there is always that sense of doubt that it could happen to you. All I could do was smile and ask my attendant, James, if they really said my name!"
Fifty-one years ago, Norma Hilton '59/88 was having similiar thoughts. She was crowned queen during coronation ceremonies in the fall of 1958 at the University of Wichita's Veterans Field. "It was fun riding in the back of a car around the track," she recalls. "Everything about homecoming was fun. I remember those huge mums. We called them pompom mums."
Hilton, who graduated with a bachelor's degree in music education and later a master's degree in secondary education, taught music, was a commercial pilot and has been a librarian at Wichita's West High School for some 25 years now. "I wasn't a sorority girl in college, but what we called an 'independent,' " she says and after a little pause adds: "Independent, that's pretty true to my character."
This February, it was Klaver and Scott's turn for homecoming fun. They were introduced as queen and king to a sold-out crowd of Shocker fans at halftime of the WSU vs. MSU game on Valentine's Day.
Joining them on the floor of Charles Koch Arena were all of the other members of Wichita State's newest royalty court — Arleigh Aldrich, Scott Christian-Dold, Kate Garnes, James Machol, April Reed, Ryan Schafer, Alexie Smith, Samantha Ternes and Kelsi Wells — except guard Clevin Hannah, who was taking a breather with his teammates in the locker room.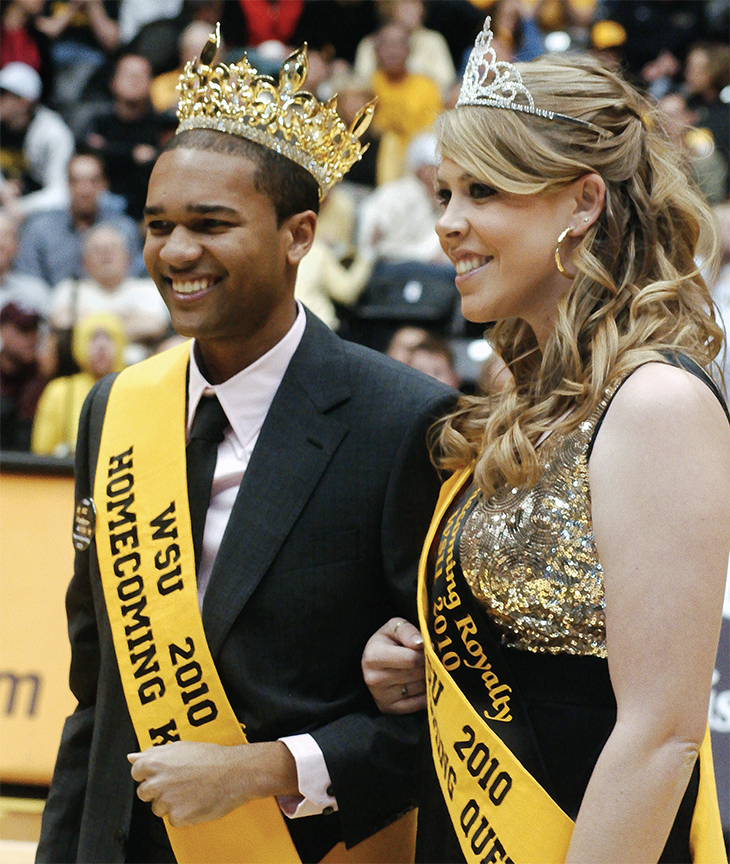 Back in January, royalty nominations of outstanding seniors were submitted by Wichita State students via online voting through the university's MyWSU system, explains Megan Ensley, the alumni association's assistant director of students and young alumni relations.
After the votes were counted and royalty members selected, finalists vied for the king and queen spots by "penny wars," in which students, faculty and other visitors to the Rhatigan Student Center cast their pennies for the candidates of their choice: one penny equaled one vote. King and queen candidates put in a hectic week prior to the Feb. 14 coronation.
They were featured at a "Get to Know Your Candidates" event on Feb. 9, were the dance stars of the show at the Feb. 13 bonfire and pep rally and, earlier that day, participated in the homecoming parade — waving to the crowd from their vantage points atop a string of convertible sports cars.
Back in 1985, Mark Bolar '87 was homecoming royalty — was voted king, in fact, a position he says he was surprised but pleased to find himself in. "It was great to be able to represent the university that way," he says. "I was truly touched and thrilled about it." Bolar, who today is a financial consultant in Kansas City, describes the atmosphere around Homecoming 1985 as "electric."
Homecoming 2010 participants, likewise, were charged up with Shocker spirit. "Even before I was involved in all the royalty festivities," Klaver relates, "I was looking forward to the floats, decoration competitions and the feeling that comes with a traditional homecoming. More than anything, I enjoyed the comradery that came along with the entire homecoming weekend."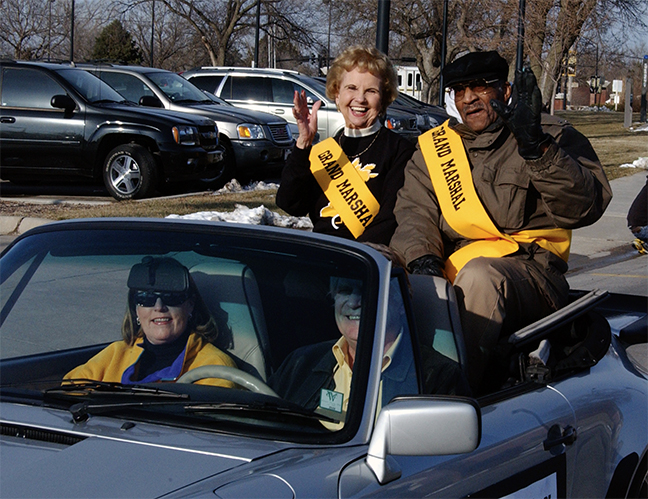 Sponsored by Meritrust Credit Union, the Homecoming 2010 Parade featured special guests and parade marshals — Shocker basketball coach Gregg Marshall, members of the Shocker basketball team and longtime WSU staff members Roland "Mr. B" Banks and Dot McNicol.
The parade got under way Saturday afternoon and made its way through campus, snaking from the starting point near
the Woodman Alumni Center, past volunteer parade judges who thoroughly enjoyed their collective task of evaluating
the 21 entries, to the main homecoming grounds just southeast of Koch Arena. Entries came in three divisions: walking banner, decorated vehicle and float.
Walking away with the winning banner entry was Wichita State's volleyball team, while members of the university's African Students Association decorated their way to top honors with their revved-up entry featuring a Shocker-yellow vehicle.
Competition was fierce, especially in the float category, where the winning entry beat out the second-place finisher by only a few points. The first prize of $500 was awarded to Delta Gamma and Phi Delta Theta for their float with the intriguing title of "Legends of the Shocker Temple." The float was a complicated construction, complete with WuShock silver idol and a talking, movable WuShock head. As "Legends" and its attendants paused in front of the judges' tables set up midcourse along the parade route, one of the judges was heard to say, "Wow — that really took some effort!"
Building floats is something Bob Kerr '75, director of Greek life at Oregon State University, Corvallis, remembers fondly from his college days, particularly from his homecoming experiences the year he was a freshman. "I remember being up all night completing the float and then guarding it from raids by other organizations," he says. "It probably sounds a bit infantile, but the bonding that I experienced with the rest of my pledge brothers was a genuine highlight. Naturally, after the float we all crashed for some sleep before we got up to go see the football game and then back to the house for a dance. It was a rich tradition and made Homecoming 1970 the one that is embedded in my memory."
Darcie (Wise) Rudd '78/84, who teaches elementary school in Wichita and lives in Bel Aire, Kan., also waxes nostalgic about float-building. "I loved building homecoming floats with my sorority, Alpha Phi, even though they were a lot of work," she says. "The first year I helped with a WuShock that moved, we were quite proud. What we hadn't planned for was the weather. Our moving Wu was painted with latex paint and the tissue paper 'melted' as we walked in the parade rain. The opposing team's eagle, however, was painted with acrylic paint and held up quite well. Through the pep rally and the game, the weather continued to terrorize our WuShock, but the eagle — as did its football team — remained standing throughout the weekend. It was funny and horrible all at the same time!"
Among the many other projects and activities of Homecoming 2010 were a campus-wide decoration contest, the Feb. 12 late-night pancake feed at the rsc and spirit week with its daily dress-code schedule of Mismatch Monday, Tie-Dye Tuesday, Way Back Wednesday, Superhero Thursday and Shocker Pride Friday.
In addition to Meritrust Credit Union, these supporters contributed to Homecoming 2010: Fox and Hound Pub & Grille sponsored countdown-to-homecoming watch parties; Entercom Radio, specifically KEYN, Power 93.9, KNSS and KFH talk radio, aired event promos; WSU's division of Campus Life and University Relations helped with funding; Spectrum Promotional Products donated T-shirts; House of Schwan contributed beer; Pepsi gave soda and water; Sedexo provided coffee and cocoa; the Student Activities Council donated the use of a roller skating rink; and the Wagonmasters donated equipment and labor for the pep rally and bonfire.
Charles "Bud" Hoffman '59, a retired school superintendent who lives in Hayes, Kan., has warm memories of homecomings from the 1950s. As a Shocker football player, he was active in just about every facet of the festivities, including bonfire-building. One of his favorite memories is about, as he relates somewhat cryptically, "the bonfires through the Pep Club that got out of hand and forced us to have only one bonfire for homecoming!"
The one bonfire for Homecoming 2010 came to light a more than symbolic importance for Shocker students and alumni. Although the weather had cooperated beautifully with clear, blue skies and sunshine earlier in the day, by nightfall those attending the pep rally — including Beta Theta Pi brothers Josh Werth and Colin Gerdes, two of the students who put together the effigy of the Missouri State Bear — were beginning to feel the bite of February's cold. And they edged closer to the Shocker fire.
Event photography by Steve Adelson '87, Dan Close '81/93, David Dinell '05, Tim Hart '97, Craig Lindeman '98, Bryan Masters '83, Connie White.
Historical photos are from the 1985, 1969 and 1959 editions of The Parnassus.