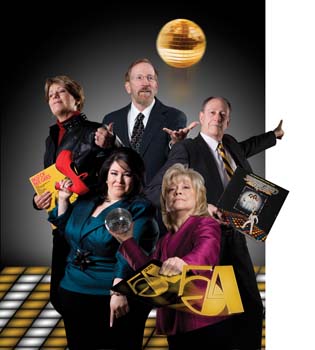 Amidst the glitter and gleam of the disco-themed Studio 54th WSU Alumni Awards ceremony at the Wichita Marriott Hotel, five outstanding Shocker alumni, faculty, staff and one organization were spotlighted for their professional achievements and service.
For the 54th time since the awards program was established by the University of Wichita Alumni Association in 1955, members of the university community came together Jan. 28 to celebrate the accomplishments of their best and brightest.
Some 220 celebrants braved the wintry weather to attend the alumni association-sponsored event. Inspired by the high-energy days of Studio 54 and, yes, disco, the evening blended fun with Shocker tradition as Sarah Robinson '86 accepted the 2009 Achievement Award; Mike Kennedy '71 and David Alexander were recognized with the Alumni Recognition Award and the University Recognition Award, respectively; Delia Garcia '02, the Young Alumna Award; Pat Campbell, the Laura Cross Distinguished Service Award; and KPTS Channel 8, the Award of Distinction.
The Alumni Achievement Award is the highest honor given by the alumni association. Recognition Awards are presented to alumni and faculty or staff for outstanding public service or particular service to Wichita State. The Laura (McMullen) Cross '25 Distinguished Service Award recognizes WSU employees or retired employees who have given exceptional service to the university.
The Young Alumni Award is given in recognition of the accomplishments of a WSU graduate who is 40 years old or younger. And the Award of Distinction, which is not an annually presented award, is given for contributions to Wichita State that are of a special and unique order.
Dick Honeyman '61 served as emcee of the Studio 54th event, with WSU President Don Beggs presenting special remarks. Larry Hatteberg was the voiceover talent for honoree videos, and Rich Bruhn provided live music. Special thanks went to Cocoa Dolce for the donation of special gift chocolates and to Gardner Design, which created the three-dimensional invitations for the event.
In addition to stunning Karg Art Glass creations, award recipients each were paired with an "honorary" disco song — one that in some way represented their accomplishments. Robinson, for example, took the stage to accept her award to Sister Sledge's "We Are Family." She, Kennedy, Alexander, Garcia and Campbell had gotten into the disco groove of things by posing for both formal and not-so-formal (above) portraits.
Event attendees included Susan Addington '74, Alex and Pamela '80 Ammar, Mickey Armstrong '45, John and Cindy Carnahan '73, Steve '74 and Melissa '74 Cohlmia, Deltha Colvin '72, Karen Countryman-Roswurm '05/06, Richard '49 and Hazel Curry, Jean Garvey '80, Rick and Diane Klingman, Sam and Jacque Kouri, Marilyn Pauly '72, Charlie '56 and Gloria Russell, Barry and Cindy '77 Schwan, Eric '87/92 and Kathy '89/92 Sexton, Gene Stephenson and Velma Wallace.
---
Alumni Achievement Award: Sarah Robinson '86
"We Are Family"
Sister Sledge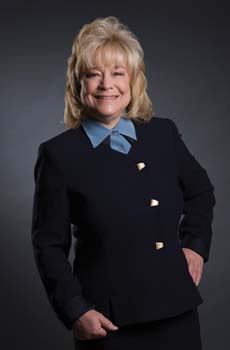 It's entirely possible that Sarah Robinson is matriarch of the largest family in Wichita — ever. For 26 years now, Robinson has served as executive director of the Wichita Children's Home. Under her leadership and guidance, the children's home and its many initiatives and programs have touched the lives of an estimated 50,000 individuals.
Last year alone, the Wichita Children's Home assisted more than 7,000 children, including nearly 700 who were placed in foster homes.
"She's unique in that a lot of folks in that leadership position wouldn't be able to meet a young person where they're at," relates Karen Countryman-Roswurm, a nationally respected youth outreach professional and the 2007 WSU Young Alumna Award recipient. "She's able to really connect with the people her agency serves — as well as provide a voice for vulnerable youth."
Originally interested in studying law, Robinson graduated from Washburn University in 1975 — with a bachelor's degree in psychology. "Sarah, I understand, wanted to go to law school," says Pamela Ammar, an attorney and past president of the Wichita Children's Home board. "That is the reason she went to Washburn to receive her undergraduate degree. But while there, she found that child welfare really grabbed her heart."
Robinson's career in child advocacy took flight in 1977 with her involvement with Big Brothers Big Sisters of Sedgwick County as a case manager. In 1981, she began work as a night counselor and program director for the Monica House, before moving on to the Wichita Children's Home in 1983.
Her professional activities are legion. To mention just four: she is a member of the Children's Alliance of Kansas and serves on the Kansas Workforce Initiative Advisory Council, the Child Abuse Fatalities Community Response Team and the Community Council on Homeless Advocacy.
Born in St. Louis, young Sarah moved with her family to Wichita and graduated from Southeast High School. She fell in love with horses. In 1978, she was recognized with Horse of the Year honors for her horse, Mr. Nero. Her interest in the equine world continues, and she is today a sought-after announcer at horse shows, although she doesn't often take time away from her work.
In 1986, Robinson earned a master's degree in community psychology from Wichita State, three years after she began working as the assistant director of the Wichita Children's Home. Only a few months after joining the WCH staff, she took on the responsibilities and duties of the top job. "I treasure my job at the Wichita Children's Home," Robinson says and adds, "I'm kind of a workaholic — but I'm okay with that."
Robinson has been recognized with a number of awards, including the 1997 Children's Alliance Maxine Johnson Friends of Children Award and the 1995 Attorney General's Child Protection Advocate Award.
And on Thursday night, Jan. 28 — to the beat of Sister Sledge's "We Are Family" and the applause of hundreds of fellow Shockers — she received the 2009 Achievement Award.
---
Alumni Recognition Award: Mike Kennedy '71

"We've Got the Power"
The Pointer Sisters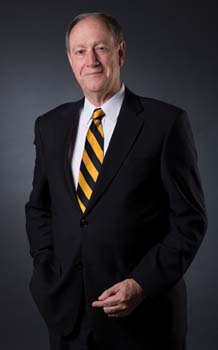 Shocker power, grit and determination are what sports broadcaster Mike Kennedy has chronicled over the radio airwaves for some three decades.
His voice is the voice of the Shockers. Renowned for descriptive, no-nonsense play-by-play accounts, Kennedy is famed for a number of calls, including his call of Greg Brummett's final pitch in the Shockers' victory over Texas in the 1989 College World Series and of Mike Jones' game-winning basket over the Kansas Jayhawks in the 1981 "Battle of New Orleans."
Kennedy began his announcing career in 1970 as a Wichita State student announcing baseball, basketball and football games on the university's public radio station KMUW. The first game he ever called was a Shocker baseball game — and, yes, he can tell you not only the opponent (Creighton) and the outcome (the Shockers lost), but every key statistic from the game.
Indeed, this sports historian's knowledge base is legendary. Stories abound of his talent to recall stats and trivia; Kennedy himself views this as part of the job. "What Mike says is, 'It's important that we all be prepared,' — that's his, I think, strongest trait, his preparation — 'so that the people listening on the radio can feel like they're actually there viewing the ballgame,' " says Dave Dahl, a lawyer and former Shocker basketball player who has been Kennedy's color commentator for home WSU men's basketball games for more than two decades now. "He does a fantastic job of that."
Kennedy's first professional position was with KKOY Radio in Chanute, Kan. He then moved to koam Radio in Pittsburg, Kan., where he was sports director and did play-by-play for Pittsburg State football and basketball. In 1976, he returned to Wichita to work for the Wichita Aeros Professional Baseball Club and soon added duties as the weekend sports anchor for KAKE-TV and as a weekday sports reporter and morning sportscaster on KAKE Radio. It was also in 1976, while working at KAKE, that he called his first Shocker game as a professional broadcaster.
In 1980, Kennedy became the full-time voice of the Shockers on radio for KAKZ Radio. Today, he broadcasts Shocker athletic games as an independent contractor for the rights-holder, BGM Sports Marketing. Over the course of his career, he called WSU football from 1980 until the program was disbanded, has done well over 900 consecutive basketball broadcasts and more than 1,200 broadcasts of WSU baseball. In 2005, he added Shocker volleyball to his repertoire.
Born and raised in Wichita, young Mike fell in love with sports and music early on. In fact, he is a 1971 music education graduate, and has a beautiful singing voice, although he rarely shows it off publicly.
Honored six times by his peers as Kansas Sportscaster of the Year, Kennedy was inducted into the Pizza Hut Shocker Sports Hall of Fame in 1995, one of only a few non-athletes or coaches to be so honored. In 2003, he became a Kansas Baseball Hall of Famer; in 2005 he was inducted into the Kansas Association of Broadcasters Broadcasting Hall of Fame.
And this year, he is presented the 2009 Alumni Recognition Award.
---
University Recognition Award: David Alexander

"Stars"
Sylvester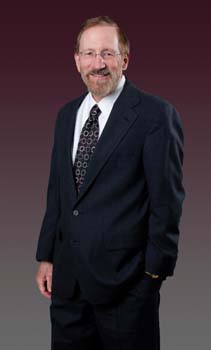 From stars to subatomic particles, just about everything catches David Alexander's attention. He is a serious and, from time to time, a not-so-serious student of the grand cosmic dance that is our universe.
Dubbed "Captain Cosmo" by colleagues and students, this award-winning physics professor is the founder and has served as director of three Wichita State entities: the Lake Afton Public Observatory, the Fairmount Center for Science and Mathematics Education and the High Performance Computing Center. With degrees in astrophysics, astronomy and physics in hand, Alexander arrived at WSU to teach physics in 1971. In the summers of 1973 and '74, he ventured away from Wichita to complete two NASA faculty fellowships at the Goddard Space Flight Center.
Back on campus, he perfected his effectiveness in the classroom and was recognized in 1983 with the Regents Award for Excellence in Teaching. For 17 straight semesters from 1984 to 1993, he taught the popular course Introduction to Modern Astronomy. At its peak, the class maxed out Hubbard Hall's Room 208 with an enrollment of 490 students.
A noted researcher, Alexander's papers have been cited more than 2,100 times, and he has presented numerous papers at national and international conferences. Recognized for his research work in low temperature astrophysics, he has been called on to chair a NASA proposal review panel that dealt with the search for and characterization of planets outside the solar system.
In addition, he is well known for his work from 2003 through 2006 as project manager in implementing the WSU Information Network — Banner, as it's called on campus. Wichita State registrar Bill Wynne, who worked with Alexander on the highly detailed and technical project, says, "I was impressed by his ability to grasp the whole picture. And he worked to get done what was necessary without alienating people — he actually brought them together."
Scott Kardel, who is public affairs coordinator at the famed Palomar Observatory in San Diego, shares this about his former supervisor at WSU: "I consider myself very fortunate to have spent a decade in Wichita working with Dave. His shadow looms long, and he has had a geat influence in what I do here at Palomar.
"As I think back, there is one word in our relationship that stands out, the word we. I don't recall ever thinking about him as my boss, rather I always thought of us as colleagues working toward a common goal."
After 35 years at Wichita State, Alexander left the Kansas prairie in 2006 for the mountains of Idaho, where he enjoys the outdoors, especially hiking. He now works at Idaho State as the university's enterprise resource planning project manager.
For his far-reaching contributions to Wichita State and its students and alumni, Alexander — make that Captain Cosmo — is the 2009 recipient of the University Recognition Award.
---
Young Alumna Award: Delia Garcia '02

"Ain't No Mountain High Enough"
Diana Ross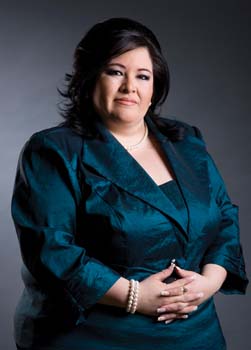 No challenge has proven too high or too low for Delia Garcia to tackle.
In 2004, she became not only the first Latina to be elected to the Kansas State Legislature, but also one of the youngest Latina state representatives in the nation. Now a third-term Kansas representative, Garcia has posted a record of championing advances in healthcare and education, and has fought continuously for job creation for Kansans. She is also passionate about leading healthy dialogue on issues of diversity.
Garcia, a democrat representing Kansas House District 103, is the ranking member on the House Local Government Committee. She also serves on the House Labor and Commerce Committee, on the Military and Veterans Affairs and Homeland Security Committee and the Elections Committee. A public speaker of note, she has addressed national audiences on topics that include "women in government," "Latinas in government," "young leaders in government," as well as immigration legislation and health, labor and education issues.
A proud Shocker and current WSU Alumni Association board member, Garcia was active during her college days; she served as president of the Hispanic American Leadership Organization and was a founding member of the first Latina service sorority at WSU, Kappa Delta Chi. Named one of Wichita State's five Senior Honor Women, Garcia earned her bachelor's degree in minority studies in 2002. Two years later, in the midst of her own successful political campaign, she completed a master's degree in political science from St. Mary's University in San Antonio, Texas.
Garcia embraces being a life-long learner, and has recently broadened her horizons by traveling to Turkey, South Korea, Mexico and Kenya, where she spoke to women about the significance and benefits of democracy and community organizing.
In addition to her public service, Garcia has had her research on Latino voting behaviors published, is a consultant for MOLA Market Research in San Diego and teaches American government at Butler Community College here in Kansas. A native Wichitan and one of five daughters born and raised in the House district she represents today, Garcia also helps manage her family's restaurant, Connie's Mexico Café, which opened in 1961. It is, she proudly relates, the oldest, family-owned Mexican café in the state.
Garcia's aspirations for the future include running for a seat in the Kansas Senate and pursuing a doctorate in organizational leadership. Already, her resumé of honors and accolades is much too long to enumerate here, but includes a 1994 Outstanding Youth Community Service Award from President Bill Clinton and a 2008 Matt Garcia Public Service National Award presented by the Mexican American Legal Defense and Education Fund. In 2009 the U.S. Hispanic Chamber of Commerce and Latina Chamber of Commerce recognized her as a National Latina Trailblazer in Government.
The Shocker community is proud to add to her list of honors by presenting her the 2009 Young Alumna Award.
---
Distinguished Service Award: Pat Campbell

"Oh, What a Life"
Gloria Gaynor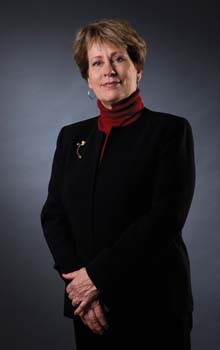 Oh, what a time Pat Campbell has had during her two decades of service to Wichita State.
Now the executive administrative assistant to WSU President Don Beggs, Campbell began her university employment as a computer science department secretary and has held various positions at the alumni association and in the president's office. Shirely Beggs describes her as dedicated, discreet, loyal and always calm under pressure.
Prior to coming to Wichita, Campbell, her husband Mickey and their two children, Stephanie and Gabe, made their home in Garden City, Kan., where Mickey farmed and Pat worked in real estate and as a branch office administrator for a financial investment firm.
The Campbells maintain close ties to the Garden City community, but are now firmly planted in the Air Capitol — with three granddaughters to keep them oh-so hectically and happily busy.
Campbell appreciates the activity level at WSU, too. "There's always something going on," she says, "sporting events, theater, concerts, art exhibits, student activities and competitions. One never lacks for something to do or participate in." A past president of the Council of University Women and a former member of the WSU Classified Senate, she regularly volunteers for Shocker duties that range from judging Shocktoberfest competitions, to passing out T-shirts at Convocation, to officially recording winning bids at Rockin' the Roundhouse. She also makes time to volunteer for a number of community non-profit endeavors, particularly the Leukemia and Lymphoma Society's First Connection program.
Campbell's fan base not only includes WSU students, faculty, staff and alumni in Wichita, but alumni across the nation and around the globe. During her seven years with the alumni association, her duties included volunteer and event coordination for national and international alumni chapters and local professional societies. She also served as advisor to the WSU Student Alumni Association, which she helped guide to recognition as the university's Outstanding Student Organization of the Year in 2000.
Don and Shirley Beggs honored Campbell with a brick in WSU's Plaza of Heroines for her birthday in 2008. This year, she garners recognition as the 2009 recipient of the Laura Cross Distinguished Service Award.
---
Award of Distinction: KPTS CHANNEL 8

"Black & Gold: Remembering the WSU Plane Crash"

"Goodbye"
Lionel Richie

In one of the worst tragedies in college sports history, one of two charter planes carrying WSU football players, coaches, university administrators and boosters crashed into the side of a Colorado mountain Oct. 2, 1970, killing 31 of the 40 people on board. The university community still reels from the impact.
As indelibly as the event marked our collective memories, it wasn't until nearly four decades later, in 2009, that this story of tragedy, survival and recovery was told as completely and compassionately as KPTS Channel 8's documentary "Black & Gold: Remembering the WSU Plane Crash." Produced and aired by kpts, a locally owned, not-for-profit public television station that serves south-central Kansas, "Black & Gold" pays tribute to the victims, survivors and families of those directly involved.
The emotionally powerful film was produced by Stacey Jenkins and Gabe Juhnke '04, and narrated by Bruce Risinger. Jesse Huxman, KPTS director of content, served as executive producer on the project. For its significant and unique addition of this documentary into the permanent record of university history — KPTS Channel 8 is the 2009 recipient of the WSU Award of Distinction.
— Contributing David Dinell, Molly Walsh