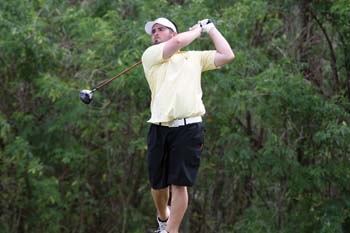 Wichita State senior Dustin Garza hasn't just kicked his golf game up a notch, he's taken it into overdrive.
Consider: After winning one tournament his sophomore year, Garza went on a roll as a junior, racking up four first-place finishes. He's expanding on that as a senior, picking up six wins, including three straight during the fall season.
And it's a solid bet he'll score additional victories as the regular season continues at the Crooked Stick Invitational in Indianapolis, Ind., April 17-18, followed by post-season play, beginning at the Missouri Valley Conference tournament April 26-27 in Hutchinson, Kan.
Garza credits his success to maturity, more training and practice, a lot more practice. He needs it to reach his long-term goals. The 5-foot 10-inch, 200-pound golfer has a naturally powerful swing, made even better due to his training regiment. "With the way they're making courses these days," he says, "if you don't hit it long, you don't stand a chance."
Garza says that golf demands its top players have what may seem like an odd mix of determination, aggression, fortitude — and calmness. It's a mix Garza has. As head men's golf coach Grier Jones puts it: "He's a real talented guy, yet at the same time, nothing seems to bother him."
Assistant men's golf coach Zac Zedrick agrees and adds that there has been a definite improvement in Garza's game. "When he's playing really well, he stays in the present better than anyone I've ever seen," Zedrick says. "He's focused on the shot in front of him — and only that."
Garza sports a laid-back approach to life off the links, including a relaxed attitude about — hair, both on his head and face. He has tried a perm, once, and varies his facial hair, which has recently made the transition from goatee to semi-beard. There's a simple reason for that: "I don't like to shave," Garza says with a laugh.
Raised in Mission, Texas, Garza attended Sharyland High School, where he was a dominating presence on the golf team. As a WSU freshman, he was named Missouri Valley Conference Newcomer of the Year, but was hardly setting the links ablaze, and ended the year without a single tourney win. The next year, his national golf ranking was closer to No. 200 than No. 1.
With the clock ticking, however, Garza knew he needed to apply himself more if he wanted to make a splash in the competitive world of collegiate golf. He did just that by conditioning and working harder on his game, including using advice from his swing coach, noted Texas golfer Carlos Espinosa. His redoubled efforts brought him almost immediate results. At one tournament, he snagged 21 birdies during the three-round event. The accomplishment was part of a torrid pace set during fall 2009, and he finished with sub-par scores on 14 of 15 rounds.
He led the team with a stroke average of 68.5 during 15 rounds and nailed a 61, the lowest round in his career, at the Sycuan Collegiate Invitational, where during the course of 54 holes, he sailed to an impressive low 200. The result of this flurry of achievement? A ranking as the ninth top golfer in the nation, according to the Golfweek/Sagarin College Rankings.
Garza's skills are helping the Shocker team. Tied for fourth after the first round during the 2010 Desert Shootout, Garza hunkered down and blitzed passed the leaders to win, notching his fifth first-place finish this season and helping Wichita State knock off the Kansas Jayhawks.
Last spring, he and Connor McHenry, who also joined the team in 2006, posted a 216 at the Missouri Valley Conference tournament to lead the Shockers to their eighth Valley tournament title in 11 years.
Shocker coach Jones, a seasoned pro who has competed and won on the PGA Tour, is pleased with Garza's play and continuing progress, especially his putting game. "When he first came here," Jones notes, "he certainly had the talent, but didn't work at it too hard. But he believes in himself, and the new approach has paid off."
Garza says that Jones was the major factor why he selected WSU. "I fell in love with Wichita State," Garza says, "and it has worked out well."
Wichita State's top player picked up golf at the tender age of 5 with encouragement from his father, a high school athletic director. In high school, he played some baseball and tennis but concentrated on golf.
At WSU, Garza is a criminal justice major who would like to work for the FBI if a golf career doesn't pan out. He has three sisters, including Candace, a junior who also attends WSU and, like her brother, is pursuing a bachelor's degree in criminal justice.
After graduating, Garza plans to sign with a management group and take a swing at professional golf. Whether he can make it to the PGA Tour will depend on how he does in qualifying school and a three-stage tryout process.
Only the very best can navigate those rocky shoals, but Garza is serious about playing the same course as Ernie Els, Phil Mickelson and Tiger Woods. "I can see myself out there," he says.