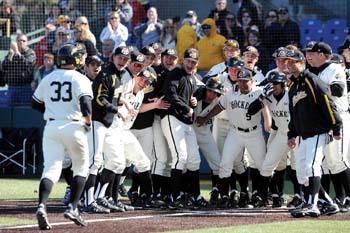 Cody Lassley hits a walk-off grand slam in the bottom of the 10th inning as the Shockers battle back to sweep the series against the Bradley Braves in March. With their current record (at press time) of 19-9 overall, 5-1 in Missouri Valley Conference play, the Shockers occupy the top spot in conference rankings and are set to host second-place Southern Illinois (15-14, 4-2) April 9-11.
"We have a red-hot Southern Illinois Saluki team coming in here this weekend. It's going to be a difficult task for us," says head coach Gene Stephenson. "I think our guys are ready for it. It's going to be an exciting series for the fans and for the players. It's gonna be fun. We're ready to go."
On April 4 at Evansville, Stephenson won his 1,700th career game, becoming only the second Division I baseball coach to ever reach that milestone
Heading into the first game of the series against the Salukis, the Shockers aren't exactly playing cold. They are 8-2 in their last 10 games and ranked 28th nationally in stolen bases per game and 29th in double plays.
Wichita State is hitting .327 in 13 home games this season with a 2.82 ERA and hitting .253 in 13 road games with a 7.37 ERA. Lassley, a senior, leads the Shockers with 10 multiple-hit games, while senior Ryan Jones leads the team with 11 multiple-RBI games.
And in another statistical "quick hit," this one quite literal, Tyler Grimes has been hit by a pitch 15 times this season, which ties the school record for a season. He is also currently fourth in career hit by pitch with 24. He needs just three more to take over second place, and 12 more to be the career leader.
Looking ahead to the home stretch of the season, WSU will play Oral Roberts May 18 at home, take on Dallas Baptist in a three-game series May 20-22, before MVC Tournament play May 25-29 in Wichita. Regionals are set for June 4-7; Super Regionals, June 11-14; College World Series, June 19-30.
— WSU Sports Information