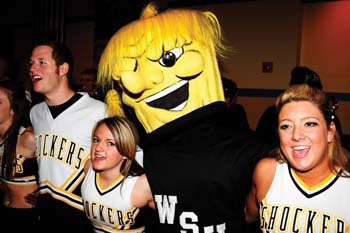 Shockers converged in St. Louis March 5-7 for the Missouri Valley Conference Men's Basketball Tournament, where the 10 MVC member teams vied for the annual championship — and an automatic bid to the NCAA Tournament.
Hundreds of Wichita State fans, 50 of whom arrived in St. Louis by bus as part of a WSU Alumni Association-sponsored Arch Madness trip, met before each Shocker game for a rally, complete with pep band, cheer squad, dance team and special guests, including Kansas Gov. Mark Parkinson '80.
The second-seeded Shockers dispatched Missouri State, 73-63, on Friday and went on to defeat Illinois State, 65-61, the next day, setting up a Sunday battle against top-seeded Northern Iowa, a team WSU had beaten at home in regular-season play but then lost to in the return match-up at UNI.
Alas, the Panthers prevailed, 67-52, and the Shockers, with their 25-9 record, continued post-season play in the National Invitational Tournament.