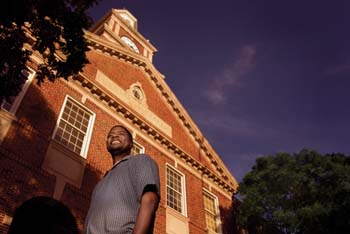 Every year since 1895, freshmen have approached the school atop Fairmount Hill with their own unique intertwining sets of trepidations, aspirations and plans for campus life.
ROY
Roy Lake is a non-traditional student in every aspect of the term.
Born and raised in St. Thomas, U.S. Virgin Islands, he joined the U.S. Air Force at the age of 18; after basic training, he found himself stationed on the mainland in Texas. In 1989 he was transferred to McConnell Air Force Base, where he worked as editor of McConnell's newspaper, Contrails, until he retired from the military in 2000. Now working as a mortgage loan officer, Roy enrolled at WSU to study nursing. "I want to help people," he explains. "I want to become a research doctor."
Though he has his own home and family, and will continue to live off-campus, Roy looks forward to the opportunities for social interaction that come with college attendance. "As a social sponge, I enjoy diverse interaction, from the sublime to the ordinary," he says. "I hope to be enriched by my time here and reciprocate in kind. I would like to touch lives and be touched in a profound and uplifting way."
"Oh, yeah," he adds, "I also wanna have fun!"
Roy has never blogged, but his experience in journalism gives him a solid foundation for his writing — and a curiosity about this new form of reportage. Blogging, he explains, "is something I'm very interested in doing. Ever since the Drudge Report started making news, I've been interested in finding out more about reaching a whole new audience through this medium."
---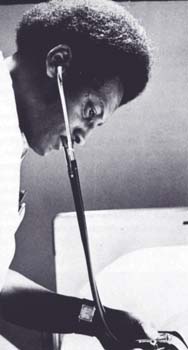 JIM
Jim Dobbs '76, juggling school, work and family, may have been dubbed "non-traditional," but he exemplifies WSU's tradition of providing wide educational opportunity — still in full force today.
WSU's 1969-70 school year debuted the College of Health-Related Professions, with Cramer Reed '37 in charge. The college's largest department was nursing, in which Dobbs enrolled in the early '70s after 18 years employed as a nurses' assistant at the Veteran Administration Center Hospital. According to a profile in the 1976 Parnassus, Dobbs was encouraged to attend college by a VA nurse, who was "pushing education, and she felt I had what it took."
As a senior, in addition to a full course load, he worked 24 hours a week in clinical training in medical institutions across Wichita and maintained his job at the VA hospital — a busy schedule familiar to many a current student. He also felt pressure as a returning student, competing with "students who have spent all their lives going to school," and the mixed reactions of friends and neighbors, some of whom were "amused" by his decision to further his education.
Despite these challenges, Dobbs enjoyed his studies. "Nurses are doing things that doctors used to do, and still do," he told the Parnassus. "We learn to palpitate the liver, to listen to bowel sounds — to be more independent. The field's wide open, and it's unlimited as far as the things that a degreed nurse can do now — from research to their own private practice."
After graduation, Dobbs became a staff nurse at the VA. Now retired, he lives in Wichita.
---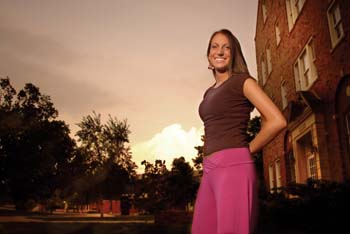 BETHANY
Wichita native Bethany Fiscus has spent her life going through the motions — of dance, that is.
A dancer with the Wichita School of Performing Arts since the age of five, Bethany started teaching at that school three years ago; she also founded and teaches a program called Spirit of the Dance at her church, passing on her love for dancing to children from kindergarten through fifth grade.
She was also a member of the Wichita Heights pom-pon dance team through all four years she spent attending that high school.
Now that she's enrolled at WSU, she's both excited and anxious about what lies ahead. "A friend and I tried out for the WSU dance team and made it! I am really pumped up to be a part of the team and dance at the games," she says. "I am planning on rushing this fall and looking forward to meeting new people along the way. The only thing I am apprehensive about is classes being a lot harder than they were in high school."
In addition to dance, Bethany plans to study physical therapy, explaining that she has "always been intrigued with how the body works."
When asked why she chose to attend Wichita State, Bethany reveals that as a youngster she was enamored of UCLA and UNC — the former because of its fashionable West Coast location, the latter because it was Michael Jordan's alma mater.
"And I liked their colors," she adds. "As I grew older I realized you had to pick your college for better reasons. My mom and dad both graduated from WSU and received excellent educations."
Bethany is also familiar with the campus, as her mother works at WSU and her family has attended many events over the years. She plans to continue living at her family home, located not too far from campus, as she starts her journey into college life.
"My parents and I have had long talks about where I will be living," she says. The discussions ranged from "getting an apartment with two girlfriends, to living in the dorms, to living at home my first year. Now I am negotiating with my parents about moving to the basement and making it like my own apartment."
Though Bethany has never written anything for public consumption, she looks forward to producing her blog. "I am excited about going to WSU, and willing to write about my experiences," she says. "I thought it would be a fun way to start getting involved."
---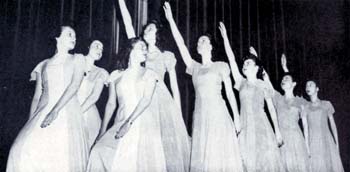 MICKEY
"Mickey" (McCoy) Armstrong '45 was ensconced in campus life as a WU student. In addition to Alpha Tau Sigma, YWCA, University Players, Young Republicans, Wheaties and the Newman Club, she belonged to Orchesis, a club, she explains, "for people interested in dance but not performers. It was wonderful physical workouts — beautiful, flowing movements and interpretations."
Founded in 1937 to study "technique and creative expression" in modern dance, Orchesis was part of physical education rather than fine arts. Over the years, its members posed for Parnassus in dramatic costumes, striking graceful attitudes.
WWII was declared during Armstrong's freshman year, and "the boys started leaving to go to war. The campus was pretty much full of women." One sorority gave up its house to serve as an Air Force infirmary, and the men remaining on campus consolidated WU's four fraternities into one for the duration.
Still, Armstrong describes WU during the war as "pretty exciting, quite a united campus. We had a little bit of everything. The lure of the university was that it was small and it was local. Transportation got to be tough, so it was good to have a good local university."
The layout of the campus was quite different then, with only four main buildings — the bookstore, for instance, was in a corner of Jardine Hall and the second floor of the Commons building was the designated hangout for food and a Coke.
Armstrong earned a degree in English and became the alumni association's second paid secretary. She and her husband Pete '42, of McCormick-Armstrong Printing, remain leaders in WSU and Wichita community life.
---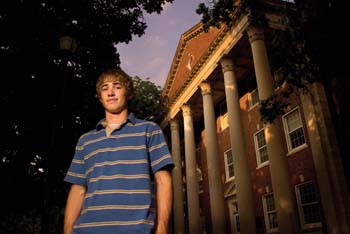 DAVID
Holton, Kan., native David Mears is the only member of WSU's inaugural blogging crew who has never lived in Wichita, and will be the sole on-campus resident of the three.
"I will be living in Fairmount Towers," David says. "This will be a big change for me because I'm used to having my mom do the cooking and all of my laundry. I will have to become a lot more independent and self-sufficient."
A standout high school varsity athlete — he earned letters in football and baseball — David is interested in studying sports administration and business.
"I am drawn to this field because I have always been very interested in sports," he explains. "I've grown up around them, and even though my varsity sports career has ended, I would still like to be around and involved in athletics. Currently, I am staying involved by officiating baseball and softball games." David says he chose to attend WSU based on a combination of factors.
"I chose Wichita State because I was interested in the sports administration program, but I was also impressed with the reputation of the business programs," he says, adding, "I hope to find a way of combining aspects of both programs in my degree.
"I had the chance to meet with some of the faculty on a campus visit, and they were very informative about the program, the career positions available after graduation and the accomplishments of program graduates. The opportunity to be involved with contributing to the success of a sports facility or program provides me with that special connection to an industry that I have grown up enjoying."
Though he's impressed with the academic opportunities at Wichita State, David admits to being a bit nervous about moving away from home. "Coming from a small town of 3,353, moving to a larger city is going to take some getting used to," he says. "I'm a little bit apprehensive because I won't know very many people initially, but I'm looking forward to the challenge."
David also hopes that his time at WSU "will provide me with a place to grow both academically and socially. I want to meet as many people as possible, along with getting an education, so that I can have the skills to succeed at a career that I enjoy. I hope to stay involved in student activities and help the university and the community any way that I can."
As for his decision to participate as a student blogger, he explains, "My experience in public writing is limited, but I'm always up for trying new things. I'm very excited to share my college experiences with others. I am hopeful that people will find my entries entertaining but also informative. I thought that this would be a good opportunity to become involved in university life."
---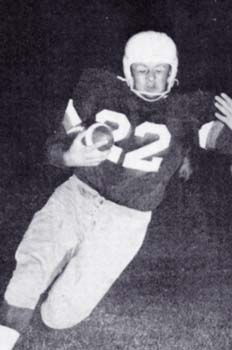 JIM
Probably the biggest — and most controversial — change in Shocker sports was the elimination of the football program in 1986. Thirty years earlier, it was still going strong, with Jim Klisanin '58 leading the team's offense.
When Klisanin arrived from Pennsylvania, he'd been told by then-coach Jack Mitchell, "You look OK, boy, but we don't have any scholarships left."
Without the means to return home, Klisanin stayed in Wichita on the scrub team until Mitchell put him in as a fifth-string halfback — then fourth-, then third- … By 1956, he was the team's leading passer and an All-American.
But the '56 season proved a disappointment to fans and players alike. After winning two consecutive MVC titles, the team finished 4-6, and the Parnassus reported: "The Shockers played good football, but there was just too much bad football mixed in." Despite this, Klisanin and five others were selected as members of the All-Missouri Valley team.
Klisanin was also a three-year starting shortstop for the Shocker baseball team and played basketball during his freshman year (a 12-3 season). He graduated with a degree in industrial education and went on to build a junior high football program in California that he led to 18 championships.
Klisanin retired from teaching in 1995 and is now a real estate broker in Seal Beach, Calif. Inducted into the Pizza Hut Shocker Sports Hall of Fame in 1987, he calls his collegiate athletic days "unbelievable. I was in heaven — I remember walking down the street and hearing people say 'That's Klisanin!' and thinking, they're talking about me? One of the best times of my life."