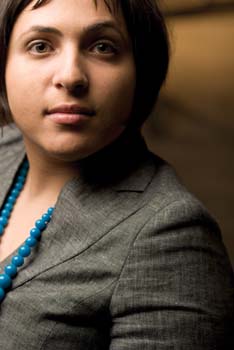 Cheez Whiz has been a familiar fixture in America's processed food pantry for decades.
But to Maha Al-Emam '99, the gooey cheese food product re­mained a gustatory mystery until 9:30 p.m., Sat., May 7, when she tasted it for the first time at the opening of her latest art show, "Beauty Is a Pain and My Socks Are Too Tight."
"I didn't like it, thank God," she says now, obviously relieved. "It really didn't appeal to me. I was afraid I'd get addicted to it."
Al-Emam's reaction to her first taste of Cheez Whiz is relevant here because the foodstuff was a central motif in "Beauty Is a Pain." The show, which hung through May at Wichita's Firehouse Gallery, was conceived and displayed in a conceptually linear fashion.
"You start with the person eating the processed food, then it talks about eating disorders, how you develop them, how you go through life with yo-yo weight problems," she explains. "You want to look good, you want to belong to certain cliques.
"But everything's superficial. You ignore your environment, ignore politics, ignore the rest of the world — because you're too involved with what you're wearing today or who you talked to or whatever. The Cheez Whiz logo holds the show together as you travel through these ideas."
Al-Emam's artistic output covers a lot of territory — fashion design, paintings, music composition and more — but regardless of the medium, in every new endeavor is an attempt to explore ideas in a unique way.
Born outside of London, Al-Emam spent her formative years attending schools in England, Germany and ultimately Saudi Arabia, where her father is an orthopedic surgeon and her mother lectures at a university. Upon finishing high school, she jumped right into higher education.
"I went to med school in Saudi for a semester," she recalls. "I thought I could follow in my father's footsteps, but I realized medicine was not for me. I thought I wanted to be an architect. I was accepted to the University of Vienna in Austria and spent three years there. The first semester I did German, then I managed to somehow finagle my way into the architecture program."
Though she enjoyed her studies, the program in Austria turned out to be a longer-term commitment than she and her family had bargained for.
"My parents thought it was a six-year program, but we found out the average Austrian took nine years to graduate. It was just really a long time to be in school. I had a choice between American University of Beirut and NYU. So I moved (to the United States)."
Once stateside, Al-Emam found her plans changed again. Her aunt, with whom she was to stay in New York, worried that the city was too dangerous a place for a young lady and arranged to send her on to other relatives in the heartland.
"So three weeks later I found myself in Wichita," Al-Emam says. "When I arrived at the airport, there was a cowboy with his boot up on the luggage return and I thought, 'Oh, please let this be temporary!'" She enrolled at Wichita State, which has no architecture program; Al-Emam chose to pursue a degree in graphic design.
By 1999, her initial trepidation about Wichita was long gone. She had earned her bachelor's degree — and a large circle of friends in Kansas. In that year she organized her first "Paslé" show, an exhibit of fashion design inspired by the Surrealist concept of "automatic art."
"The Dadaists and Surrealists came up with this idea that you should be able to work from the subconscious without interference from the conscious mind. So I wanted to see if it was possible in other things. I did lots and lots of automatic poems and paintings. I had all these found objects and started making these headpieces. I had twin cotton bedspreads, and I'd pin them to my friends and make random cuts here and there. After they would leave, I'd sew wherever there was a pin. So for closure's sake, I had that show.
"And yes," she adds, "you can make automatic clothing."
After the "Paslé" fashion show, Al-Emam moved to Chicago. "I thought I wanted to get a master's at the Art Institute," she says.
She enrolled in the institute's fiber program, but found that her artistic outlook had changed. "I didn't end up going for the master's. I came back to Wichita at the end of 2002. I realized that I didn't want to live in Chicago for the rest of my life. My friends were all here, and I thought this was a good place to think about things."
Upon her return she found herself at first with no space in which to work, temporarily stanching her output. "I get really depressed when I'm not productive," she explains. "I had a studio in Chicago and that's where I'd spend every minute of my waking life." She eventually found a better-suited apartment, and before long, the work started flowing again. The "Paslé II" show would soon follow.
"I asked six local artists to be a part of the show," she says. "Clearly, for every one of those people, the objective was different — what they wanted to accomplish was different. But for me, it was all wearable art."
The show was held at the Fisch Haus on May 4, 2004, and despite a downpour of rain that night, nearly 800 people showed up, far exceeding the capacity of the space.
"There was no breathing room," Al-Emam recalls.
A third "Paslé" was held in April but due to concern about the overwhelming turnout the previous year, "Paslé III: Recycled" festivities were broken into two shows, each of which filled the Fisch Haus to its legal limit and spilled out into a festive and bustling Commerce Street.
"This year the only restriction was that you had to make a piece out of recycled, completely impractical material," Al-Emam says. "Everyone had to choose a medium to work with that wasn't considered 'clothing,' necessarily. I made a piece out of 350 Dillons (grocery store) bags."
Al-Emam had little time to digest the success of "Paslé III" before diving right into the final stages of putting the "Beauty Is a Pain" show together, including the composition and recording of 12 songs to accompany the show.
She had never attempted to write music before, though she had endured years of piano lessons as a child. She credits local artist/musician Wade "Hate" Hampton fs '91 (who also creates The Shocker's Marginalia illustrations) with giving her the courage to try her hand at songwriting.
"Wade has always been very encouraging," she says. "No matter how ridiculous an idea I come up with is, Wade's always the one saying, 'Do it!' I really appreciate that, because now I'm obsessed with this music composition."
Many of the individual artworks in the "Beauty Is a Pain" show were displayed next to personal CD players, and viewers were encouraged to put on headphones and listen to the songs accompanying each of the visual works, a concept Al-Emam intends to explore further.
"I don't know if this exists, but I wanted to start the idea of soundtracks to paintings," she says. "The songs would share the titles with the paintings."

Whatever she chooses to do next, one can be sure that Al-Emam will continue to explore her ideas in novel and intriguing ways.
"That's why conceptual art is so fantastic," she says. "You can say whatever you want to say and people can interpret it — because, no, it's not spelled out for you. And you can't go around with every single person at a show and say this means this, and this means this."
Indeed. Experiencing the panaesthetic art of Maha Al-Emam is a matter of personal processing — a bit like tasting Cheez Whiz for the first time.