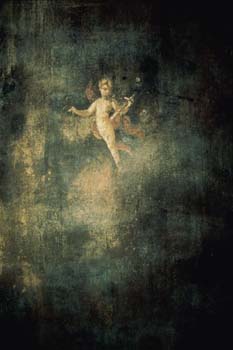 The angel is one of the world's great go-to metaphors: "Touched by an Angel," Angel Airlines, Angel Island, fallen angel and that most exalted of compliments, "You're an angel."
Los Angeles is a rookie pretender; Bangkok has been celebrated as the "City of Angels" for centuries. So it's not surprising that a remarkable Thai woman named Prateep Ungsongtham fs '84 has been revered as Bangkok's "Angel of the Slums" for going on 30 years.
What is surprising is that she's a former WSU student whose own personal angel, albeit in disguise, was a retired farmer from Newton, Kan., named John Liggett.

This unlikeliest duo of kindred spirits shared not so much a belief as a vision: Education is the key to a better future. A child of Thailand's poverty-besieged Klong Toey slum, Ungsongtham had to leave school when she was 10 because the expense was too great for her family to bear any longer.
Over the next five years, she worked at several physically demanding and often dangerous jobs, including packing firecrackers, chipping rust off ships, cleaning the smokestacks of cargo vessels and scavenging the dump for items to resell.

"Poor people cannot afford to look too far into the future."
— Prateep Ungsongtham

She managed to save enough money for herself to enter an adult night school, where she compressed six years of study into a little more than two. "Continuing my routine of working during the day and attending school at night," Ungsongtham remembers, "in 1970, I enrolled in Suan Dusit, a very fine teacher training college in Bangkok, and in another four years I had — at last — earned my teaching diploma." She was ready to go to work teaching the children of Klong Toey to read and write, and thus gain a measure of control over their future.

The Klong Toey slum isn't just a few blocks of bad neighborhood. Sandwiched between an elevated highway and the Bangkok docks, this mosquito-infested swampland community is packed with stilt-houses, shanties and shacks interconnected by a maze of narrow wood walkways, leading ever away from the main road. Klong Toey is dubious home to upwards of 80,000 people.

Built with the help of community volunteers, Ungsongtham's school was named Pattana, the Thai word for development. A simple three-room building housing the first and second grades, Pattana opened in 1974 with a staff of three teachers and 150 students. The newspapers, which had dubbed the winsomely intrepid young woman the "slum angel," were happy to give this heart-warming story some play.
The tale traveled halfway around the world to the middle of Kansas and somehow caught Liggett's attention; he was so captivated with the slum angel that he sent her $5. This was only the first of many donations that would ultimately transcend transaction and foster a devoted relationship.
For an angel specializing in philanthropy, Liggett flew well under the radar. Perhaps no more than three articles were written about him, his financial genius in the stock market and the many needy college students he helped over the years.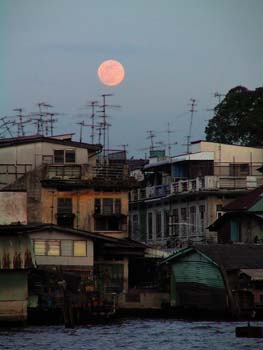 Born in 1909, by his own admission he came late to charitable works. In 1974, he was 66 years old to Ungsongtham's 22. But it's fair to say that he more than made up for lost time; when he died in 2003, he had earned the distinction, some 20 years earlier, of lifetime membership in the WSU Foundation's Fairmount Society, an honor reserved for those who have given more than $200,000 to WSU.

"Liggett has subscribed for decades to Barron's, reads the Wall Street Journal every day, regularly scans several news magazines for information on the stock market and can show you how a dozen stocks he tracks behaved during a nine-year period." — The Wichita Eagle, June 21, 1984

His donations to the university were made primarily and frequently in small amounts to the Liggett Student Loan Fund, not, for example, to major scholarships established in his name, which seems about right for such a certainly eccentric man, confirmed by the same Eagle article: "He wears tattered, donated clothes that don't match, rides a banged-up, rickety bicycle and lives among piles of old books and newspapers in a one-room downtown apartment."
And Liggett himself said, "I never buy clothes except what people give me, and I spend $1.50 a day for food. I could get by on $1, but I have better health if I eat more fruit."
When Ungsongtham wrote Liggett back, thanking him and detailing how the $5 had been spent, he was evidently pleased. He sent her $20, then $60, then $200, then $1,500 — maybe $10,000 over the next several years.
Pattana's success began to attract regional, then national attention, such that, in 1978, Ungsongtham received the prestigious Ramon Magsaysay Award for Public Service, which carried a prize of $20,000. The Asian equivalent of a Nobel Prize, the award enabled her to establish the Duang Prateep Foundation, which means "Flame of Hope."

The yin of Thailand — its irresistible beauty — draws more visitors than any other country in southeast Asia, but its yang is correspondingly sobering: Among Bangkok's more sinister attractions is a flourishing sex trade. As a result, unaids.org estimates that one in every 100 Thais is HIV-infected. According to 2003 World Bank statistics, Thailand's GNI per capita is $2,190 and reflects one of the greatest income disparities between the rich and the poor in the world.

The next year, Ungsongtham's foundation received a Rockefeller Youth Award of $10,000. When she came to America to accept the award, she made a point of stopping in Wichita to visit her benefactor, whom by now she affectionately called "Papa." A couple of years later, when she wanted to improve her English, Liggett insisted that she return to Wichita and take classes at WSU's Intensive English Language Center, at no cost to her.
In May 1982, Ungsongtham moved into Wheatshocker Apartments, enrolled in IELC studies and promptly began charming students and citizens alike with her earnestness, diligence and gentle good humor. After receiving special permission to take a three-hour undergraduate course in child psychology concurrently with her final semester of IELC classes, Ungsongtham returned to the Klong Toey slum, where she continues to live and work.

"Now that I can speak English, I can learn from other countries how they solve some of the problems of poverty, and we can share solutions to other problems. 'Papa' helped me get my education, and I'll now be helping thousands of others." — Prateep Ungsongtham, The Wichita Eagle, June 21, 1984
Although Liggett continued to send Ungsongtham donations, and although they corresponded frequently, the only time thereafter that these kindred spirits saw each other was when Liggett was invited to her wedding to Tatsuya Hata, now director general for international affairs of the Sikkha Asia Foundation, in 1987.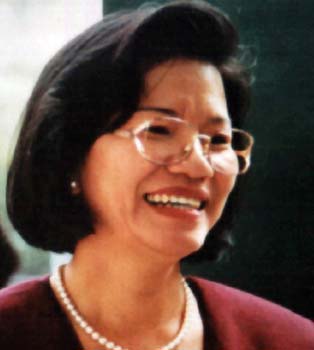 And while a Feb. 7, 1987 Eagle article reported that Liggett typically wore "a hand-me-down tweed jacket with a napkin and toothbrush stuck in the pocket, corduroys and half-laced and battered old running shoes," he made a special and successful effort to dress presentably for the occasion.

The Hatas urged Liggett, then 78, to move to Bangkok so that they could look after him. Liggett refused, although the offer delighted him. "I'm too old to learn the language," he said. "Here, with my luck in the stock market, I can make money and send it to her." — The Wichita Eagle, Feb. 7, 1987

Both Pattana School and the Duang Prateep Foundation are thriving. Currently, the foundation has more than 100 staff members and volunteers (most of them slum residents themselves), and some 2,500 slum children are studying under its auspices. In addition, the foundation supports a range of projects that improve the lives of slum dwellers, including a kindergarten program, special education for the hearing-impaired, a lunch and nutrition program, an AIDS project, the Klong Toey community-service cooperative, a children's art program and disabled and senior citizen services.
In 2000, Hata won a seat in Thailand's first-ever elected senate, which means that the Angel of the Slums now represents her devoted constituency on the national level. It's only a small flight of fancy to imagine that John Liggett has made the future brighter for thousands of Klong Toey residents as well. Some might say serendipity brought these kindred spirits together; others, that it's the work of angels.

For more information about the Duang Prateep Foundation, visit www.dpf.or.th.