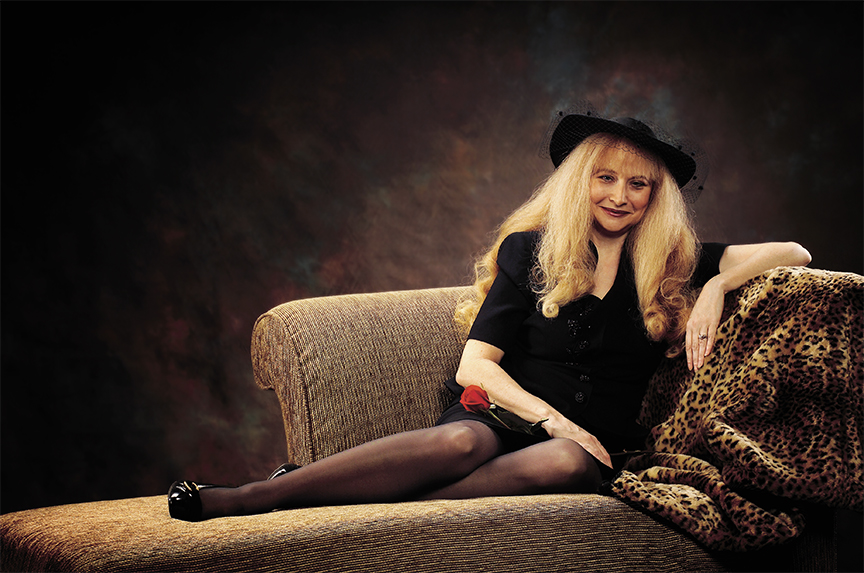 The husband who is a monster by day but an angel by night is an age-old story, as ancient as the Greek myth of Cupid and Psyche, an allegory about the tie between erotic love and the irrational soul.
Yet in Wichita State alumna Rebecca Brandewyne's hands, this oft-told tale continually renews itself.
In her first novel, No Gentle Love (1980), for example, Morgana McShane's wedding day goes terribly awry.
She waits in the church, in a cream-colored dress bedecked with pearls, to wed her cousin Colin, a loveless but practical match.
Unbeknownst to her, however, her tyrannical grandfather Fergus has promised his fortune to the grandson who marries the copper-curled, green-eyed beauty; this was the real reason behind Colin's proposal.
But the old man had a particular grandson in mind, the reckless rake Rian, and Colin finds himself locked securely in his room, while Morgana is forced to wed Rian, a man she loathes — but the only one, she discovers, who can drive her treacherous body to soaring heights of ecstasy.
Comments Brandewyne '74/79 with a sigh, "That one's pretty violent. It was in style at the time."
Whatever's in style, romance novels — and romantic comedies: A Midsummer Night's Dream, The Philadelphia Story, Bridget Jones' Diary — continue to play out this theme: the rational mind holds no sway over passion. And the two sparring partners fall into each other's arms.
Brandewyne's nearly 30 best-selling titles span the many subgenres of romance: Regency (No Gentle Love), contemporary (Glory Seekers, 1997), Westerns (Heartland, 1990, which takes place in 1870s Wichita), Gothic (Upon A Moon-Dark Moor, 1988), fantasy (The Chronicles of Tintagel series), suspense (2003's novella To Die For), even supernatural (in Devil's Keep, 1992, the governess-heroine falls for her vampire employer) and time-travel.
Despite this range, Brandewyne finds the modern market more restrictive than when she began writing; if a book's setting doesn't fall into the publisher's pigeonholes, she says, it's rejected. For instance, the Dark Ages are simply not done these days; but Brandewyne's personal favorite of her novels, Destiny's Daughter (2001), sidesteps this constraint with a double narrative about the missing treasure of the Knights Templar.
One storyline follows the treasure itself, through those forbidden ages; another, contemporary, storyline, follows the hero and heroine's search for the treasure.
THE OUTLAW HEART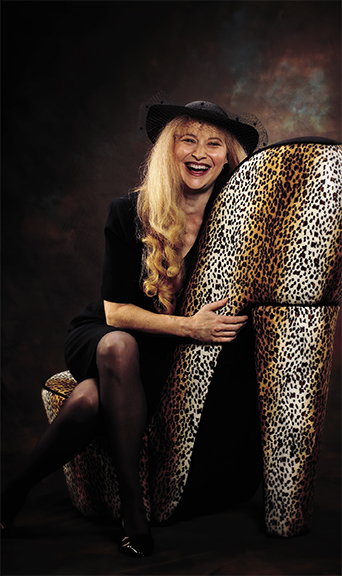 Brandewyne, like her heroines, has never been one to follow the rules. With her long, flaxen hair (a friend of hers once joked that she bought it by the yard at B. Dalton) and snapping blue eyes, she even looks the part.
Back in 1978, at 23 the youngest romance novelist ever published (the record stood for 10 years), she broke all the first-novel rules, using her journalism and interpersonal communication experience from WSU to put together her own press campaign, sending out press packets to major radio and television stations.
Her mother, who had sales experience, made the follow-up calls, and soon Brandewyne was booked on a U.S. and Canadian tour — "all this," she smiles, "after my publisher said it couldn't be done."
She did so well, in fact, that with the release of her next book, the publisher turned the $25,000 publicity budget over to her — another unheard-of arrangement. Today, she has "a large base of hard-core readers who would read the phonebook if [she] rewrote it," says her editor.
The modern resurgence of the romance novel took place in the mid-seventies, with Sweet Savage Love (1975), by Rosemary Rogers, often credited with revitalizing the genre.
Brandewyne agrees that the then-popular "forced seduction" (in which a man is so swept away by a woman's beauty that he simply can't help himself — said by some studies to be the No. 1 female fantasy) found in Brandewyne, Rogers, Jude Devereaux and Kathleen E. Woodiwiss may be in part a feminist backlash; she points out, though, that the heroines of romance novels are proto-feminists themselves, rebelling against strict fathers and social norms (after all, giving up one's maidenhead with wanton abandon to a highwayman on the moors has never been on the proper set's to-do list).
Also, the romance novel business is dominated by women — writers, agents, publicists, publishers — in a way no other is. "Romances are, in a nutshell, about what women want," says Brandewyne.
ROGUE'S REEF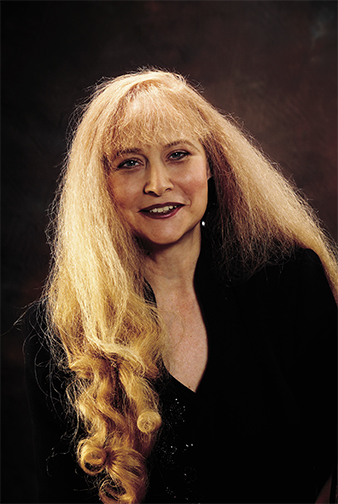 Romance novels are about what women have wanted (to read, at least) for a long time. Consider Ann Radcliffe's The Mysteries of Udolpho (1794), the peak of Gothic romance and the delight of many a Jane Austen heroine.
Emily St. Aubert loves Valancourt, but falls into the clutches of sinister Montoni, whose castle hides a horrible secret behind a black veil — for 700 pages, with poetry and a great many "O!"s.
In Brandewyne's latest novel, The Love Knot, she pays tribute to this classic; the hero snidely presents the heroine with a copy, suggesting she is as melodramatic as Emily.
But what, after all, is wrong with melodrama? The denizens of romance express all of their emotions to the fullest. When we are disappointed in love, we want to waste away and die: dozens of characters perish in this way every year.
When we are angry, we want to kill someone, or at least duel them: again, romantics carry out the instincts we're too polite to follow. Says Brandewyne of No Gentle Love: "I wrote the story I wanted to read."
Romance novels, far from being throwaway fiction, fulfill a very real need in the female soul, expressing basic truths about men and women more directly than claiming the sexes hail from different planets.
It is not just the stereotypical "bored housewife" who needs this outlet. None of us lead lives like the heroines of Brandewyne's novels. They live in castles or on pirate ships; they travel to China and India and Africa and are always considered beautiful; the descriptions of dresses alone are enough to melt the heart of the most determined bluestocking.
Brandewyne's website (www.brandewyne.com) preserves this fantasy. Designed by Brandewyne herself, it consists of a lavish virtual edifice called Ravenscroft Castle; the curious visitor can tour all three floors, the grounds, the neighboring village and the Sacred Well.
The library doubles as a bookshop, the billiard room hosts e-contests, and along the way are Brandewyne's biography, level-headed — even harsh — tips for aspiring writers, info on Celtic heritage and mythology and an original score by Bruce de Boer.
It's become a family affair, with her husband, parents, son and stepdaughter appearing as Ravenscroft inhabitants. Despite disclaimers, Brandewyne often receives requests to rent the castle for weddings and honeymoons; one elderly woman named Ravenscroft thought she had found her family's ancestral home.
AND GOLD WAS OURS
Brandewyne's talent and confidence have paid off with more than best-sellers. Affaire de Coeur and Romantic Times magazines have showered her with honors, including the Golden Quill Award for Best of the '80s Historical Romances for Love, Cherish Me (1983) in 1990 and the KISS (Knight in Shining Silver) of the Month for Best Hero in Swan Road, 1994, and The Jacaranda Tree, 1995.
She has been named one of Love's Leading Ladies and was inducted into Romantic Times' Hall of Fame. Her books have been published in Chinese, Czech, Dutch, French, German, Greek, Italian, Japanese, Norwegian, Polish, Portuguese, Russian, Spanish, Swedish and Turkish.
And she's a member of MENSA, a fact she uses to put down "impertinent" (usually male) interviewers who are only interested in the sex scenes and think "that because I write romance novels, I must be stupid."
She's also an activist of sorts, supporting the "Invisible Ribbon" campaign. Many romance aficionados find their favorite authors a little worn, but still worth it, at used book stores. But since no records are kept on the number of used editions of a title sold, there is no way for the author to receive royalties.
"Your book can sell a million copies used and no one will know," explains Brandewyne. "This means the publisher doesn't know to run more copies of the book next time." In other words, an author's selling power in the used book market doesn't translate to larger print runs and bigger contracts for new books.
While there's certainly nothing wrong with buying used books, buying new (most mass-market paperback romances go for about $6.50) means you directly support the authors. Since these authors are paid only twice a year (yes, really), every book counts.
RAINBOW'S END
While Brandewyne's creative soul plays an important part in her success, it is her down-to-earth, take-no-prisoners business sense that sets her apart from so many dreamers who are "going to write a book someday."
She offers four main guidelines/caveats for those who are serious about writing novels: "First of all," she says, "learn to write." No matter how brilliant your prose or original your plot, misspell something in the first paragraph and you're finished.
Second, she points out that writing is a life spent mostly with books and computers. A "people person" might find it claustrophobic, even stifling — Brandewyne jokingly refers to writers as "prisoners in solitary confinement." Her website warns of the conflict that may occur if a non-artistic spouse sees the writer as merely "messing around" and waits for her to find a "real" job.
Third, waiting for the Muse to strike you is the best way to get old without having written a chapter. Brandewyne's work day is not as strict as it used to be, as she suffers from fibromyalgia; she used to work 16-hour days sometimes, and still puts in three to five hours every day.
Fourth, because of the aforementioned two paychecks a year, spendthrifts need not apply. Managing money is a must.
For Brandewyne, writing is not something to be undertaken lightly. It is as all-consuming a passion as that of the cowboy for the prairie maiden or the Scottish rebel for the bonny English noblewoman. She's stayed published and popular for 25 years, while many other 1970s innovators have trailed off into oblivion.
Let's hope for 25 more: the golden jubilee of Rebecca Brandewyne — and the Loves, the Raptures, the Passions, the Desperadoes and the Starlit Seas.