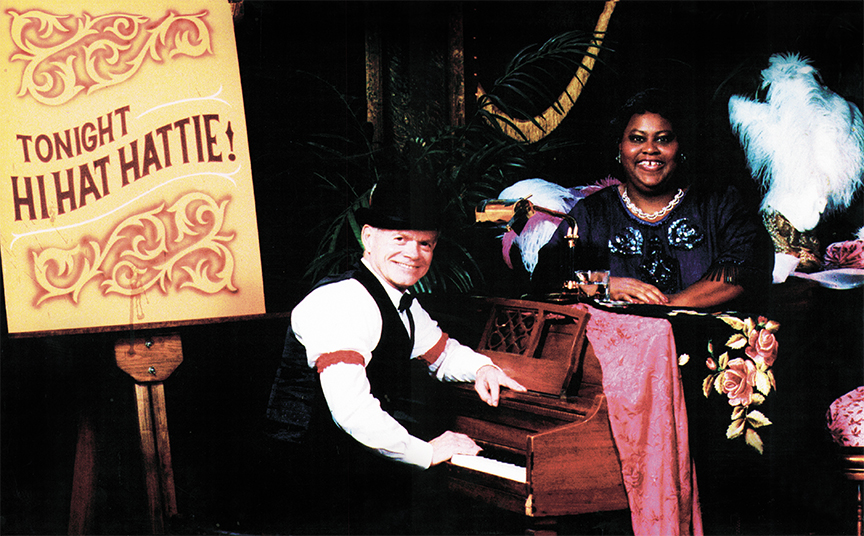 "I don't believe that I am her," says Karla Burns '80. "But I do believe there are many similarities between us. And I do want to continue the message that she started. I want to continue to be a proud Wichitan, a proud Kansan and to say that we have made strides that no one ever thought would be possible for us as performers."
The "her" in question is Hattie McDaniel, whom Burns has portrayed several times on stage in the one-woman show Hi-Hat Hattie. She'll reprise that role May 28, 29 and 30 at WSU's Duerksen Fine Arts Center.
McDaniel, born in Wichita in 1895, became the first African-American to win an Academy Award, for her role as Mammy in Gone With The Wind (1939).
Having left school in 1910 to join a minstrel show, she toured what was then known as the "Orpheum circuit" and went on to land major roles in Judge Priest (1932) and Show Boat (1936), in which she performed the role of Queenie. Burns has also tackled the role of Queenie, most notably in a 1990 Broadway revival of the musical, for which she earned a Tony Award nomination and a Drama Desk Award.
For the London production of the show, she received Great Britain's Olivier, the highest award bestowed upon thespians there. "In my Olivier acceptance speech," Burns says, "I said something similar to what she said in her Academy Award speech, 'I did my best and God will do the rest.'" But, Burns adds, "I didn't have to walk through the kitchen," referring to McDaniel's entrance at the Oscars. "I could walk through the front door."
Through the years, many people approached Burns about doing Hi-Hat Hattie, including fellow actor Tom Frye '71/84, who saw parallels between Burns and McDaniel. For instance, they had grown up only 10 blocks apart. Parallels like that, bolstered by serious interest from the playwright, Larry Parr, spurred the stage project to fruition. This spring, Burns is bringing the show and the spirit of Hattie McDaniel home to Wichita.
Asked what she'll be thinking on performance nights, Burns says, "Here I am, standing on stage just like her, carrying the message on."