Damon Sublett has a well-defined role in the Shocker bullpen: Shut down the opponent in the highly pressurized ninth inning, earn the save, preserve the win.
Conversely, Noah Booth doesn't have the luxury of such a predictable, specialized role. He might handle middle relief one day and close the next. Sublett is right-handed, Booth is a lefty.
A junior, Sublett is a two-way star and a highly regarded professional prospect. Booth, plagued by injury throughout his career, is a fifth-year senior who wants a shot at the next level but has contingency plans if the dream doesn't materialize.
The differences between Booth and Sublett are obvious, but they share one trait: Both excel in their roles, giving the Shockers a formidable one-two punch in the bullpen.
Booth and Sublett have both been named to the pre-season watch list for the Stopper of the Year Award by the National Collegiate Baseball Writers Association. "They're two of the top relievers in America," pitching coach Brent Kemnitz says. "When they're healthy, they take a back seat to no one."
When they're healthy — a key phrase. Both pitchers have struggled with injury problems, but they appear poised for big seasons in 2007.
A closer look:
 
Booth thrives under pressure
"Lately, my elbow's been going numb." That quote came from Booth — just two days before the season opener, no less. A numb elbow, the result of a September surgery to remove bone chips, certainly sounds like a major concern if you're a college baseball pitcher, but Booth offered the medical update in a matter-of-fact manner.
You see, he's been in this position before. He also had bone chips removed in February of 2006.
And there's more.
After a solid freshman season (3-2, 2.41) in 2003, he was a redshirt in 2004 after having Tommy John surgery (ulnar collateral ligament reconstruction) and suffering a torn Achilles' tendon.
If you're counting, that's three arm surgeries that Booth has endured. So a little numbness is no big deal, at least physically. Still, the Oklahoma City native admits that the constant rehab has been a mental drain.
"Luckily, I've had a lot of people keeping me in their prayers, helping me through," Booth says. "It was really hard on this last one — it was just like, 'When is this ever gonna stop?' But I got through it, and I'm ready to get this season going. "I feel pretty good. My arm's starting to get back in shape."
That Booth proclaims himself ready is great news for the Shocks.
Although he isn't a star on the staff — that lofty status goes to Sublett or No. 1 starter Aaron Shafer — Booth is a key member of WSU's bullpen because of his versatility.

"He's an extremely valuable guy because he can come in and close or he can give you three, four, even five innings," Kemnitz relates. In 2005, for example, he made 33 appearances out of the bullpen and had a team-high 10 saves, pitching four innings on four occasions. And last season, Booth collected seven more saves, going three innings or more six times.
In his three-year career, he has an 8-9 record, 2.31 earned-run average and 20 saves — No. 6 on WSU's career list.
The 6-foot-2, 230-pound Booth throws his fastball in the mid-to-upper 80s, and he boasts an "outstanding straight change and an outstanding curve ball," according to Kemnitz.
However, Kemnitz raves the most about Booth's ability to perform when the game is on the line. "Noah's biggest strength is that he seems to thrive on pressure," Kemnitz says. "Some guys, you get them in a big situation and they can't handle it. Noah's at his best in those situations."

Booth agrees. "When you're closing, there's pressure but it's not like you're in Iraq and your life is in danger — that's real pressure," he says. "(Pitching) is pressure because you're in a tight game, and you've got thousands of people in the stands. I just love it."
Booth realizes that his injury history makes him a risky proposition, but he is hopeful of getting an opportunity to play professional baseball. Left-handed pitchers, after all, are always in demand.

"Pro teams are a little hesitant toward people who've had multiple surgeries on their arms," he says. "Basically, they're gonna sit and watch the entire year, and I have to show I don't have any weaknesses. This is probably my biggest year."
If a career on the mound doesn't materialize, Booth, twice a member of the Athletic Director's Honor Roll, is prepared. He is on schedule to graduate at the end of the semester and wants to be a firefighter or a coach.
"Last semester, I really thought a lot about what I would do if baseball didn't happen," he says. "What stuck out the most is that I want to help people somehow."
 
Sublett slams the door
Impressively, the number was still at zero. After two seasons and more than 30 innings pitched, Sublett entered the season with a career earned-run average of 0.00. Not that he's overly impressed.
"That's not a ton of innings, so I don't think it means a whole lot," he says. "It's something I try not to think about too much."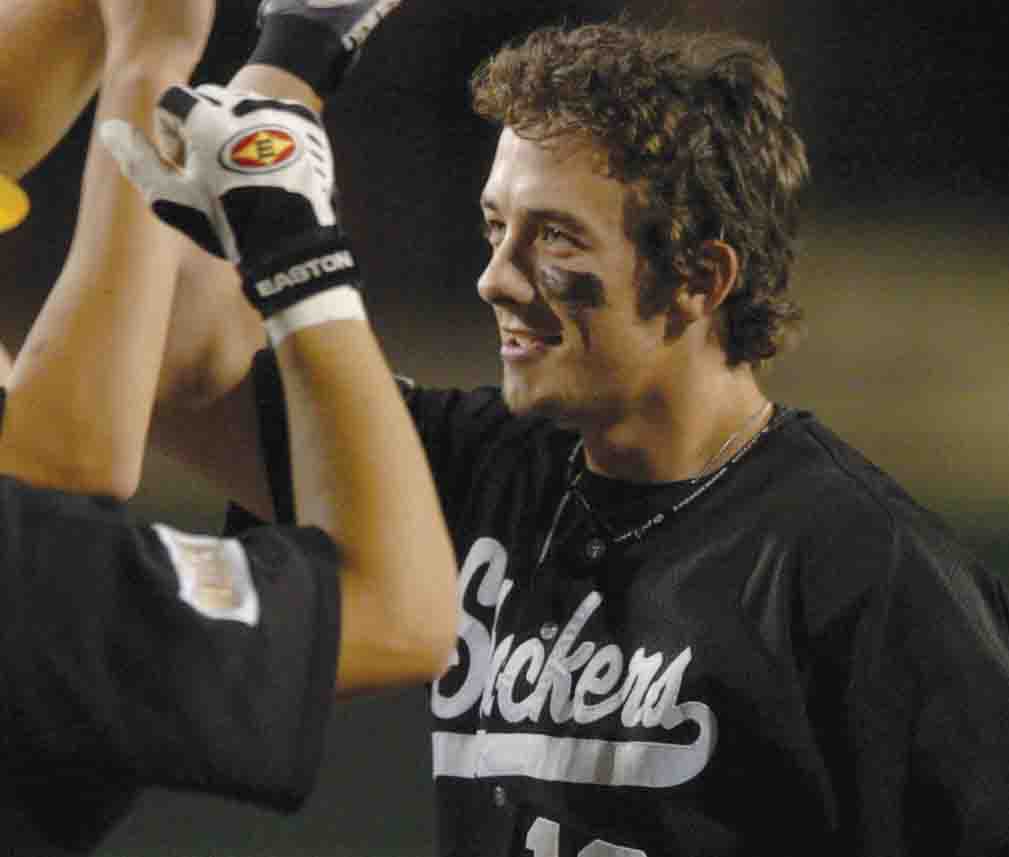 The modesty is admirable, but don't let Sublett fool you. As WSU's top option to close the past two seasons, he pitches in high-pressure situations with no room for error. So that spotless ERA? It definitely means a lot.
Booth says with clear admiration, "Damon just comes in and slams the door." He slams it with authority — and with variety.

Kemnitz says that Sublett is capable of commanding four pitches — an unusually high number for a collegiate pitcher. Sublett's fastball reaches 93 mph, and he also throws a curve, slider and possesses what Kemnitz describes as an "outstanding change up."
In his first two seasons, Sublett recorded 16 saves while striking out 54 hitters and walking only 16 in 31 2/3 innings. No wonder, then, that Kemnitz describes Sublett as the best closer in the country.
Like Booth, Sublett enjoys the pressure that accompanies the role. "You're supposed to succeed — as a closer, it's your job — so there's more pressure on you to get it done," says Sublett, a Wichita Northwest High School graduate. "It's hard to describe what it feels like, but I find it thrilling. It's fun for me. It's easier to concentrate and focus when you come in and it's a tight game than if it's 10-2 or something."

The 6-foot-1, 190-pound Sublett is a rarity: a true double-duty star. In addition to his impressive pitching stats last season, the second basemen led Wichita State in batting average (.394) and home runs (10). He also knocked in 45 runs and chipped in 12 steals. At the conclusion of the season, he was named the Missouri Valley Conference Player of the Year.
Sublett might make excelling at the plate and on the mound look easy, but, of course, it's not. "It's tough to be in shape to do both things," he says. "It's hard for me to hit for power because it seems like it takes away a little from my pitching. I have to do extra work to try and stay flexible."
Equally important, Sublett has become accomplished off the field as well. An average student during his first two years at WSU, he was named to the dean's list (3.5 or higher gpa) after the winter semester.
Getting Sublett to talk about the improvement is as difficult as hitting one of his pitches. "I had a good semester, worked hard," he relates. "It feels good, but it's almost like something I'd rather not have attention for. It's something I should have been doing all along."
Sublett, No. 48 on Baseball America's list of college prospects, is expected to enjoy a tremendous season. He is on an array of watch lists (Roger Clemens, Wallace Award, Stopper of the Year), a pre-season All-American by several sources, and a pre-season All-MVC.
But there is an "if" involved.
Last season, he was forced to overcome a bout with mononucleosis and played in just 46 games after having wrist surgery on May 5. Prior to this season, he slipped on the ice and tweaked his back. But Sublett says those issues are behind him now.
"I'm ready to go," he says.
---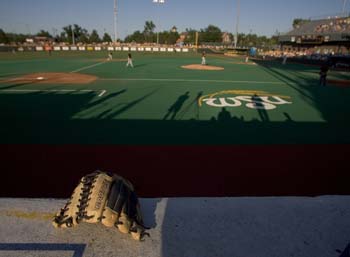 SHOW STOPPERS
Senior Noah Booth and junior Damon Sublett are on the watch list for the Stopper of the Year Award. Their career stats:

NAME APP ERA W-L SV IP BB SO
Booth 85 2.31 8-9 20 175 46 187
Sublett 31 0.00 3-0 16 31.2 16 54

WHAT A RELIEF!
Booth and Sublett are moving up WSU's career saves list.

1. Marc Bluma (1996-99) 44; 2. Jaime Bluma (1991-94) 34; 3. Jim Newlin (1987-89) 28; 4. Braden Looper (1994-96) 26; 5. Greg Bauer (1997-00) 22; 6. Noah Booth (2003-present) 20; 7. Darren Dreifort (1991-93) 17; 8. (tie) Damon Sublett (2005-present) 16; Mike Dennison (2000-03) 16