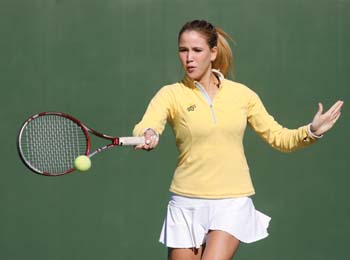 Tennis standouts freshman Florentina Hanisch, pictured at left, and senior Madina Rakhim are the dynamic doubles duo leading the way for the No. 20 ranked Shockers, still undefeated this season at 10-0.
The women's tennis team moved up into the No. 46 spot in the ITA FILA Collegiate Tennis Rankings after its Feb. 25 victory over Lamar University.
Rakhim, Hanisch and their teammates became the first WSU women's tennis team to achieve national ranking when they entered ranking four weeks ago at the No. 62 spot.
Hanisch, an international business major from Florianópolis, Brazil, was lauded as MVC Conference Player of the Week for Jan. 30. Rakhim, a transfer student who hails from Almaty, Kazakhstan, followed suit in February, receiving the honor for two consecutive weeks after the pair edged out Indiana State's two-time MVC champion doubles pair Jennifer Migan and Joanne Schickerling for the No. 1 doubles spot with an 8-6 victory. The Hanisch/Rakhim season record stands at 8-2.
The Lady Shocks host the Wichita State Classic March 16-18, defending their perfect record against three Midwestern universities.