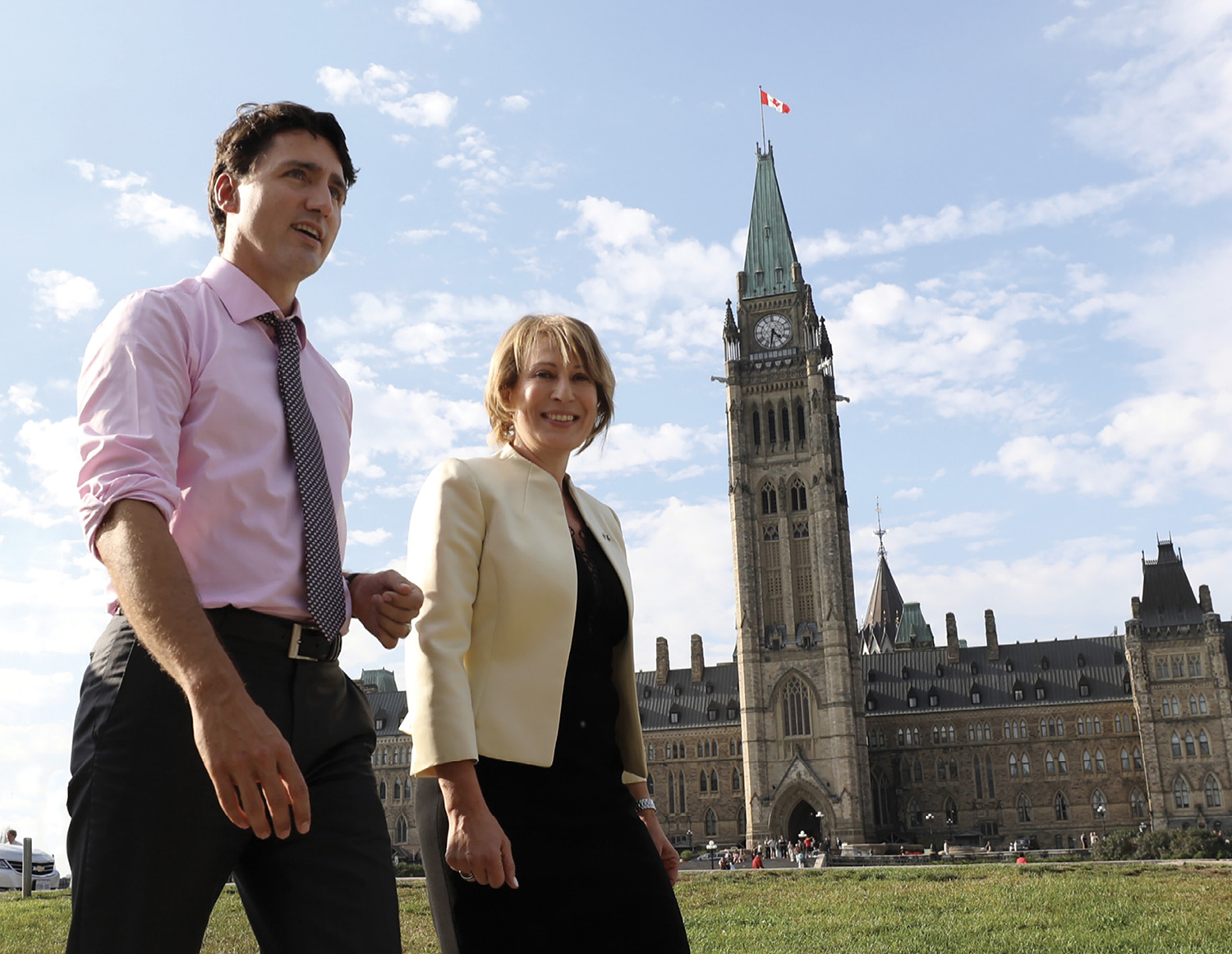 Before becoming Canada's chief science adviser, Mona Nemer '77 was professor and vice president of research at the University of Ottawa, where she directed the Molecular Genetics and Cardiac Regeneration Laboratory. Before that, she was a professor of pharmacology at the Université de Montréal and directed the Cardiac Genetics Unit at the Montreal Clinial Research Institute. And jumping a few befores before that, she was a young student intent on studying chemistry at Wichita State University.
PARLIAMENT HILL in Ottawa was the site of Justin Trudeau's Sept. 26 introduction of Canada's new chief science adviser – heart researcher and biochemist Mona Nemer. "As a young person," the prime minister began, "Dr. Nemer knew she wanted to be a scientist. She didn't let anything stand in her way – not the middle-school teachers in Lebanon who told her that young girls shouldn't go into science. She disagreed, and became one of the first young women to study science in her high school. Not even war could dissuade her from her path."
Born in Beirut in 1957, Nemer grew interested in science early on. For her, its lure was inescapable. She was drawn, she says, to "the exploration of the unknown – I had a little bit of an adventurous spirit. I was really interested, eventually, in developing drugs to cure disease. I was just interested in finding new things."
In 1975 when civil war broke out in Lebanon, Nemer was a student at the American University in Beirut. Like many Lebanese, she decided to leave the country to escape the instability and violence. Her parents approved her decision to move to the United States to continue her studies, but asked that she attend a university located in a city where they had family.
Wichita State was the possibility that became her undergraduate alma mater. "I left at the beginning of the war in 1976, when the violence was beginning to escalate," she recalls. "In Wichita, I lived with my aunt and her family and have great memories of my time at the university. I remember studying in the library. Actually, I took very interesting courses. I took chemistry courses, but I also took – we had language requirements in chemistry. I learned German. I remember the German lesson, one hour every day for an entire year. I remember the French club I hooked up with. I remember walking on campus. I remember the huge parking lot – I don't know if it still exists. I was so impressed, actually, that there were so many students who owned cars, and large cars. At the time, that was something unheard of where I came from. I remember my graduation, of course. I'm very grateful for the education I received. It has helped me throughout my life and my career. And I have so many fond memories of the university and of the city."
Venturing off campus, Nemer recalls one Wichita haunt in particular: "I don't remember, though, the name now. We used to go there – they had country music. We would go there after the library, to dance. It was great."
IN OTTAWA on Parliament Hill from the Office of the Chief Science Adviser, Nemer heads up a dedicated staff and a $2-million budget. Her main role during her three-year appointment is to advise the prime minister and minister of science on science issues, and her key mandate is to keep government science accessible and public. Her goals are to increase the understanding and use of science in public life and to position Canada as a global science leader – big goals that might daunt a lesser determined scientist. "I'm passionate about science and passionate about Canada," Nemer says. "So you can understand this is a challenge I'm very excited to take on."
She has taken on the job of advising the federal government on science-related policy at a crucially complex time, a number of science reporters have pointed out in the Canadian press. After a review of Canada's academic research landscape, university-based scientists are pressing for significant increases in science funding, which is one of the report's recommendations. At the same time, scientists and science-advocacy groups are scrutinizing federal actions on a range of sensitive environment and health-related issues to make sure the Trudeau government makes good on promises to use evidence-based decision-making in its policy-making. Nemer will need to be politically savvy and objectively independent in voicing her advice in order to be effective and relevant as the chief science adviser.
She has the scientific cred – and the respect of fellow scientists – to do it. After graduating from WSU with a bachelor's degree in chemistry, she went on to earn a PhD in bio-organic chemistry from McGill University in Montreal and from there underwent postdoctoral training at the Montreal Clinical Research Institute and in New York City at Columbia University. "I wanted to do drug discovery," Nemer explains. "After I did chemistry, I decided to do postdoctoral work in molecular biology and genetics."
That decision led to her proudest achievement in scientific research: the collaborative discovery of the GATA4 gene, which is essential in the body's production of heart cells. After that research collaboration, Nemer, whose earlier postdoctoral work was more concentrated on the brain, became increasingly focused on the heart. "Basically, I started getting interested in understanding how the heart functions, and the diseases associated with the heart," she says. "I spent the rest of my career studying the heart."
Her cardiac research centered particularly on the mechanisms of heart failure and congenital heart diseases. She is the author of more than 200 highly cited studies that have appeared in prestigious scientific journals. Her work has contributed to the development of diagnostic tests for heart failure and the genetics of cardiac birth defects. And, another achievement of which Nemer is proud, she has trained well over 100 students from various countries.
THE CANADIAN ROCKIES served as a recent respite for Nemer from the whirlwind of applying for and being appointed chief science adviser. "I like to go hiking. Actually, I like to do dancing. But I don't get enough time to do dancing these days," she says with a laugh. "But just before my appointment, I went with my daughter, and we spent two days hiking in the Canadian Rockies. It was quite fascinating to be so at peace with nature – and the only worry that you had was an encounter with a bear!"
Encountering no bears, Nemer is back in Ottawa, where she is intently engaged with learning the ins and outs of her new job. After years of teaching and conducting research in academic settings at the University of Ottawa (2006-2017)and the Université de Montréal, Nemer now has the mountainous duty of helping increase the understanding and use of science in public life.
"I consider science and evidence-based policies to be vital to growing healthy and progressive societies," she says. "I decided to apply because of my deep conviction that science is increasingly important for the public good. This position (of chief science adviser) is important because it's important to have a voice for science close to government to translate the complex science findings and data in a language that legislators can understand and therefore do the right legislation for the country. It's my conviction that science is very important in democracy and in people's lives."
Prime Minister Trudeau shares Nemer's basic convictions about the relevant roles that science – and a science adviser – play in government policy-making. He says, "Dr. Nemer brings a wealth of expertise to the role of chief science adviser. Her advice will be invaluable and inform decisions made at the highest level. I look forward to working with her to promote a culture of scientific excellence in Canada."Nemer's "wealth of expertise" includes serving on several national and international advisory committees and executive boards. She is the recipient of many national and international honors, and is a Member of the Order of Canada, a fellow of the Academy of Sciences of the Royal Society of Canada, a fellow of the American Academy of Arts and Science, a Knight of the Ordre national du Québec and a Knight of the French Republic's ordre national du Mérite. She has also been awarded honorary doctorates from universities in France and Finland.
Nemer has collaborated with many scientists from Canada and a number of other countries. "I learned much from all of them," she says. The Canadian academic and politician Kelvin Ogilvie, who is an international expert in biotechnology, bio-organic chemistry and genetic engineering, served as Nemer's PhD mentor, while she considers her postdoctoral mentors to be Jacques Drouin, director of the molecular genetics research unit at the Montreal Clinical Research Institute, and the late Philip Feigelson, who was an American biochemist who served on the faculty and staff of Columbia University College of Physicians and Surgeons.
"THE EARTH is our collective home," Nemer says, "and what happens in one place affects the whole – whether it's what happens in the air, or the water, or to a particular environment. Each one of us has an important role to play during our passage on this earth, and each of us has a legacy to contribute. We need to work together to be able to make the right decisions in our private and public lives – to leave the best legacies."
Nemer adds that "the relationship between science and government over the course of history is checkered. It's unfortunate it's not always smooth, but science literacy is critically important at all times." Canada's chief science adviser fervently hopes that people will come to appreciate the fundamental importance of not only the content of science, but of the scientific method – its rigorously reasoned and tested search for what's true.
This scientist's scientist wants science to have a strong voice.