Armed with degrees in
sport administration and exercise science,
Wichita State graduates have spread across the land
securing positions at scores of noted athletic organizations
in just about every sport on earth.
This fall, The Shocker caught up with four Shocker grads
whose sporting careers are on the rise.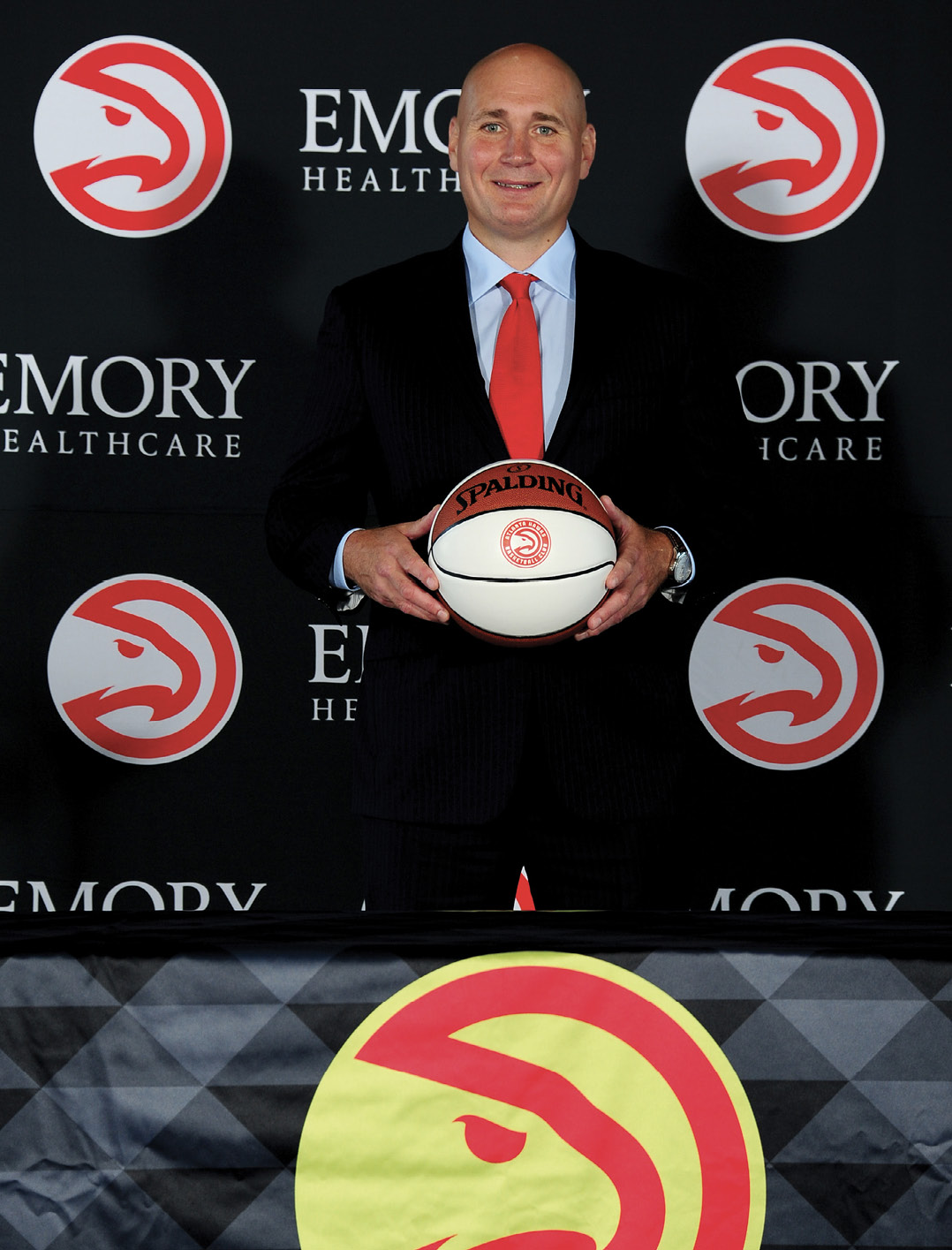 TRAVIS SCHLENK '98
Unless you're one of the biggest basketball fans around, the name "Johnny Flynn" probably means little to you. A point guard from Syracuse University, Flynn is notable only because he has secured a place as one of the biggest draft disappointments in National Basketball Association history.
Stephen Curry, conversely, is a name everybody recognizes. He's an MVP, an NBA champion and one of the best long-range shooters in history. However disparate their careers, Flynn the bust and Curry the superstar share one trait: They have played important roles in the impressive career of Travis Schlenk '98, a Wichita State graduate who has steadily risen to the top of an NBA franchise.
After spending 12 years in the front office with the star-powered Golden State Warriors, Schlenk was in May named general manager of the Atlanta Hawks. "It's an unbelievable opportunity to come here," he says. "In my profession, you aspire to be in a position like this where you can put a team together the way you envision it. I'm extremely fortunate here to have great ownership dedicated to putting a winner together, and fortunate to inherit a great staff, which works its tail off. We're all pulling the rope in the same direction."
Schlenk, who spent the previous five years at Golden State as assistant general manager, was considered a slam dunk of a hire for the Hawks. He had worked closely during his 16-year NBA career with several of the sport's biggest names: Chuck Daly, Pat Riley and the legendary Jerry West. With the Warriors, he was a key voice in building the team into a dominant organization – a two-time NBA champion fueled by several of the game's brightest stars.
Which brings us back to Flynn and Curry.
The 2009 draft was a fascinating one. Golden State, a franchise in rebuild mode, owned the seventh pick. The first four picks came and went, with future All-Stars Blake Griffin going first to the Clippers and James Harden third to the Thunder. The Minnesota Timberwolves, as was obvious at the time, needed guard help, so there was little surprise when they took playmaker Ricky Rubio from Spain as the fifth pick. The T-Wolves had the next pick, too.
Golden State and Schlenk watched intently, pleasantly surprised that their targeted player, Curry, a slightly built scoring machine from Davidson, remained available. The moment was filled with intrigue, and nervousness, as an NBA-defining, and perhaps career-shaping, selection was about to be made.
Shockingly, Minnesota took another guard – Flynn, who would struggle with several NBA teams before finishing up his career overseas. The Warriors, of course, enthusiastically grabbed Curry. Boos rained down from the draft location in New York – not as a negative commentary, but because Knicks fans in attendance badly wanted Curry. "It was an exciting moment," Schlenk recalls.
Curry had captivated the basketball world during the NCAA tournament, dropping in long-range jumpers and scoring on drives to the hoop – a style of play that helped create the Splash Brothers and win two NBA championships. As résumé builders go, having "played key role in drafting Steph Curry" as a bullet point is a definite eye-catcher. Schlenk, known for his talent at player evaluation, also played a part in the Warriors drafting future stars Klay Thompson and Draymond Green, who was scooped up in the second round.
"If anybody in our draft room says they knew Steph Curry would be the Steph Curry of today, they are lying to you," Schlenk says. "But, obviously, I'm not sitting in the chair I'm sitting in if he and Klay Thompson and Draymond Green weren't there, and we were fortunate enough to draft them. A lot has to go right to get where I am. Luck is a big part of that."
Schlenk was a self-described pass-first "systems player" at Bethel College before he arrived at Wichita State, a basketball junkie who felt he needed a master's degree in sport administration to fulfill his dream of becoming a college basketball coach. At WSU, he played intramural ball at the Heskett Center, but didn't attend many Shocker basketball games. His most important experience came in his role as a graduate teaching assistant. "It was invaluable to me," he says. "I was able to spend time with the professors and see how they went about their daily planning, how they would deal with students who would come in for office hours."
Through the years, Schlenk has kept a fairly close eye on Shocker basketball – partly because of his ties, but mainly due to the talent the program has produced under Gregg Marshall. "They've had some players get drafted, so I've seen them play every year," he says. "I saw how high they were in the preseason rankings, and I was a little surprised at that, but I'm happy for them. I've had the pleasure to meet Gregg before some games. I'm certainly pulling for them."
Schlenk shared his thoughts on Ron Baker and Fred VanVleet, Shocker guards who are finding roles in their second season in the NBA. On Baker: "The big thing that surprised me is that he's playing some point guard, which is not his natural position. You talk about grittiness and toughness and doing the little things that help a team win..."
On VanVleet: "I loved him in college. Loved his competitiveness, his ability to make big shots. He does the little things that help teams win. He's an extremely smart player who knows how to play. He's not the quickest guy, not the biggest, but he goes out there and gets it done."
In Atlanta, which has made the playoffs 10 straight seasons, Schlenk wasted little time building his type of team with dramatic changes. He quickly moved on from high-salaried, perhaps overpaid, players such as Dwight Howard, Paul Millsap and Tim Hardaway Jr. The goal is to use the draft to piece together a young, athletic roster with manageable contracts that allow for roster flexibility.
It will take time for Schlenk's vision to lead to success. The Hawks started the season 6-21. "We're taking a step back to take two or three steps forward, hopefully, long term," Schlenk says. "For this year, my job is to try and keep everyone's spirits up. Losing isn't easy, and we're all in this business because we're competitive people. Any time you make the decision to go with youth and build the roster through the draft, it usually means you're going to take some lumps."
John Collins, a Wake Forest star, was Schlenk's first draft pick as the Hawks' GM and appears to be a solid choice with great upside. Although Schlenk likes the character and work ethic of his team, Atlanta will likely have a high selection in next year's draft.
The search for the next Curry is on.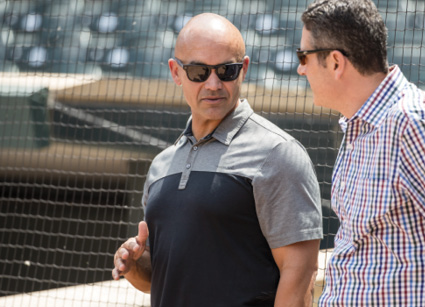 SEAN JOHNSON '99
So, all those stories you hear about a weary baseball scout beating the bushes, traveling the lonely highway to tiny towns in hopes of finding the elusive diamond in the rough, the next big thing that will propel his career and the big-league ball club to greater heights – they're true.
Sean Johnson lived such an experience 15 years ago when, as a rookie scout, he found himself in Fowler, Colo., population 1,200, to see a prospect throw. "There's not even a stop light, just a yellow caution light," he recalls. The workout occurred on, to put it kindly, a makeshift field behind the elementary school. "They didn't have a real fence, just some chicken-coop wire they had thrown together," he says. But the surroundings didn't matter when the kid began throwing some serious heat with a good breaking ball. Johnson was transfixed: "I mean, you have all these short, nondescript high school guys, and here was a 6-3, 6-4 beautiful-looking kid. He stood out."
The kid was Luke Hochevar. And while the big right-hander, slowed by injury, never became a star, Johnson's instincts were on the mark: Hochevar was selected first overall by the Royals in the 2006 draft and was the winning pitcher in the deciding Game 5 of the 2015 World Series – Kansas City's first championship in 30 years.
The story reveals a couple of things about Johnson: his dedication to the game, for example, and his eye for talent, both of which were enriched by his days as a Shocker catcher surrounded by some of Wichita State's greatest players. Those attributes, along with his well-known and appreciated people skills, have allowed the humble and engaging 42-year-old to climb the baseball ladder, steadily advancing to a dream job: He was named scouting director for the Minnesota Twins in December 2016. After being promoted from west coast supervisor of scouting, he now oversees a staff of 26 scouts who search for players anywhere and everywhere. "I enjoy it," he says. "I enjoy the leadership aspect of it, leading a group of men and women forward in what we do (scouting), which is important to any organization. It all starts with scouting. I'm lucky because I got good advice when I first got into baseball: 'Do the best you can in your current role and the game will tell you how far you can go."
He credits his time at Wichita State with giving him the foundation he uses daily. He spent 1996-98 as a backup catcher for the Shockers. "I got all my foundational stuff from being in that program, and WSU was high level at that time," he says. "If I didn't have the experiences I had at Wichita State, I'm not in the position I'm in today. I'd have a very different life."
The foundation he received at WSU was tested in dramatic fashion early in his tenure as scouting director. Only six months after he took up the position, the Twins picked first in the amateur baseball draft, a pressure packed decision that could affect the organization for years. Many baseball experts expected the Twins to select right-handed pitcher Hunter Greene, the highest profile prospect in the draft. He was a high school phenom at the plate and on the mound. A Sports Illustrated cover boy. The LeBron James of baseball, some said.
In a decision that went down to the final day, the Twins pulled a surprise, selecting high school shortstop Royce Lewis out of Orange County, Calif. Johnson says it was "a surreal feeling" to be responsible for such a meaningful selection and hear the decision play out on ESPN. "I'll get credit if he's good," he says, "and I'll take the heat if he's bad."
Any heat about the pick cooled as Lewis played his first season, advancing from the Gulf Coast League to the Low A Cedar Rapids League while hitting – well, he drilled a homer 400 feet in his first professional at-bat.
"I can tell you I slept a lot better this summer as I got good game reports on him," Johnson says. "I'll be shocked if Royce Lewis doesn't turn into a pretty good big leaguer, because he has all the skills and all those intangibles."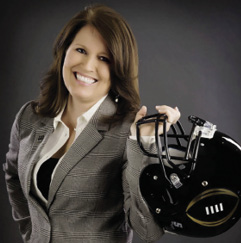 NIKKI EPLEY '93/97
By late November, the college football season was highlighted by entertaining chaos, with highly ranked teams losing and surprising schools on the rise. Amid all the question marks, uncertainty and debate about who will earn the final four spots, there is a calm and experienced Shocker working to make sure the College Football Playoff is run as smoothly as an Alabama scoring drive.
Epley directs stadium and game operations for the College Football Playoff. Although the tournament includes four teams, she works solely on the championship game, set for Jan. 8 at Mercedes-Benz Stadium in Atlanta.
Her job sounds all-encompassing because it is. She is in charge of "anything that happens at the stadium." More specifically, she says her duties include "security elements, PA script, game production, pageantry, parking credentials – a lot of behind the scenes stuff. I sit in the control booth on game day and I'm on the radio with everyone. I work with ESPN operations." Although she will put in at least 18 hours on game day, she says it doesn't feel like work: "It's a lot of fun, it really is."
Epley's work on the championship game begins about a year in advance. The CFP, now in its fourth season, has modeled its big event after the Super Bowl and Final Four, she says. During that preparation year, her group, based in Irving, Texas, visits the host city once a month for on-site planning. "It's a lot of work to basically take over a city for what has become a three and four-day experience," she says.
Like a good coach experienced with the media, Epley mentions her "team" often when discussing her job. She leads a staff of 26 people, a comfortable environment for Epley, who in college was a speedy, hustling middle infielder for the Shocker softball team. "I love the team element – we talk a lot about it here in our job," she says. "We have to have it (teamwork) to be successful."
Her work features some high-profile perks, like meeting the sport's best coaches and celebrities such as Little Big Town and Lady Antebellum, as well as her personal favorite, TV journalist Robin Roberts. But Epley's most important responsibility is one she hopes no one even notices: game security.
Her staff has visited Mercedes-Benz Stadium for a simulated security session and works with the federal government and FBI agents to do everything possible to ensure safety. Epley takes nothing about security for granted. "For all the large events," she says, "we have to think a lot about it: Are we safe?"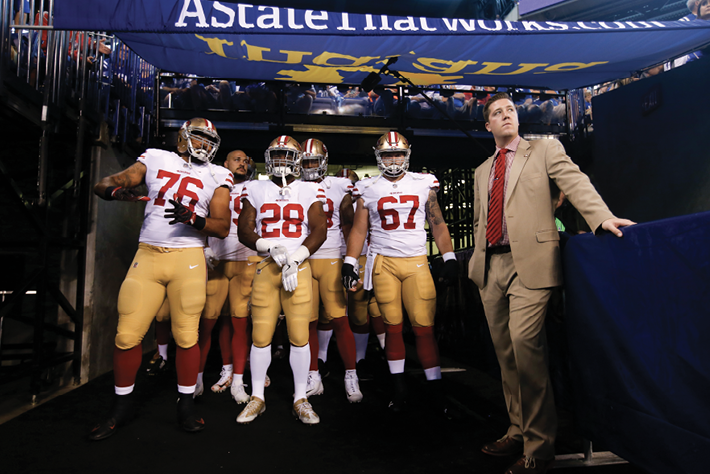 DAN BECKLER '07/09
As director of communications for the NFL's San Francisco 49ers, Beckler specializes in working behind the scenes. But when you're as skilled and talented as he is, you have to accept some time in the spotlight. Beckler and his staff, for instance, are two-time finalists for the Pro Football Writers of America Pete Rozelle Award.
The second time Beckler was nudged into the spotlight came when star receiver Anquan Boldin, after he was named NFL Man of the Year for his charity work as a 49er in 2015, mentioned Beckler in his acceptance speech. "I was just blown away," says Beckler, whose degrees are in sports administration and sport management.
Beckler, who had two young children, climbed steadily through the sports world, working for WSU sports information, the Wichita Wranglers, Disney Sports and the Tennessee Titans. In San Francisco in 2013, he reached the pinnacle of pro sports when the 49ers played in the Super Bowl, losing to the Baltimore Ravens.
On a regular season Sunday, Beckler and crew work with 200 press box reporters and more than 100 field photographers. However, media attention recently exploded when Colin Kaepernick's kneeling protests became national news. "It was a learning experience," Beckler says, "just from the standpoint that at that point it wasn't all about sports."