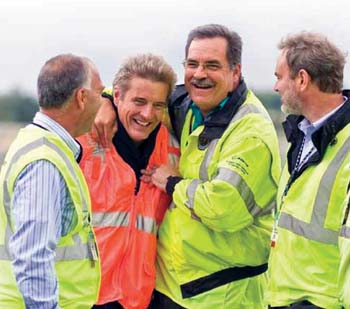 When Boeing's first 787 lifted off on its maiden flight at 10:28 a.m., Dec. 15, 2009, from Paine Field in Everett, Wash., a Shocker was at the controls. Mike Carriker '78, Boeing's chief pilot for the 787 Dreamliner, was captain.
Carriker, who's pictured in orange, grew up in Baldwin, Kan., and had his first taste of the "wild, blue yonder" when his father, an Air Force veteran, took him up in an airplane. Carriker was hooked and later earned his pilot's license while he was completing a bachelor's degree in aeronautical engineering at WSU.
After graduation, he became a U.S. Navy pilot, flying A7-Es and F18s. In 1985, he graduated from the elite U.S. Navy Test Pilot School and five years later, joined Boeing as a production pilot.
Since then, he has participated in all Boeing flight test programs. Highlights include being captain on the first flights of the Boeing Next-Generation 737-600 and 737-900 and an officer for the first flight of the Boeing Business Jet.
Carriker, who has now logged more than 7,500 hours of flight experience, also flies some not-so-new airplanes, including the 1933 Boeing 247D, the 1940 Boeing 307 and the 1943 B-17F for Seattle's Museum of Flight.
He and his wife, Karen (Wintz) fs '79, live in the Seattle area.