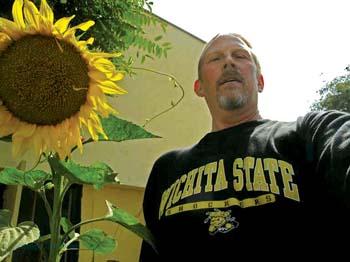 This past fall Michael Pointer '02 was in Afghanistan, where he helped set up a full-service dental laboratory and taught dental technology with the Afghanistan Dental Relief Project.
Pointer, a USAF School of Health Care Sciences dental lab technology graduate, worked in a small dental clinic and school in Kabul. The facility, sponsored by the Kabul Rotary Club, offers free dental treatment. "Oral septicemia is one of the leading causes of death there," Pointer says. "There are 200 dentists to treat 30 million people. The average lifespan there is 42 — just a toothbrush can raise that by several years."
Pointer is back in the United States this spring, but planning to return to Afghanistan in August. This time around, he will work with the Childlight Foundation.
"We will be placing a dental clinic in the Kabul women's prison and having a mobile dental clinic for outlying prisons and villages," he says. "I will be the project manager for a reintegration facility in Kabul. Most of the women are in prison because they fled for their lives from an abusive husband. Our facility will securely house up to 22 women and 28 children."
He adds that vocational training will be provided, so that the women will be able to support themselves and their children when they're out on their own.