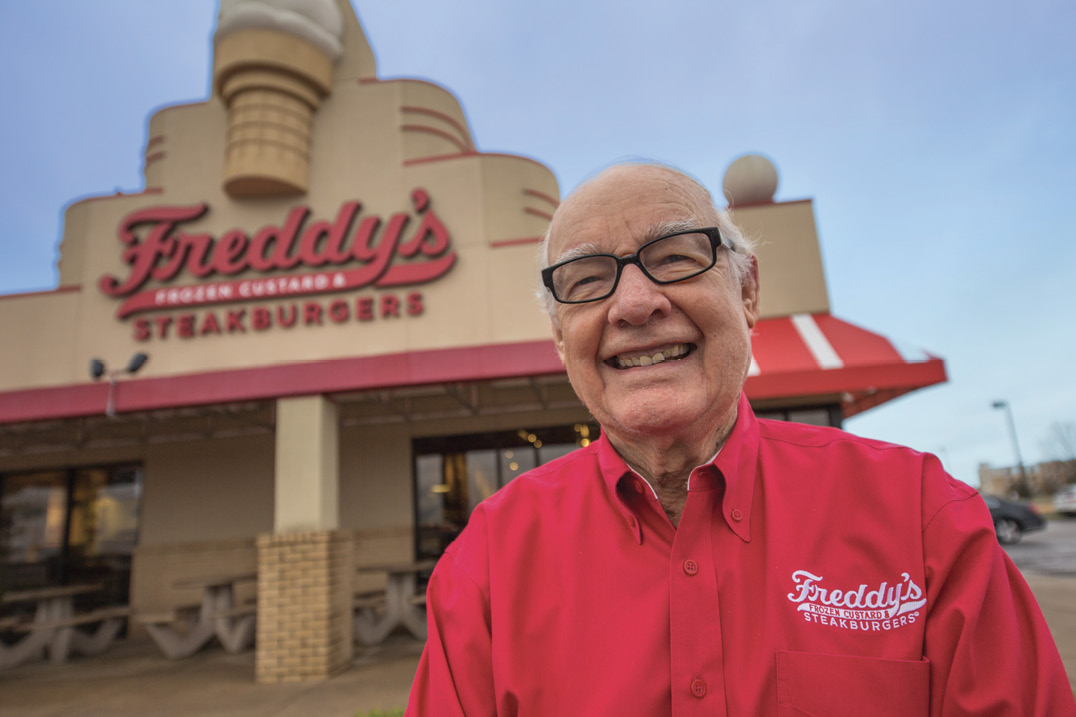 Since 1955, the Wichita State University Alumni Association has sponsored an alumni awards program to celebrate the accomplishments and distinguished service of Wichita State alumni, faculty, staff and friends of the university.
This is the 64th class of award recipients: Frederick "Freddy" Simon '49, WSU Alumni Achievement Award; Cynthia "Cindy" Carnahan '73, WSU Alumni Recognition Award; Rodney Miller, University Recognition Award; Rhonda K. Hicks '95, Laura Cross Distinguished Service Award; and Kyle '17 and Ricki '09/16 Ellison, Young Alumni Award.
These Class of 2018 honorees are slated to be the center of attention at a banquet ceremony set for Thursday, April 18, 2019 at WSU's Rhatigan Student Center Beggs Ballroom.
After enlisting in the U.S. Army in 1943 and serving in the South Pacific under Gen. Douglas MacArthur, Freddy Simon returned to his native Kansas and enrolled at the University of Wichita in spring 1946. His freshman year, he played varsity basketball at WU and, in 1949, graduated with a bachelor's degree in business administration. He then worked as an accountant at a wholesale liquor distribution company in Wichita, where he eventually served as president during his 56 years with the business. In 2002, he worked with his sons, Bill and Randy, along with their business partner and friend Scott Redler, to cofound Freddy's Frozen Custard & Steakburgers, which in 2018 celebrated the opening of its 300th location. Simon, who is the namesake of the custard and steakburgers chain, will receive the Alumni Achievement Award.
Alumni Recognition honoree Cindy Carnahan earned a bachelor's degree in elementary education in 1973, and is now president of the Wichita-based Carnahan Group Inc., part of the newly formed ReeceNichols South Central Kansas real estate firm. A WSU supporter on many fronts, Carnahan sports an extensive list of involvements with the WSUAA, including serving on its board of directors and as a founding member of Women United for the Shockers. She also is active in the wider Wichita community.
A veteran of the professional operatic stage and an avid advocate of arts education, Rodney Miller, who is in his 15th year as dean of Wichita State's College of Fine Arts, will be presented the University Recognition Award. Dr. Miller's scholarly and creative pursuits run the gamut from operatic performances to quantitative research analysis. His specific scholarly interests include 20th Century American vocal music, both popular and classical, as well as administrative and sociological theory as it applies to higher education in the United States.
Rhonda Hicks, director of Wichita State's Upward Bound Wichita Prep program, will receive the Laura Cross Distinguished Service Award. A first-generation college graduate, Davis earned a bachelor's degree in business administration from WSU in 1995 and went on to earn a master's degree in management information systems from Friends University in 2006. Her former roles as a Wichita State admissions representative and an American Heart Association development coordinator have provided her with the experience to be effective in her position with Upward Bound, a program she has been involved with since 1999.
Kyle and Ricki Ellison are the 2018 Young Alumni Award recipients. Kyle, who was awarded a bachelor's degree in general studies in 2017, is executive director for Real Men Real Heroes, a nonprofit youth mentoring organization in Wichita. With interests and talents ranging from the musical to the entrepreneurial, Kyle was named Wichita's 2018 Urban Professional Man of the Year. Ricki, a 2009 communications graduate who went on to earn a master's degree in communications in 2016, is clinical educator and academic adviser for the College of Applied Studies' sport management department at Wichita State. As such, she oversees the university's interaction with hundreds of sport management students and is a key facilitator for recruitment and retention strategies for students of diverse backgrounds.