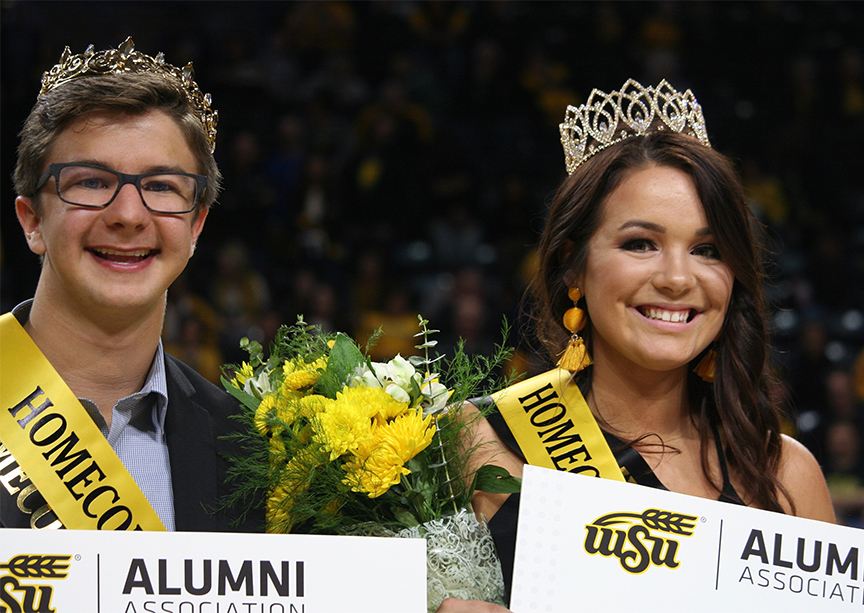 Tommy Schmidt and Bethanie Francis are crowned Homecoming 2019 King and Queen during a halftime ceremony during the Wichita State Shockers vs. Tulsa Golden Hurricane game in Charles Koch Arena on Saturday, Feb. 2. Both are seniors at WSU.
---
The Wichita State Shockers reigned over the Golden Hurricane of Tulsa, 79-68, in their American Athletic Conference matchup in the Roundhouse on Feb. 2 – as was appropriate for Homecoming 2019: No Place Like Shocker Nation festivities.
The week-long series of homecoming activities culminated in the crowning of the King and Queen, which took place in a ceremony at halftime of the WSU vs. Tulsa contest, when 10 Wichita State students were presented to the Shocker crowd as members of this year's homecoming royalty court: Colton Russell and Alexandrea Owens, Tommy Schmidt and Brayden Peppard, Clayton Baughn and Beth Francis, Austin Nordyke and Sierra Bonn, and Brenden Garland and Taran Langston – with Schmidt and Francis announced as Homecoming King and Queen.
All 10 of the King and Queen candidates are seniors at Wichita State, and all of them hail from Kansas. The newly crowned Francis, who's from Sedgwick, is studying health management at WSU, while Schmidt majors in finance and economics, and is from Wichita. Peppard, who is majoring in psychology, and Baughn, a mechanical engineering major, are also from Wichita. Nordyke came to WSU from Hugoton to study engineering technology management and general business, and Bonn, who's studying biomedical engineering, is from El Dorado. Garland, who's from Topeka, is majoring in nursing, and Langston, from Andover, is a criminal justice and social work major. On hand for the crowning ceremony were last year's Homecoming King and Queen, James DiLollo and Anna Dixon, as well as Richard "Rick" Muma, Wichita State provost, and Courtney M. Marshall, WSUAA president and CEO.
Among homecoming highlights were the Shockerthon Benefit Event, a Friday night trivia competition that benefited the Children's Miracle Network and was held Feb. 1 at Buffalo Wild Wings; homecoming's traditional campus fun run, the Nearly Naked Mile!, which took place the morning of Feb. 2 with participating runners bringing clothing to donate to those in need. This philanthropic contest was followed by another homecoming favorite, the Pancake Feed, which was hosted at a new location this year: the dining area at Shocker Hall.
Plus, there were Shocker spirit competitions and homecoming decoration activities, including the chalking of a yellow brick road that ran from the Shocker Hall Courtyard to the Roundhouse – as well as pregame gatherings and special events (think Shocker face-painting and Shocker Sound Machine performances) at both women's and men's basketball games.