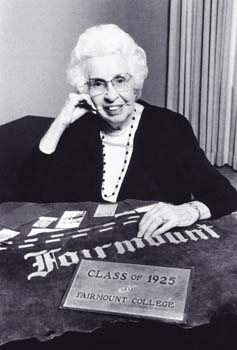 Women of note, including the late Laura (McMullen) Cross '25, were recognized at the annual Honoring Our Heroines event, which took place March 8 at Wichita State's Marcus Welcome Center. The event's purpose is to highlight accomplished women whose names appear in the Plaza of Heroines, located on campus just west of Ablah Library.
Honorees, who were also featured in media promotions throughout the month of March (Women's History Month), are chosen for their achievements, personal qualities and community contributions. These five women are the 2010 honorees:
Laura (McMullen) Cross '25: A graduate of Fairmount College, Cross devoted more than 70 years of service to Wichita State in a variety of capacities, including working at the alumni association.
Darlene Knorr: A successful businesswoman and mother of six, Knorr is chair of the current capital campaign for Hospice Inc. She has served on numerous other community boards, as well.
Harriett Price: An active volunteer and published author, Price has served as board president of Youthville and is co-founder of Wichita's Mid-America All-Indian Center.
Donna Sweet '70/72: An internationally known physician recognized for her work with hiv/aids patients, the Wichita-based Sweet is the recipient of many prestigious awards.
Marni Vliet '70/77: A retired president and CEO of the Kansas Health Foundation, Vliet serves on a number of community boards and is involved in projects that focus on strategic planning, leadership development and public health.
"Heroines" is sponsored by the Center for Women's Studies and Wichita State, Women and the World, a group of volunteer faculty, staff and community members. Other organizations involved in the collaborative effort are KPTS Channel 8, KMUW 89.1 FM, the Elliott School of Communication, the LAS dean's office, WSU provost's office and the WSU Foundation.