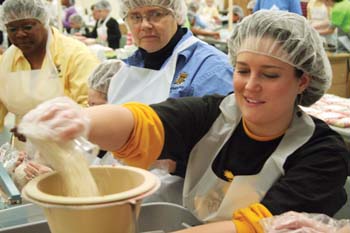 Kim Kufahl, marketing manager for Wichita State's cooperative education program, is one of nearly 3,000 volunteers who helped package 641,000 meals for earthquake victims in Haiti. The relief effort was held at WSU's Hughes Metropolitan Complex.
The goal was to package 1 million meals for victims of the devastating 7.0-magnitude earthquake that struck Haiti Jan. 12 and left millions homeless and hungry. Nearly 3,000 people showed up at Wichita State's Metropolitan Complex Feb. 5-7 to help in the effort, packaging 641,000 meals over the course of the two-and-a-half-day event.
Although the million-meal mark wasn't reached, the fundamental mission was: Shockers and members of the wider Wichita community came together to help Haitians in need. "I am so pleased with the response of the community to this event," says Deborah Ballard-Reisch, an Elliott School of Communication professor and the Kansas Health Foundation Distinguished Chair of Strategic Communication at WSU — and the key event coordinator.
Ballard-Reisch was moved to action after watching the horrors of the devastation in Haiti unfold on television. She says she simply wanted "to do something tangible." The resultant food-packaging event was a collaborative effort between the Elliott School and Numana Inc., an international hunger relief organization based in El Dorado, Kan.
To ensure that the event attracted as many volunteers as possible and ran as smoothly as such a large undertaking could, Ballard-Reisch also called on the planning and organizational skills of a number of WSU students, including Elliott School graduate teaching assistant Ashley Archiopoli. The relief effort ran from 8 a.m. to 8 p.m. on Friday and Saturday, and from 1 to 8 p.m. on Sunday. As serious as the mission was, the event's atmosphere was lighthearted and fun, Ballard-Reisch reports. "People feel good when they are doing something that matters," she says.
Volunteers of all ages were assembled into groups of 12 to 14 and together manned tables, where they packaged the specially designed meals, each of which cost about 30 cents and included rice, freeze-dried vegetables and a 21-vitamin-and-mineral mix.
Once packaged in Wichita, the meal packets were trucked to Miami, Fla., and then flown to Haiti with protection from the 82nd Airborne Division. "Numana partners with the Salvation Army, which delivers the food to the U.S. military, which airlifts it into Haiti," Ballard-Reisch explains. The first load of Wichita-packaged food was distributed Feb. 10-11, and a second shipment arrived in Haiti several days later.
In addition to Ballard-Reisch and Archiopoli, others lending a helping hand were Wichita Mayor Carl Brewer, as well as some 500 Wichita State faculty, students and staff, including WSU President Don Beggs and his wife, Shirley.
---
Shocker's Sister Rescued from Rubble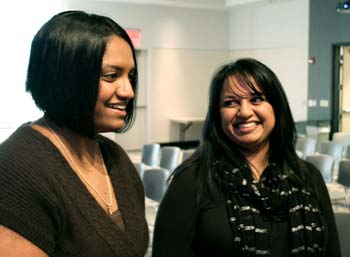 The 150-watt smile lighting up Sheelu Surender's face tells it all. Surender '03, who has worked at wsu for 10 years in the financial aid office, fairly beams at her sister, Ann Varghese, after Varghese told of her 55-hour ordeal trapped in rubble following the massive earthquake in Haiti.
Varghese made a campus presentation Jan. 22 at the Marcus Welcome Center, with Surender, associate director for scholarships at wsu, and some 100 other university staff, faculty and students in attendance.
Varghese was in Haiti as part of her work with the nonprofit organization ima World Health, which addresses health issues in third world countries. At about 5 p.m. on Jan. 12, Varghese and her colleagues were making dinner plans at the five-story Hotel Montana, a Haitian venue favored by international travelers, when the earthquake struck. Varghese, two of her co-workers, a Methodist missionary and two ministers found themselves trapped together in a dark, cramped space amidst the rubble.
At first they thought a bomb had exploded, but aftershocks provided an answer to the real cause of their misfortune. Between them, they had only a Tootsie Pop and a couple pieces of gum — and no water.
Because they were buried so deeply, they had few clues about what was going on around them. They did hear the occasional sound of helicopters overhead. Hour after hour passed. Sleep was nearly impossible. Their cell phone and laptop batteries soon were drained; there was no communication with the outside world.
After being trapped about 50 hours, their disorientation was so intense they first thought the French rescuers who reached them were other quake victims. It took several more hours to extricate them. Varghese, her co-workers and the missionary survived; sadly, the two ministers did not.
Varghese, in fact, emerged with only scratches and sore joints, although she was extremely dehydrated. "Water never tasted so good," she says.
Surender describes her youngest sister as "an amazing person" — a description that's aptly illustrated in Varghese's determination to return to work after only a week of recuperating from her traumatic days in Haiti.