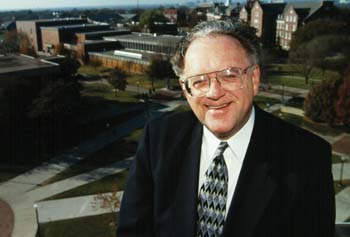 James J. Rhatigan, WSU dean emeritus of student affairs, will be honored as the 2010 Humanitarian of the Year during the sixth annual An Evening of Note, Mon., May 3 at the Crown Uptown Dinner Theatre in Wichita.
Donna E. Sweet '72, a Wichita-based doctor known for her pioneering work in providing care and resources to those affected by HIV and AIDS, established the Humanitarian of the Year Award in 2005. Recipients are leaders who have made significant contributions that benefit others in the Wichita community through their guidance, philanthropic or selfless acts.
Complete with dinner and concert, the event is a fundraiser for the Sweet Emergency Fund, which assists patients with their health-care needs. The fund provides individuals who have no other means of financial support with options for obtaining medicine, support services or other life-saving medical care.
Barry Gaston '66 of KMUW 89.1 fm will serve as special event host; Nouveau Quintette will provide music.
Reservations are required and can be made by contacting Margaret at (316) 293-3595.
Rhatigan has fostered the education of literally thousands of students. Among his collection of memorabilia is a small bronze statue presented to him by Mike James '71, a former Student Government Association president. Part of the statue's inscription reads, "The Student's Best Friend — Always."