Former WSU Communication Prof Pens a Book of Historical Fiction
Vernon Keel, former professor and founding director of WSU's Elliott School of Communication, has written The Murdered Family, a 350-page book of historical fiction. Keel's novel is based on the true story of the Wolf family murders in April 1920, when seven members of a North Dakota farm family and their hired boy were brutally killed. Available at TheMurderedFamily.com, the book can also be found at bookstores and through online book sellers.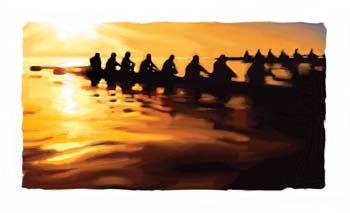 Temporary Crew Housing
Phil Ruffin fs '55 is assisting Wichita State's rowing program by providing space he owns in Wichita's Delano district for equipment storage. The property is close to the Arkansas River, where the team practices.
The rowers lost their previous home — located south of this new space — after a severe hailstorm last summer caused their former benefactor, BG Products Inc., to reclaim its space. The company had provided the rowers with storage and river-access for the past eight years. Head crew coach Calvin Cupp says BG Products has been a huge help and that he understands the need for the change.
Other than utilities, Ruffin, a Wichita-based businessman, is not charging anything for the structure's use, which the team will use on a temporary basis. Cupp says he's interested in hearing proposals for a permanent home for the program, which needs space for 40 to 50 rowing shells, trailers, tools and exercise equipment. In the past, WSU has shared space with the 45-member Wichita Rowing Association, and may do so again if it's beneficial to both entities.
The Shocker rowing program was started in 1975 by members of the Wichita Yale Alumni Club. Today at WSU, rowing is classified as an independent varsity sport and has both a fall and spring season.
Shocker crew, which has almost 50 student participants, has been on a successful run of late, as four of its five squads made the grand finals of the American Collegiate Rowing Association's national championships last spring.
Helping Cupp is assistant coach Tori Breithaupt and three volunteer assistant alumni: Angela Johnson '09, Michael Fowler '08 and Sam Smith '09.

Environmental Finance Center to be Established at Wichita State

WSU's Hugo Wall School of Urban and Public Affairs will receive $190,000 from the Environmental Protection Agency to set up an Environmental Financial Center. The center's main goal is to help create environmentally and financially sustainable communities by assisting communities, tribes and private entities comply with environmental and public health protection requirements.
Wichita State, one of 10 universities chosen nationwide as EFC sites, is now eligible to receive up to $2.4 million over the next six years. The nonprofit university-based centers will develop financing options for initiatives and projects such as source water protection, drinking water and wastewater treatment, green building, energy conservation and environmentally sustainable development.

WSU Foundation Celebrates an April Anniversary

The WSU Foundation celebrated its 45th anniversary with an April 5 open house at the Woodman Alumni Center.
Elizabeth King, WSU Foundation president and CEO; Don Beggs, WSU president; and Nancy Martin, former foundation board of directors chair, spoke about the foundation's history and plans for its future. Guests were invited to take an indoor walking timeline tour covering special foundation moments, such as the Spirit of the Gift project, begun in fall 2005, which catalogs the stories behind the more than 1,000 scholarships, fellowships and other endowed funds managed by foundation staff.
"At the WSU Foundation, we have an obligation to honesty and openness with accountability, not only to ourselves, but to others," King said at the celebration. "That, we believe, is the definition of integrity, one of our core values. In addition to integrity, our core values include relationships, teamwork and service, which we strive to uphold each and every day. As they have been for the past 45 years, these values will continue to be the foundation's hallmark as we serve Wichita State University."
KMUW Sets Spring Pledge Drive
KMUW FM.1 depends on donors for two-thirds of its operating budget, with remaining funds coming from grants and the university. Because of the need for listeners' financial support, station officials undertake two pledge drives each year, with this spring's effort slated for April 16-24. "Pledges are very important to provide the news and music that people love," says Denise Irwin, KMUW's director of development. "We can't do it without people in the area stepping up and supporting us."
A charter member of National Public Radio, KMUW began airing NPR programming in April 1971. KMUW, which has been broadcasting for 60 years, also airs local programming and, as part of an expansion, has hired an additional reporter to cover Wichita news and culture.
The 100,000-watt station has about 2,500 members, and anyone making a pledge becomes a member. Various premium gifts are offered for different pledge amounts. A $60 donor gets a tote bag. A $100 donor receives a 15-ounce ceramic mug emblazoned with the KMUW logo and "Jake With Open Scissors," a full-color reproduction by artist Patrick Duegaw. A $135 donor takes home a T-shirt sporting the same Duegaw artwork as the mug.
On-air pledges will be sought between 6 a.m. and 5 p.m., and donors may call (316) 978-6700 to make their pledge. Donations also are accepted online at www.kmuw.org. KMUW has 44,000 listeners in any given week, and on average, they are tuned to the station for 11 hours during that period. "That's quite high for a radio station," Irwin says.
With the Internet, the station also has listeners worldwide, including a former Wichita couple who now live in Sweden and make an online pledge. "We actually have quite a few listeners in Europe," Irwin notes.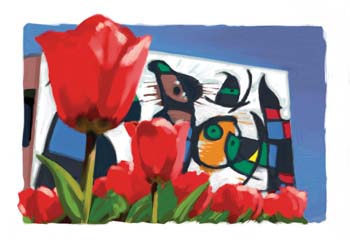 A Vision of Spring
Wichita State's campus, beautiful in any season, simply blooms with stunning springtime scenes. Among the most striking are the red tulips opening in front of Joan Miró's "Personnages Oiseaux," a Venetian glass-and-marble mural created in 1977-78 that graces the Ulrich Museum of Art's south facade.

April Brings 2010 AQR
Once again, Dean Headley '82, WSU associate professor of marketing, has been busy collecting data for the national Airline Quality Rating, set to be released April 12. Headley conducts the annual study in conjunction with Brent Bowen, professor and head of Purdue University's department of aviation technology.
The study, first released in 1991, is an objective compilation of statistical information that measures the airline quality of major airlines. The ratings are based on 15 elements in four major areas that focus on such airline-performance factors as mishandled luggage and on-time arrivals, for example. Each April, the release of Headley and Bowen's AQR generates a blizzard of media attention. The Today Show, CNN, USA Today and The Wall Street Journal are only a few of the major media outlets that cover the story.

Educate to Innovate
Wichita State President Don Beggs, along with 79 other public research university leaders, has signed a letter to President Obama pledging to address the nationwide shortage of math and science educators. The pledge is in response to the "Educate to Innovate" initiative launched by Obama and designed to improve the participation and performance of U.S. students in the fields of math, science, technology and engineering.
At WSU, Terry Behrendt, co-director of the Transition to Teaching program, and Danny Bergman, assistant professor of curriculum and instruction, both wsu College of Education faculty members, are doing their part. They have prepared new grant proposals for math and science. WSU has already made progress in those areas — achieving a 20 percent increase in the number of students majoring in teacher preparation for math and science within the first year.

Standout Shocker Bowler Heads to Championships
John Szczerbinski has advanced to the Intercollegiate Singles National Championships, an event scheduled for May 17-19 in Euless, Texas.
A native of North Tonawanda, N.Y., and a senior at Wichita State, Szczerbinski is ending his collegiate bowling career with his best season yet. "He's having an excellent season," says WSU head coach Gordon Vadakin '82.
Szczerbinski was the top qualifier in the 135-man field during individual qualifying at the Peoria Sectional held in March in Peoria, Ill. He nabbed the top spot by turning in a six-game total of 1,372 on games of 195, 204, 267, 200, 248 and 258.
"He was dominant," Vadakin says. "John had the highest total of anyone in the country — not just in our tournament."
A former Teen Masters champion, Szczerbinski was selected as a first-team All-American by both the coaches and bowling writers last season, and his 2009-10 season average of 214.3 is the third-best average among male collegiate bowlers, according to recent national statistics.
Szczerbinski is scheduled to graduate this spring with a bachelor's degree in business administration.