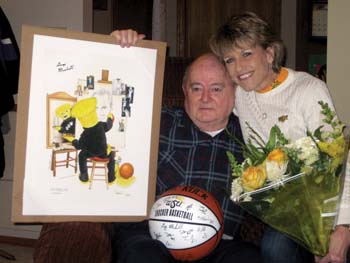 Thanks to the quick action of alert fans at the Wichita State men's basketball game on New Year's night, Ab Carnahan is still alive.
The 81-year-old Valley Center, Kan., native collapsed in the concourse area of Koch Arena. The last thing he remembers is waiting to go to his seat at the game against Drake.
He next remembers being at Wesley Medical Center, where he was taken by ambulance from the arena. What he doesn't recall during that period, however, made the difference between life and death for him.
Shocker fan Cheryl Schoepf remembers seeing two men helping another man to the floor. One of them was hollering for help. She rushed to the man who had gone down — Carnahan.
Her past training as an EMT kicked in. She asked Carnahan if he was ok. "He looked toward me, but his eyes were glazed over," she says. "He took two deep, labored breaths, and that was it."
Schoepf says Carnahan had a faint pulse at first, but she lost it when he quit breathing. She started CPR immediately. Another bystander stepped in to help. Schoepf performed mouth-to-mouth rescue breathing. The other woman did chest compressions.
The tag-team CPR continued for nearly five minutes. The two women got Carnahan breathing on his own again. By the time EMTs arrived, he had a faint heartbeat.
Ten days after his heart attack, he had a successful quadruple bypass. "I'm lucky to be here, no doubt about that," Carnahan says.
While recuperating from his surgery, Carnahan had a visit from Schoepf, who brought him a Shocker print signed by coach Gregg Marshall and a basketball signed by Marshall and all 15 Shocker players.
"That was pretty wonderful," Carnahan says. "They went to a lot of trouble to do that."