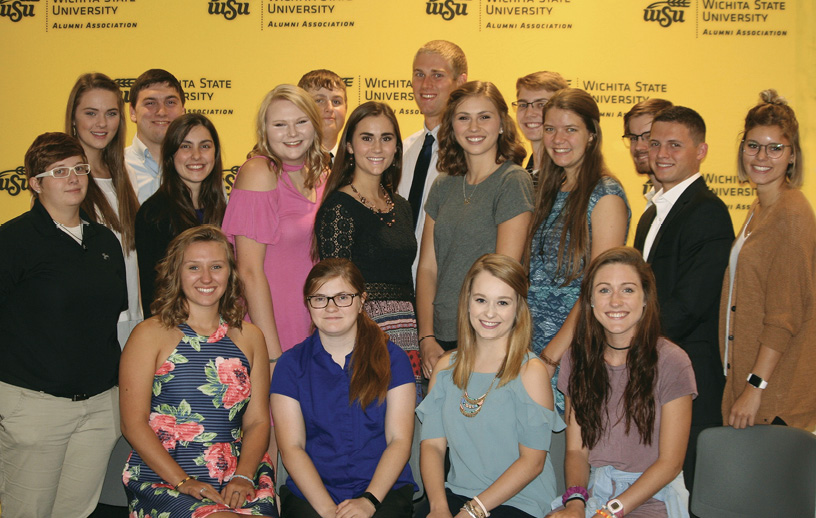 For the 2017-2018 academic year, there are 32 recipients of the WSU Legacy Endowed Scholarship. These 18 legacy Legacy scholars attended a congratulatory reception in September.
---
This academic year, the Wichita State University Alumni Association has awarded the most student scholarships in the organization's history.
"We have the largest group of recipients we've ever had – 44 students," says Courtney M. Marshall, president and CEO of the WSUAA. "We've given out $55,000 to these students through two programs, the WSU Drive Your Pride License Plate Scholarship and the WSU Legacy Endowed Scholarship. I'm very proud of this high point in scholarship giving, and I'm very proud of each of the recipients. We expect great things from them!"
Many of the scholarship recipients, along with their guests, were recognized at a Sept. 7 reception hosted by the WSUAA at the Marcus Welcome Center.
Since its inception in 1999, the license plate scholarship program has raised more than $610,000. Thanks to proceeds generated by the 2,800 tags on the road today, 12 students are now attending Wichita State as Drive Your Pride Scholars. They are: Umama Ali, biomedical engineering; Samuel Belsan, human resource management, secondary education; Daniel Bohnenkamper, aerospace engineering; Christine Carter, nursing; Brittany Davis, international business, finance; Kaitlyn Dobie, nursing; Derek Drew, computer science; Rachel Fitzjarrald, accounting; Elizabeth Harkman, elementary education; Alexander Miller, biomedical engineering; Lauren Roman, elementary education; and Leslie Strunk, communications.
The 32 recipients of the Legacy Scholarship are: Charles Adams, sport management; Marcus Ballenger, criminal justice; Kayla Barton, nursing; Celia Biel, art; Journey Bodyk, strategic communications; Caroline Buchanan, health professions; Monroe Chrisco, mechanical engineering; Nathaniel DeGraffenreid, sport management; Anne Dowling, biomedical engineering; Brandon Eckerman, biomedical engineering; Hana Forrester, aerospace engineering; Drew Hantla, engineering; Cameron Hoover, aerospace engineering; Caleb Janzen, sport management; Dalton Jasnoski, computer science; Minh-Chau Johnson, biomedical engineering; Taran Langston, criminal justice; Courtney McGaughey, elementary education; Kristi Neas, secondary history education; Kira Pullum, undecided; Carson Quillen, management; Brittan Schmitz, secondary English education; Mattie Schindler, pre-medicine; Natalie Schrandt, political science; Christopher Seirer, computer engineering; Emily Skelton, communication sciences and disorders; Austin Stansbury, forensic science; Mikayla Stoffel, physical therapy; Clara Towey, nursing; Matthew Webb, mechanical engineering; Samuel Wingert, finance; and James Zeorlin, forensic science.