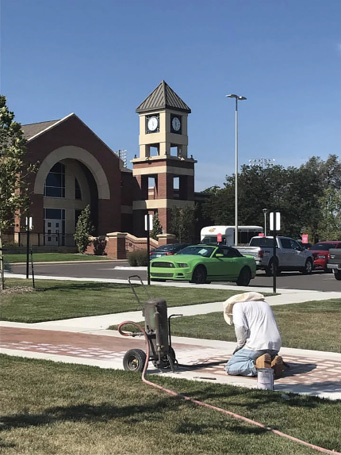 Located between the Marcus Welcome Center and Woodman Alumni Center and leading south into the heart of Wichita State's ever-expanding Innovation Campus, the Shocker Alumni Walkway has added its first set of alumni brick pavers. The inscribing took place on a clear day in September.
Then, on Oct. 17, the Wichita State University Alumni Association held an informal unveiling of the first 97 inscribed bricks. Alumni and university friends gathered for a reception at the Marcus Welcome Center, where Courtney M. Marshall, president and CEO of the WSUAA, gave remarks before the unveiling took place.
"It means a great deal to me to be able to oversee this project," Marshall says. "The Shocker Alumni Walkway will serve as a lasting tribute to all different kinds of Shockers: proud graduates, faculty members and administrators, Shocker sports fans, university friends and supporters – Shockers who live right here in Wichita and Shockers who make their homes all over the world. It's inspiring to me to already see the names of so many individuals being remembered and honored and celebrated. And I hope someday to see our new walkway run all the way from the Woodman Alumni Center to the south edge of the Innovation Campus."
Among those who came out for the reception and unveiling were John Carnahan, university friend; Deltha Colvin '72, WSU associate vice president for Campus Life and University Relations, special programs; Dr. Sam and Jacque Kouri hn '01, longtime university supporters and WSUAA life members who were recognized with honorary alumni status (hn) in 2001 and with the WSU Alumni Recognition Award in 2011; and Roger Lowe, WSU emeritus vice president of administration and finance.
Not only is the Shocker Alumni Walkway a lasting landmark in Wichita State's ever-changing campus landscape, the walkway project joins the WSUAA's stable of revenue-generating programs that help fund the association's work in support of higher education at Wichita State. Like WSUAA membership dues, a portion of walkway brick sales goes into the WSUAA's operational budget, assisting the organization in realizing its vision statement: "To provide opportunities for those who love Wichita State University to connect with one another in vibrant and diverse ways."
For details about placing an order for a brick, please visit ShockerAlumni.org/ShockerAlumniWalkway. For additional information, please contact Stacy Shanahan at the WSUAA: 316-978-3826 or stacy.shanahan@wichita.edu.