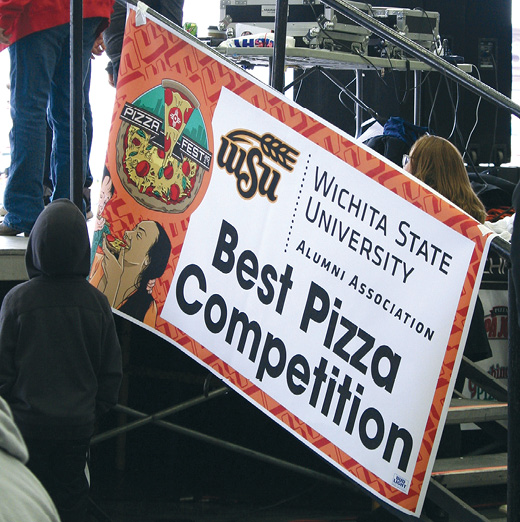 Festive ICT and the WSU Alumni Association partnered on presenting the first city-wide, family-friendly celebration of all things pizza, planes and beer in the Air Capital. This first-of-its-kind-in-Wichita event took place Saturday, Nov. 4 and drew some 1,500 attendees, despite the chilly, drizzly fall weather.
The backdrop for the festival was Wichita Area Technical College's campus, complete with airstrip and hangar where festival-goers could inspect the planes and helicopters on site. The soundtrack was provided by ICT favorite DJ Carbon. There were games and activities for kids of all ages – everything from face painting and coloring, to puzzles and dancing on stage. WuShock was on hand for photos. All kinds of different beverages were available, including wine and local craft beers – but the main draw, of course, was the baker's dozen of pizza vendors offering up their wares.
Highlights of the festival included the Dough Tossing Competition, won by The Rail, and the Best Pizza Competition, which three judges awarded to LMNO Pizza after sampling pizza from each of the 13 vendors.
Helping make this inaugural ICT Pizza Fest possible were the volunteers who came out to make sure everything ran smoothly, and the sponsors who provided event promotion and support: Cox Communications, presenting sponsor, and 102.1 The Bull, Aloft Wichita Northeast, Alt 107.3, B98 FM, Channel 963, House of Schwan, Metro PCS, MobileComm, Pepsi, Pizza Hut, Shamrock Car Wash, Southern Glazer's Wine & Spirits, Valley Offset Printing Inc., Wichita Area Technical College and XLT.
Thank you, one and all!