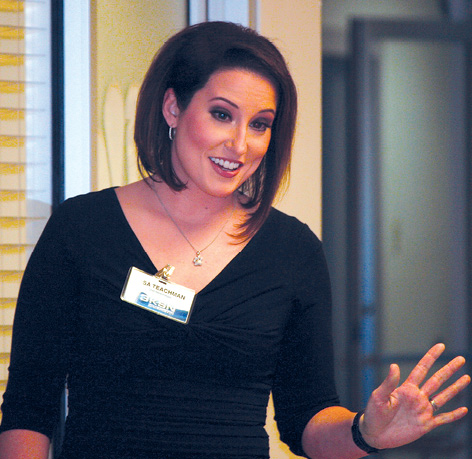 The 2017-2018 lineup for the WSU Alumni Association's Distinguished Alumni Speaker Series is a dynamic one, featuring four Shockers who are standouts in their chosen professions.
Alex Kanelakos '07 was the first to present on Sept. 12 at WSU's Experiential Engineering Building, where he spoke about his work in space science and technology as a spacewalking instructor and flight controller with NASA's Extravehicular Activity Team at the Johnson Space Center in Houston. Attendees enjoyed hors d'oeuvres and sipped Rocket Fuel Punch and other beverages at the evening event.
Lisa Teachman '02, (shown above) who is chief meteorologist of Wichita's KSN Storm Tracker 3 Weather Center, was next to present, speaking on Oct. 11 at the KSN TV Channel 3 television station, where attendees enjoyed a station tour and had individual box lunches to eat. At the end of her presentation, Teachman was joined by another Wichita State grad, Jeff Herndon '98, who serves as assistant news director at KSN.
Slated for the 2018 spring semester are two Shocker alums who've made their names as performers. Ray Wills '82, a veteran of film, television and Broadway, is an actor known for The Producers (2005), Nixon (1995) and Pootie Tang (2001), for appearances on Law & Order: Criminal Intent and for far too many plays to name. Today, he is the producer of the Kansas Radio Theatre, a weekly comedy/music program that airs on 11 stations across the state. Wills will speak at 5:30 p.m., Thursday, Feb. 22 at the Marcus Welcome Center.
Chris Arpad fs '89, a steel drummer based in Los Angeles, will close out the 2017-2018 season with an outdoor performance at 5:30 p.m., Thursday, May 31 at the Duerksen Fine Arts Amphitheater. Arpad is best known for his solo steel drum performances that combine his own vocals and live steel pan with custom vocal and instrumental backing tracks.
To reserve your spot for Wills and Arpad, go online to ShockerAlumni.org.