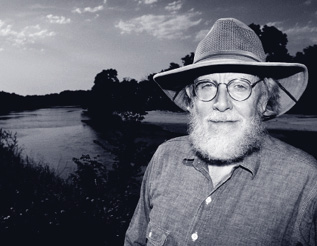 Donald A. "Doc" Distler, whose German last name – appropriately enough for a biologist – means thistle, was a member of Wichita State's biological sciences faculty for more than 50 years.
The associate professor spent a good chunk of that time working to restore prairie and wetlands on a 330-acre parcel of land in southwest Sedgwick County that was acquired by the university in 1983. The tract of land, which borders a mile of the Ninnescah River, became the Ninnescah Research Station and Natural History Reservation. Distler seemed never to tire of talking about the many research projects he, his students and other academic researchers conducted there. On site studies, he once explained, ranged from documenting the types and numbers of birds spotted along the river, to plotting the abandoned channels of an unnamed stream that flows across 40 acres of never-farmed land as part of an investigation into stream erosion.
He called his own prairie restoration work "a labor of love. We've got to take care of this world we live in. It's our only life support system. We've got to have the oxygen the prairie produces. The grasses support the land from water and wind erosion. Grasslands are essential for our well being." Doc Distler died June 28, 2017 in Wichita.