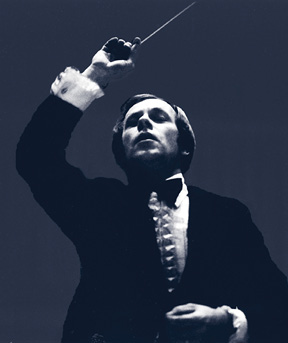 Jay C. Decker '56 – Wichita native, 1955 winner of the Naftzger Young Artist Award for his cello performance and music education graduate of the University of Wichita – was first tapped as conductor of the WSU Symphony Orchestra and concurrently associate conductor of the Wichita Symphony in 1971.
He returned to Wichita with a master's degree from the University of Illinois (1962), a PhD from the University of Missouri-Kansas City (1971) and, as young as he was, a wealth of teaching and conducting experience. He was, for example, the founder and first conductor of the Springfield (Mo.) Youth Symphony. On the UMKC music faculty since 1963, he conducted the Civic Orchestra of UMKC, the University Symphony Orchestra and the Kansas City Civic Ballet.
Under Decker's direction, the WSU Symphony Orchestra received two ASCAP Awards for the performance of American music, performed throughout the Midwest, and made a number of noted European tours, including a trip to Vienna as resident orchestra for the 1975 International Conducting Symposium. Decker, who retired as emeritus professor of music from WSU in 1998, died July 31, 2017 in Wichita.