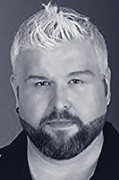 Navarro Linzey d'Artagnan Parker '97 may well have been the best known Shocker you never knew. It's likely you know his work, though. Parker – who earned a bachelor's degree in communication with an emphasis on electronic media at Wichita State – was an Emmy-winning motion graphics animator who posted more than a decade of experience in post production and motion graphics in Los Angeles, San Diego and Wichita.
While at Wichita State, he worked at WSU TV. After working at several of Wichita's local television affiliates, he moved to San Diego where he became an award-winning senior broadcast designer for the CBS affiliate KFMB TV 8. After returning to Wichita in 2006, Parker began motion graphics work at IMG on films such as "Transformers" and "Iron Man." He also began focusing his attention on the specialized field of Fictional User Interface design.
In 2012, he was offered a job in Los Angeles to work on the superhero film "The Avengers," which was produced by Marvel Studios and distributed by Walt Disney Studios Motion Pictures. Once settled in LA, he worked at a variety of facilities providing his talents in motion graphics to a wide variety of projects – everything from TV commercials, to trade show presentations, to video games, to blockbuster Hollywood feature films. His credits include "Ant-Man," "Ender's Game," "Oblivion," and "Star Wars: The Force Awakens."
Parker died June 12, 2017 in Los Angeles.