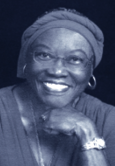 In May 1981, when she walked across the commencement stage, LaVerne L. Baker '56/56/81 claimed the distinction of becoming the first African American to earn a doctorate at Wichita State. Her PhD is in communication sciences and disorders. She also held a master's degree from Purdue University and two bachelor's degrees from the University of Wichita – all in communication sciences and disorders.
Baker's work as a speech language pathologist included practicing at the Winfield State Hospital and Training Center in Winfield, Kan., and at public schools in Kansas, California and Ohio. Her professional career also featured 18 years of academic teaching at Phillips University in Enid, Okla., the University of Southwestern Louisiana in Lafayette, and Xavier University in New Orleans. After retiring from teaching CSD, she became director of the GEAR Up program at Kansas State University in Manhattan. On the occasion of the 25th anniversity of her 1956 graduation from WU, Baker wrote the WSU Alumni Association: "I have had a variety of career experiences, which have provided opportunities to meet many wonderful and interesting people."
She loved to travel, visiting Jamaica (where she also lived and taught music for two years), the West Indies, Africa, Canada and Europe, and she was avid about developing her creative abilities, especially as a vocalist and poet.
This educator, poet and noted singer of Negro Spirituals died Sept. 10, 2017 in Manhattan.