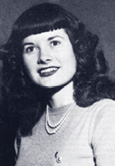 In the 1948 Parnassus, a write-up about E. Jean (Cline) Curry '48/76 began with this line: "Vivacious Jean Cline directed Wheaties in pep rallies, convocations, team send-offs and football half-time demonstrations throughout the year."
That was her senior year at the University of Wichita, where her scope of student activities was far broader than serving as president of Wheaties, the university's women's pep organization. She was, for example, named Homecoming Queen that same year, representing her sorority, Pi Kappa Psi. She graduated with a bachelor's degree in elementary education, and went on to teach and serve as media center coordinator and librarian at Wichita public schools as she and her husband, Thomas "Tom" J. '48, who married in 1949, began a family together. Even with the growing demands on her time with three young daughters, Curry still made time for her alma mater and served on the University of Wichita Alumni Association Board of Directors.
Through the years, the Currys relocated and lived in a number of locales, including Dodge City, Kan., Billings, Mont., and Colorado Springs and Denver. Wherever it was they called home, she saw to it that they kept informed and in contact with Wichita State and its alumni association. While in Colorado, for instance, she helped promote WSU area alumni chapters by reaching out to local Shockers.
Jean Curry – wife, mother, grandmother, teacher and vivacious Shocker – died Aug. 18, 2017 in Wichita.