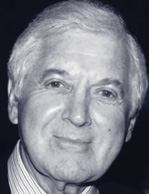 On Oct. 2, 1970, one of two planes carrying Wichita State football players, coaches, university administrators and boosters crashed in the Colorado Rockies, claiming 31 lives. The university community and the nation reeled from the tragedy, but came together to organize a nationally televised benefit show at Henry Levitt Arena. As the Night of Stars telecast was being arranged, a second tragedy occurred: Marshall University's team plane went down on Nov. 4; Marshall would share in the telecast proceeds.
The telethon, which was broadcast on Nov. 28, 1970, was spearheaded and emceed by Monty Hall hn '71, star and producer of the TV show "Let's Make a Deal." Bill Cosby, Mac Davis, Leif Erickson, Phil Ford, Mimi Hines, George Gobel, Humble Pie, Marilyn Maye, Minnie Pearl, the Young Americans, Lou Rawls and Kate Smith made personal appearances.
A year later, Ernest Balay '53, who was serving as president of the WSU Alumni Association, and Ethel Jane King, who had been hired in 1966 as the association's first executive director, awarded Hall the first honorary membership in the association.
During the presentation of honorary alumni status (hn), Balay reported, "He called on personal friends, giants in the entertainment business, to provide a quality show that was seen over 205 stations across the United States, a remarkable feat." Proceeds raised at the "Night of Stars" event benefited those most directly affected by the tragedies. Today, the WSU Foundation maintains the '70 Football Memorial Scholarship Fund; donations can be made online at foundation.wichita.edu/give.
Hall returned to Wichita State in 2013 as emcee of that year's Rockin' the Roundhouse fundraising event for the WSUAA, which was held at Charles Koch Arena. This honorary Shocker died Sept. 30, 2017 in Beverly Hills, Calif.