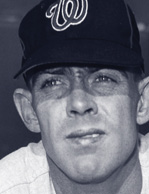 Don W. Lock '70 was a two-sport standout athlete at the University of Wichita from 1954 to 1958. He played basketball all four years under coach Ralph Miller and was a starting guard in the first game ever played in the Roundhouse, but it was in baseball, which he played at WU in 1956 and 1957, that he made his name.
He received All-Missouri Valley honors as a Shocker, and was signed to the New York Yankees farm club in 1958. He made his major league debut on July 17, 1962 with the Washington Senators. He played left field his first year and then center field with the Senators until 1966.
Lock's most productive seasons were 1963 and 1964, when he hit 27 and 28 home runs and drove home 82 and 80 runs batted in respectively. He led American League center fielders in put-outs, assists and double plays turned in 1963, and all AL outfielders in assists the following year. As a batter, he finished second in the league in strikeouts in both 1963 and 1964.
Overall, Lock appeared in 921 games over eight seasons, batting .238 with 122 home runs and 373 RBI. In addition to the Senators, he played with the Philadelphia Phillies (1967-69) and the Boston Red Sox (1969). After his playing days came to an end, he became a manager at the minor-league level. He managed in the Red Sox farm system for two seasons (1971–72, with the Winston-Salem Red Sox and Pawtucket Red Sox), and in part of 1973 for the Wilson Pennants, a co-op team in the Carolina League.
Lock later returned to his home state of Kansas, to Kingman County, to farm. A charter inductee of the Shocker Sports Hall of Fame in 1979, he was also inducted into the Kansas Baseball Hall of Fame (1974) and the Kansas Sports Hall of Fame (2017).
This retired farmer, pro baseball player and minor-league manager died Oct. 8, 2017 in Wichita.