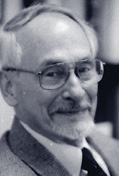 George Milo Platt, WSU associate professor emeritus of public administration, joined the university's faculty as director of planning and associate professor of political science in 1969. For some 18 years, he assisted in the planning and layout of the university's campus. During his tenure, he served as associate vice president of planning and institutional research and as coordinator of graduate studies in public administration. In 1995-96, he was WSU's centennial coordinator. Through the years, he proved himself one of Wichita State's most enthusiastic historians.
As a contributing writer for WSUAA publications, including the WSU Alumni News and, most recently The Shocker, he took as his subjects a most sweeping array of Shocker history topics, writing about everything from a lost sundial engraved with "Class 1934" on it, to the story behind a bust of Plato once given as a gift to University of Wichita President Harry Corbin '40, to the first Shocker baseball player to play in the World Series: Fairmount College varsity pitcher Claude Hendrix, who posted a World Series batting average of 1.000 and a pitching ERA of 0.00 in 1918 with the Chicago Cubs.
A veteran of the U.S. Army who served from 1955 to 1957, Platt held a bachelor's degree in public administration from South Dakota State University and both master's and doctoral degrees from Syracuse University. In 1997, he was presented the WSU Recognition Award by the WSUAA.
George Platt died June 2, 2017 in Wichita.